The End Is Near, Zuckerberg Talks and NFL Drama
(Bloomberg Opinion) -- The weekend is here! Pour yourself a mug of Mocha Java coffee, grab a seat by the pool, and get ready for our longer-form weekend reads:
• Discuss: The End is Near for the Economic Boom: Growth will slow. The bull market will expire. Here's why and what you need to do about it. (Fortune)
• Zuckerberg: The Recode interview. Everything was on the table — and after Facebook's wildest year yet, that's a really big table. (Recode)
• The Humility Curve: A look at the investing errors I've made, so you don't have to. (Tim Hanson)
• Lloyd Blankfein's Big, Tricky, Game-Changing Bet. (Institutional Investor)
• American Conservatives Played a Secret Role in the Macedonian Fake News Boom Ahead of 2016 (Buzzfeed)
• Why Elon Musk is hard not to like (1843)
• How the Blog Broke the Web (Stacking the Bricks)
• The Quiet Anger of Adam Schiff. (California Sunday)
• Shakespeare's Worlds of Science (New Atlantis)
• NFL Succession: The Family Ownership Dramas That Roil the NFL (Sports Illustrated)
Research and development spending by country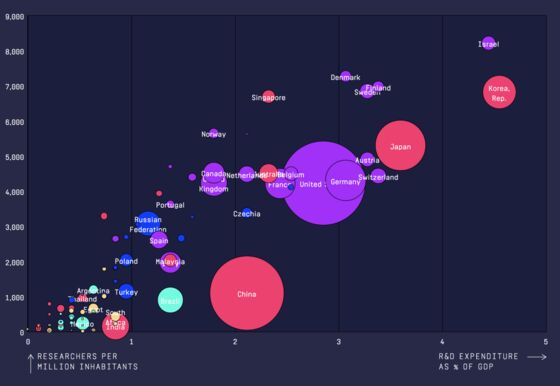 This column does not necessarily reflect the opinion of the editorial board or Bloomberg LP and its owners.
Barry Ritholtz is a Bloomberg Opinion columnist. He founded Ritholtz Wealth Management and was chief executive and director of equity research at FusionIQ, a quantitative research firm. He is the author of "Bailout Nation."