Italy's Flare-Up Is Only Just the Start
(Bloomberg Opinion) -- It doesn't take much to to unnerve investors in Italian assets these days.
On Friday, reports that finance minister Giovanni Tria might resign sent stocks and government bonds lower. Italy's Treasury promptly denied the rumors as "pure invention." Yet the market reaction shows how the credibility of the new government in Rome vis-à-vis the financial markets is truly wafer-thin.
It should be. The populist government of the League and Five Star is based on a coalition agreement that, if enacted, would blow a gigantic hole in Italy's fragile public finances. The first meaningful decree of the new administration included several anti-business measures, such as making it harder for companies to hire workers on temporary contracts. That's not necessarily a bad thing, but the government hasn't offered employers any help in reducing the high cost of recruiting permanent staff. 
Rome is mulling other market-unfriendly measures, such as not ratifying a EU-Canada trade deal that has boosted Italian exports. It was no surprise this week that the European Commission listed uncertainty over future government policy as one of the risks to Italy's growth.
Tria, as one might expect from a technocratic appointee, is a rare example of economic realism within the government. In June, he helped reassure the bond market by making it clear that Italy had no intention of leaving the euro and that the coalition would keep the public accounts in order. Italy's bond yields are still far higher than they were in mid-May, when the first details of the Five Star-League policy program started to emerge. Yet they've fallen substantially over the past few weeks — a sign that investors have come to trust the new finance minister.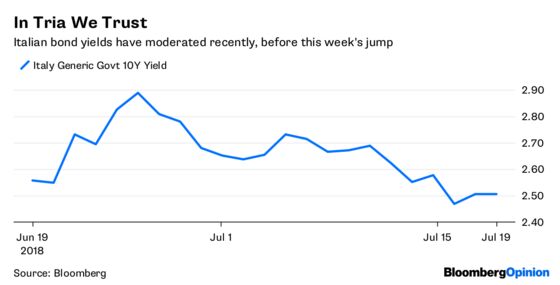 The trouble is that the League and Five Star have clearly different views from Tria, a former academic. Reports of his resignation emerged after the government's failure to appoint a new chief executive to Cassa Depositi e Prestiti, Italy's state lender. Late on Friday morning, Tria and his fellow coalition ministers were said to have finally settled on someone for the job.
But more flashpoints are coming. Tria has said repeatedly that Italy will stick with a prudent fiscal policy in his forthcoming budget, which will be presented in the autumn. If this happens, the League and Five Star will be forced to bitterly disappoint voters who've been promised steep tax cuts and lavish income support schemes. Conflict with Tria is a near-certainty.
And investors are right to worry about his longevity in the job. The League and Five Star are becoming increasingly impatient with any technocrat or independent institution that wants to rein in their economic vision. They've been in conflict with Tito Boeri, the president of Italy's social security institute, and Mario Nava, president of the market regulator. They also accused the European Central Bank of buying too few Italian bonds just as they were trying to form a new government.
The coalition has several important appointments to make too. The president of ISTAT, Italy's statistics agency, needs to be replaced, and the state's chief accountant has only a year left in office. Giuseppe Pisauro, head of Italy's fiscal council, is due to leave office in two years. The populists' disdain for independent thought and arithmetic rigor doesn't give cause for optimism about their replacements. Friday's renewed bout of market turmoil is probably just the first sign of things to come.
This column does not necessarily reflect the opinion of the editorial board or Bloomberg LP and its owners.
Ferdinando Giugliano writes columns and editorials on European economics for Bloomberg Opinion. He is also an economics columnist for La Repubblica and was a member of the editorial board of the Financial Times.