8 Charts Show Where America Stands in the 21st Century
(Bloomberg Opinion) -- Based on the big news headlines of the past two decades, the 21st century could easily be seen as an unmitigated disaster for the U. S. First came the contested presidential election of 2000, followed quickly by the 9/11 attacks. Then came the debacle of the Iraq invasion and the never-ending war on terror, the housing bust, the financial crisis and the Great Recession. And just when it seemed like the country's decade of disasters was done, the 2016 election and the presidency of Donald Trump fractured American society in ways that haven't fully played out yet.
But headlines are not always representative of what's really going on in a society as large and complex as the U. S. To really get a picture of how the country has done this century, it's important to look at the deeper underlying trends. Here the picture is decidedly more mixed.
First, the good -- the country is moderately richer, healthier and more socially advanced than it was almost two decades ago.
Real compensation per hour is up by about 11 percent since 2000. And though real median personal income took a huge hit in the Great Recession, it has recovered and is now up by 3.7 percent: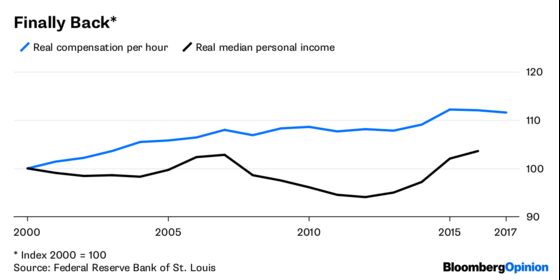 To be sure, neither gain is all that impressive. But at least Americans aren't losing ground. And the neediest aren't being left behind -- thanks to government transfers, child poverty in the country is now at record lows, and homelessness has fallen a lot. Meanwhile, unemployment is extremely low, with prime-age employment rates at about the same rate as in 1994.
And income statistics don't entirely capture the improvement in Americans' economic well-being, either. Products have become higher-quality -- boxy, old televisions have been replaced with flat-screens, and restaurants and supermarkets now have a much greater variety of food. In addition, new consumer products such as smartphones, wireless internet, streaming television and GPS have enriched Americans' lives.
Americans are slowly getting healthier as well, with life expectancy up by two years since 2000: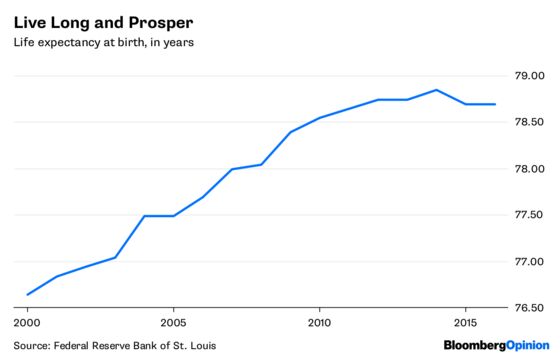 Infant mortality has fallen by more than 20 percent. And mortality rates for minorities have fallen, with black Americans enjoying a particularly spectacular decline. Teen pregnancy is down. The environment is also cleaner in many ways -- for example, air pollution has continued to decrease. Even carbon emissions are down a good deal.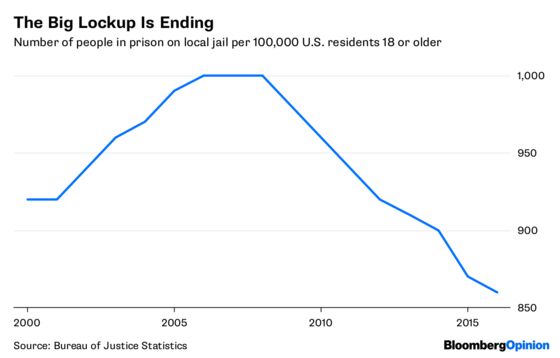 And American society has changed in a number of important ways. Although opinions always differ as to what constitutes progress, major advances in gay rights seem like a victory for justice and equality.
So overall, the U.S. has made both social and economic progress in the first two decades of the 21st century. And some of the country's worst mistakes of the last century -- mass incarceration, persecution of racial and sexual minorities, and widespread homelessness -- have finally begun to be addressed. But underneath the surface there are some ominous indications of slowing progress and a fraying society.
The two most problematic economic trends are inequality and low productivity growth. Income inequality hasn't risen as fast as in the late 20th century, but it has continued to creep up: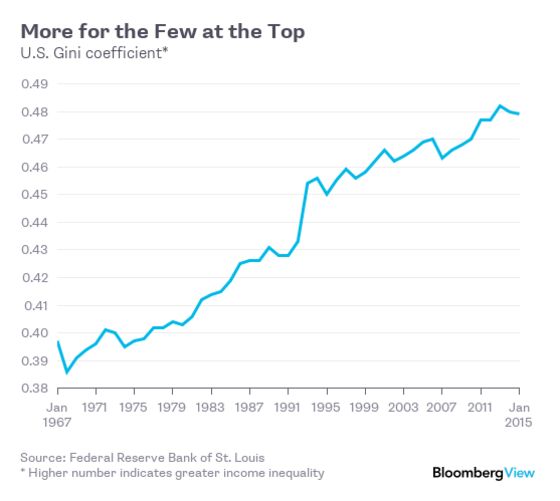 And wealth inequality is also increasing, leading to mounting concerns over the uneven distribution of power in American society: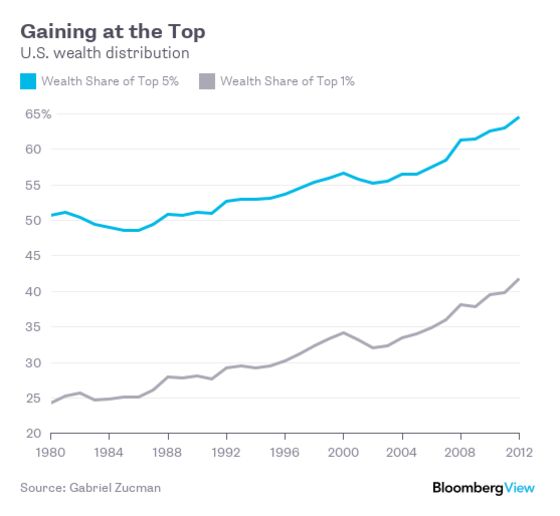 Meanwhile, productivity growth -- which represents the economy's ability to make things -- has slowed. Although this is a worldwide phenomenon, and thus is not entirely under the U.S.'s control, it still means that the economy will look increasingly like a zero-sum game. Inequality, in particular, will be more of a sore point if the economy as a whole isn't growing much. One way of looking at both trends is to examine absolute mobility -- i.e., people's chance of being richer than their parents. And this has fallen quite a bit.
In terms of health, Americans face a particularly nasty constellation of problems. The country is suffering from an opioid epidemic, initially caused by overprescription of painkillers: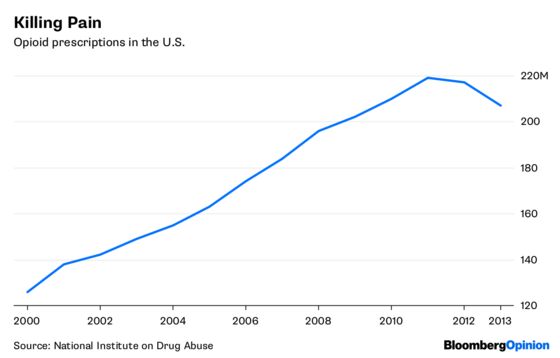 Use of particularly dangerous drugs like heroin and fentanyl is on the rise, causing overdose deaths to soar. Alcoholism has gone up as well, and suicide rates are higher than they've been in a long time: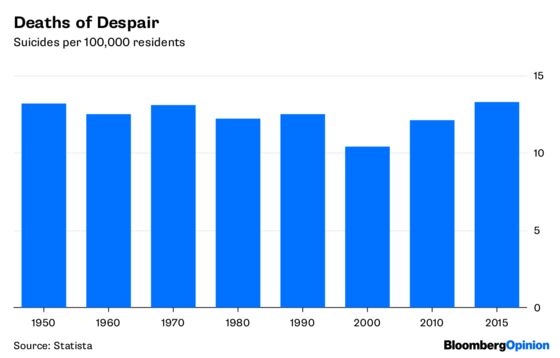 Partly due to these problems, mortality rates for non-Hispanic white Americans have actually risen slightly since the turn of the century. The problems may be spreading to black Americans as well.
Meanwhile, surveys show a fragmenting society. Americans, once renowned for their optimism, have fallen in international rankings of happiness. Trust in government, having risen under presidents Ronald Reagan and Bill Clinton, is now at or near all-time lows, even as government surveillance has increased as part of the war on terror. Interpersonal trust has also fallen since the 1980s: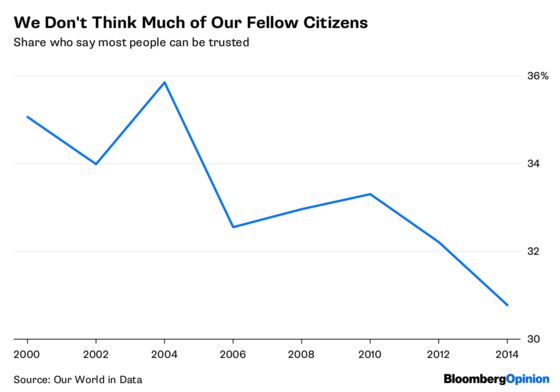 In other words, despite modest gains on several fronts since the turn of the century, the U.S. has the appearance of a troubled nation. With an economy that looks increasingly like a zero-sum game that the already-rich are destined to win, an alienated and unhappy society, and an increasing turn to self-destructive behaviors, the U.S. is on the wrong track in many ways. On the international stage, too, the U.S. is losing ground -- the country is increasingly perceived as a threat, even as it loses relative power and dominance to China.
So the stream of negative headlines since 2000 hasn't entirely been a symptom of the media's tendency to focus on the bad. Yes, there have been real improvements in the country, but too many of the trendlines point in the wrong direction. The U.S. is in a difficult spot, and will need a mighty effort on the part of both its populace and its leaders to return to the rates of social and economic progress that prevailed at the end of the last century.