Mario Draghi Can't Save Europe This Time
(Bloomberg Opinion) -- Europe's leaders will face an awkward truth when they meet at a crucial summit on Thursday. For much of the past decade they've been able to duck difficult decisions, secure in the knowledge that the European Central Bank would step in and fix things. Mario Draghi did this repeatedly, first by providing a backstop to the monetary union and then supporting the recovery via a multi-billion euro bond-buying scheme. "Whatever it takes," as the ECB president put it.
This time, though, the EU's mightiest institution may have reached the limits of its powers. Europe faces two new emergencies: Donald Trump's attacks on the global trading system and the migration crisis. In both cases, there's nothing the central bank can do other than stand by to react to any financial shock that might ensue.
This month, the ECB made the momentous decision to terminate its net asset purchases at the end of 2018. Economists are still questioning whether it has been too optimistic in judging a string of weak European economic data as merely temporary, and by playing down the risks around Italy's sovereign bonds. The fear is of a repeat of 2011, when the ECB raised interest rates twice just as the sovereign debt crisis was starting.
Yet Europe's problems today go well beyond the remit of central bankers. In the short term, its economy hinges more on decisions in Washington and Beijing about a possible trade war than anything Frankfurt might do to boost growth. The heightening of trade tensions over the past week have whacked the bond yields of weaker European states such as Italy and Portugal.
It's telling that the spread between the yields on these bonds and German Bunds actually narrowed when the ECB announced it would terminate net asset purchases, thanks to the promise not to raise interest rates until the end of next summer. It took Trump for them to widen again.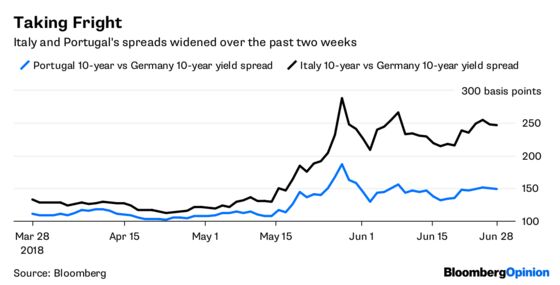 Draghi often says that the euro is "irreversible," and it certainly looks less fragile than in 2012. Of course, the monetary union is still incomplete, and it would be wise of EU leaders to complete the banking union and set up a joint fiscal capacity to make the euro zone more resilient to crisis. But we shouldn't forget that it took the U.S. about a century and a half to have a fully functioning central bank. As recent events in Italy show, the fear of financial contagion between euro zone countries has diminished. 
What the ECB president cannot say, however, is that the euro is irreversible only as far as the political ties that bind European countries remain irreversible. That's why the migrant crisis is so critical. The fault lines between countries on Europe's southern shores — above all Italy — and their northern partners risk extending well beyond a summer war of words. This might be much harder to repair than financial market turmoil.
However complex economics is, politics can be thornier still. That's why there might come a time when a small group of euro-zone countries could push forward on ancillary schemes to complement the euro zone. Take, for example, the joint unemployment insurance scheme floated by Olaf Scholz, Germany's new finance minister, earlier this month. Germany and France, which last week put together a list of potential EU reforms in the "Meseberg Declaration," could go ahead with it on their own one day. Other countries, including those opposed to the idea of a small euro-zone budget, would then have to decide whether to play along.
This week's European Council meeting comes at the beginning of a new phase for the EU, and the euro zone in particular — as populism, Trump and Brexit loom. With the ECB taking a step back just two weeks ago, the timing couldn't be more symbolic. The political leaders can't hide behind it any more.