Stock Market Tension Builds. Is That Bullish or Bearish?
(Bloomberg Opinion) -- The S&P 500 Index fell 0.63 percent on Thursday, which normally wouldn't be all that notable except for the fact that it broke a pretty remarkable streak of relative calm. In the prior 10 sessions, the benchmark failed to finish more than 0.5 percent higher or lower from the previous close, the longest stretch this year. That's despite an escalation of trade tensions between the U.S. and the rest of the world and a Federal Reserve interest-rate hike.  
The lack of big moves can either be seen as bullish — in that they underscore the conviction that the economy and companies can weather the latest turbulence — or bearish, in that they signal a lack of confidence even as some forecasters estimate gross domestic product is expanding at close to a 4 percent rate this quarter. The anecdotal evidence seems to be adding up on the side of the bears.
The Philadelphia Fed said Thursday that its monthly index of what area manufacturers expect to pay for goods over the next six months exceeded what they expect to receive by 20.7 points, up from less than 9 this time last year. That could point to a compression in corporate profit margins. Also on Thursday, German automaker Daimler AG became the first prominent company to cut its profit outlook due to escalating trade tensions. Regardless of whether you believe that excuse, investors will probably hear a lot more companies express similar caution in coming weeks as second-quarter earnings seasons kicks in, which could dent investor sentiment. After all, there's little downside for executives to acknowledge the risks so as to manage expectations.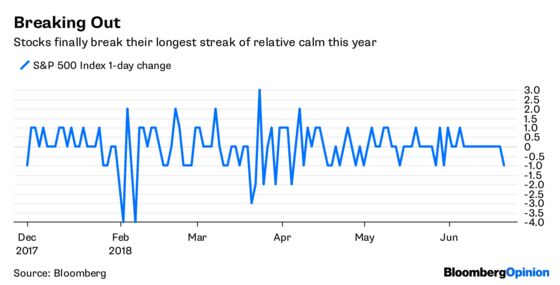 To be sure, it's not all doom and gloom. Thursday marked the first day of summer in the Northern Hemisphere, and every time the S&P 500 has been up at least 3 percent going into the first day of summer — like this year — it has finished the year higher, according to Ryan Detrick, a senior market strategist at LPL Financial. (In case you're wondering, it's happened 35 times before.) "Not to mention the rest of the year has actually been stronger than the average year," Detrick wrote in a research note Thursday. "That should comfort investors, regardless of the headlines."
CORPORATE BONDS FLASH WARNING SIGN 
If stocks do manage to extend their gains through year-end, they'll have to do it in the face of rapidly rising borrowing costs. Investors are demanding an extra 1.09 percentage points in yield to own investment-grade corporate bonds instead of U.S. Treasuries, the most since September, according to data compiled by Bloomberg. The spread has expanded from just under 80 basis points in early February. Yields overall have just moved above 4 percent for the first time since 2011. If debt investors really were confident in the outlook, yield spreads wouldn't be widening so far, so fast. Yes, there has been a lot of supply recently related to mergers and acquisitions, including Walmart Inc.'s $16 billion bond sale Tuesday to help finance its investment in India's biggest online seller, but you can't ignore the fundamental weakness being flagged by corporate bonds. Bloomberg TV's Jonathan Ferro reported Thursday that Wells Fargo & Co. credit strategist George Bory says that if the M&A binge subsides, then spreads could tighten. But if they don't tighten, it's confirmation that it's getting more challenging for companies to borrow, which is an early warning sign for investors. History shows that perhaps more than anything else, the credit market is the most reliable canary in the coalmine.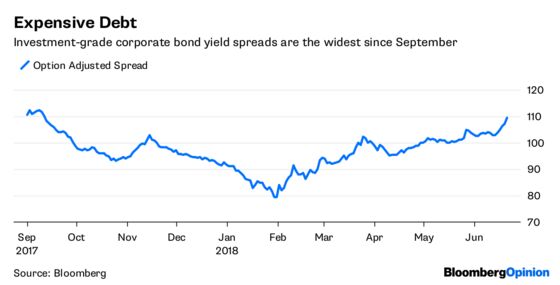 DON'T SHOW TRUMP THIS BARCLAYS CALL
One reason the S&P 500 had such a huge 2017, gaining 19.4 percent, was because of the dollar's depreciation, which made U.S. exports more competitive and U.S. financial assets relatively cheap to foreign investors. As such, the greenback's recent rebound, with the Bloomberg Dollar Spot Index jumping 5.61 percent since mid-April, may be a reason equities have struggled lately. If you believe the dollar is key determinate for stocks, then you're not going to like what Barclays expects. The firm's foreign-exchange strategists on Thursday boosted their dollar forecasts "across the board," as a strong U.S. economy diverges from weakness elsewhere. They expect the greenback to end the year at $1.12 per euro, compared with about $1.16 currently and their prior forecast of $1.22 in May. "Disappointing growth in the rest of the world as the (U.S.) continues to power ahead has turned a pause in economic convergence into outright divergence," they wrote in a report. Such levels may prompt the Trump administration to try and "talk down" the dollar. Then President-elect Donald Trump told the Wall Street Journal in January 2017 that "our companies can't compete" with foreign rivals "because our currency is strong and it's killing us." Although the dollar isn't as strong now as back then, "near the top of the list of unanswered questions right now is the (Trump) administration's attitude" toward the greenback, Bank of America Merrill Lynch's strategists wrote in a research note.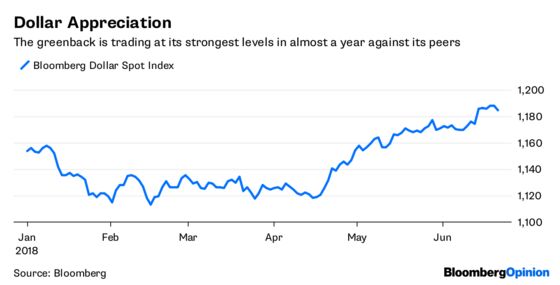 EMERGING-MARKET VOTE OF CONFIDENCE
Emerging-market stocks and currencies fell to yet another fresh low for the year Thursday as speculation continued to mount that borrowers in developing economies will have a tough paying off the $550 billion of dollar-denominated bonds and loans coming due this year given the greenback's recent surge. To UBS AG, the concerns are overblown. Although emerging-market growth may slow, the balance sheets of borrowers are in relatively good shape. "We believe EM's problem will be a lack of strong growth amidst higher U.S. rates, not (the) inability to service external debt," the firm's credit strategists wrote in a report Thursday. "FX and equities will pay the price of weaker income statements, including those driven by escalating trade conflicts, but better balance sheets should anchor EM credit." The Bloomberg Barclays index that tracks the dollar-denominated bonds of emerging-market borrowers has fallen 4.17 percent this year through Thursday, the most among 19 major fixed-income markets tracked by Bloomberg. Foreign-exchange reserves for the 12 largest EM economies excluding China topped $3.2 trillion for the first time in April, rising from about $2.85 trillion at the end of 2014 and less than $2 trillion in 2009, according to data compiled by Bloomberg. Aside from countries such as Argentina and Turkey that have had particular economic challenges, as a group, developing nations look "sound," Goldman Sachs Group Inc. strategists wrote in a research note.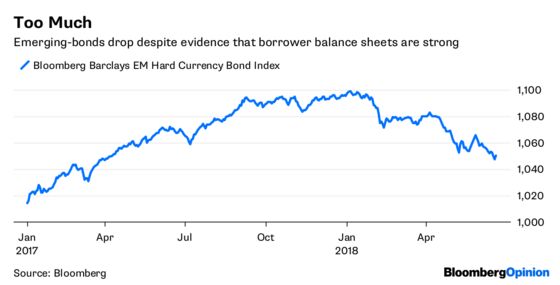 WHERE DID ALL THE BENTLEY'S GO?
There's a well-known line in the 1983 film "Trading Places" starring Eddie Murphy and Dan Aykroyd where Aykroyd's commodities- trading character says, "One minute you're up half a million in soybeans and the next, boom, your kids don't go to college and the next they've repossessed your Bentley." Commodities traders today can sympathize, as soybean prices fell again on Thursday to extend their decline to 14.4 percent since late May. Soybeans have been caught up in the growing trade dispute between the U.S. and China. The Asian nation has threatened to impose 25 tariffs on American soybeans effective July 6. And already there are signs that Chinese importers are turning their attention away from U.S. suppliers and focusing more than usual on obtaining supplies from Brazil, according to Bloomberg News's Tatiana Freitas. The higher demand for Brazil's soybeans has spurred premiums paid at domestic ports to the highest since April. International buyers paid a premium of $1.565 a bushel over Chicago futures on Wednesday to buy soybeans for loading in September at the port of Paranagua in Brazil, Freitas reports. The premium has risen 57 percent this month, according to data from Commodity 3.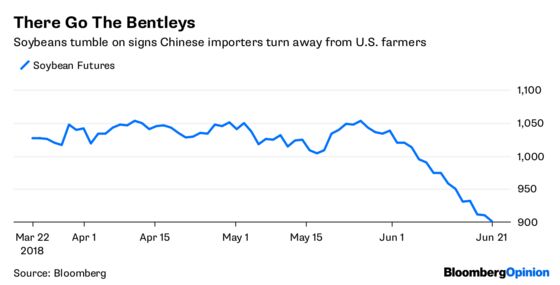 TEA LEAVES 
Vienna will be the capital of the world's financial markets for one day on Friday as OPEC oil ministers meet to seek a compromise that would pave the way for an output increase. The odds of them reaching a deal have improved through the week, according to Bloomberg News. Iran has softened its position, going from outright rejection of any increase to a willingness to discuss numbers. Saudi Arabia has put forward a plan that would add 600,000 barrels a day — about 0.5 percent of global supply — smaller than the 1.5 million boost Russia had been proposing. If the Saudi position prevails, it would allow OPEC and its allies to partially offset the impact of the collapse in Venezuela's oil industry and feed fast-growing demand, two factors that played a big part in Brent crude's surge to above $80 last month, according to Bloomberg News. On the other hand, global economic growth is slowing and there is concern about whether higher oil prices could exacerbate the slowdown, which could have a big impact on most all financial markets.