Does the World Cup Really Need America?
(Bloomberg Opinion) -- The U.S. didn't make it to this year's World Cup, but the World Cup will make it to America soon enough. Just before the tournament kicked off in Russia this week, FIFA announced the 2026 edition will be played in the U.S., Canada and Mexico. Two Bloomberg Opinion columnists, one based in Berlin and the other in Rio de Janeiro,  met online recently to answer five questions about America's tortured relationship with soccer – and vice versa.
Does soccer really need America?
Leonid Bershidsky: The U.S. is a strange presence in football (if I may call the game by its real name rather than the American one). On the field, it doesn't matter much, and Americans respond by not watching the World Cup in impressive numbers.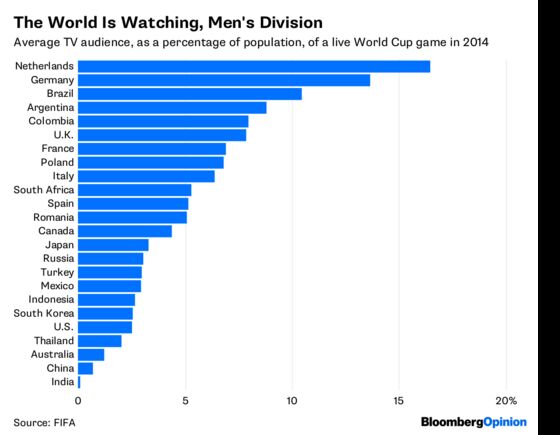 Off the pitch, however, the U.S. has proved to be necessary. If it hadn't been for the U.S., the entire management of global soccer would not have been brought down in 2015 by a corruption scandal. One could argue that football needs the U.S. and its feisty prosecutors to keep it honest.
Maybe the world needs at least one major endeavor, sporting or otherwise, in which the U.S. is more an observer than participant. Football is a good fit. Americans probably will never play it as well as the Brazilians, Argentinians or Europeans (unless it's 1950, which the English will never forget). But good for them not to be dominant for once -- as long as they're willing to fix things when no one else can.
Mac Margolis: The globe's most popular sport has fared pretty well without the U.S., the country where football means brutes in body armor. The World Cup has been going strong for 88 years, is now a truly global franchise, and boasted 3.2 billion viewers in 2014. So why should the rest of the planet care if it doesn't include the country whose idea of a "world series" is 29 national teams and one from Canada? I mean, we're the World Cup, bitch.
But that's hardly sporting -- and it undervalues the power of a pastime that has enchanted everyone else. Including the U.S. on the pitch could have collateral advantages. Football, after all, is soft power in short pants, which the Brazilians discovered when they led a United Nations peacekeeping mission in Haiti.
Or is it, does America really need soccer?
Leonid:  Football has never quite broken through as a spectator sport in the U.S. But that's not to say that America doesn't need it. The U.S. is taking gender equality increasingly seriously, and women's international soccer is just as fun to watch as the men's game -- and has the TV ratings to prove it. It probably doesn't hurt that the U.S. is the reigning world champion, even though Americans weren't as enthusiastic about watching the Women's World Cup in 2015 as, say, Swedes, Norwegians or Germans, whose teams didn't win.
More generally, U.S. women's strength in soccer is an asset for the country's soft power and its ability to promote gender equality internationally.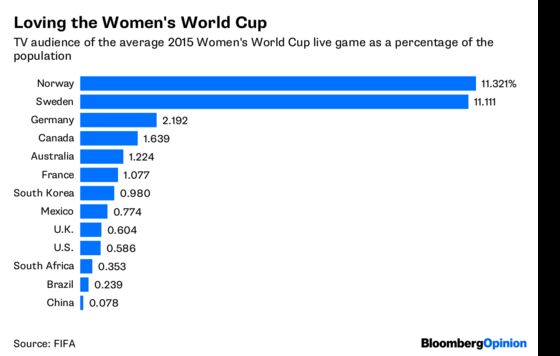 Mac: Even if no one needs the U.S. to validate the world's favorite sport, surely we all could do with a more mannerly and worldly Uncle Sam -- and football can be a civilizing influence. There are few better ways to demonstrate the blessings of open borders than by promoting a game that relies on the free and unfettered flow of global talent. U.S. Anglophile sportscasters are already getting the hang of those tongue-twisting names of Spanish-speaking baseballers. And consider the democratizing effect of cheering a Muslim superstar, as Brits have done this year with Liverpool's Mohammed Salah.
Then there are the equalizing charms of the game itself. The rise of competitive teams in Africa, Asia and the Middle East is proof that the professional soccer field is a global commons and there are no dud teams anymore. The despair among the sports commentariat over America not making the cut in Russia speaks not so much of the U.S.'s athletic failings as it does of frustrated American entitlement.
Even President Donald Trump seems to realize in his showman's heart that you ignore the crowning event of world's favorite sport at your own peril. That's why he made under-the-radar appeals to world football authorities to help the U.S. win the bid for 2026.
Is FIFA any worse than, say, the IOC (or even the NFL)?
Leonid: Sports organizations tend to be clubby, even mafia-like. That's difficult to avoid when you're neither a democratic institution nor a proper public corporation nor an activist non-profit -- but something with elements of all three. You could say that about the International Olympic Committee or the National Football League or any such group. There's always potential for cronyism and shady backroom dealing. In that sense, FIFA has been no better or worse than others. But if you want to compare how the IOC and FIFA have responded to their respective corruption scandals, I'd say FIFA has, on balance, done a little better.
Under its new president, Gianni Infantino, FIFA has shown a willingness to change. Video review will be in use at this year's tournament, for instance, and the World Cup will expand from 32 to 48 teams in 2026. There are new bidding regulations for hosting the World Cup that make the process more transparent, with requirements and evaluation reports open to the public and all 211 national associations, not just top FIFA officials, voting on bids. These are all positive changes, some of which wouldn't have taken place under the old regime.
Mac: Long before FIFA fell into disgrace, its international cousin, the IOC, had blazed a trail of ignominy. Yet since much of football's brass were perp-walked out of their luxury digs in Switzlerland in 2015, FIFA has worked to redeem itself, purging the prepossessing execs and tainted stars. One salutary measure is that for the first time, women are now part of the once all-male executive board. The hope is that rogue regimes and dictatorships will no longer have the inside track as tournament hosts, and the sure ticket to graft and overbilling that mandate carries.
Did the U.S. (along with Canada and Mexico) deserve the 2026 World Cup?
Leonid: The U.S. hosted the World Cup in 1994, Mexico in 1986. One of FIFA's goals is to take the World Cup to places it's never been before, so people in lesser-known and -traveled parts of the world can be part of the tradition and fun. With that in mind, only Canada makes some sense, and it tends to like the version of soccer played on ice with sticks and a puck.
Mac: Given the competition, yes. Morocco was the other finalist, and though Africa is a rising star in world football and deserves a second shot as host, the bid was always a long shot. Maybe Moroccans can console themselves with the knowledge that they lost not to another country but to a whole continent. Morocco may lead Africa in air and overland travel -- they're even counting on a high speed train from Tangier to Casablanca sometime this year. Yet richer developing nations have struggled to deliver the budget-straining facilities and infrastructure the tournament demands. Africa's second chance will have to wait a little longer.
So which team should Americans cheer for this year?
Mac: Unburdened by the angst of backing their hometown heroes this year, U.S. fans are now free to pay attention to everyone else's. With the 2026 tender in the bag, wouldn't it be big of them to pull for runner-up Morocco, at least in the early rounds? It'd be bigger still if Americans shook off the pinched nativism that has gripped their politics to cheer for Mexico. Of course, getting the Americans to watch the games at all would be a win.
Leonid: If I were American, I'd back Mexico as the most promising of the teams from the U.S. neighborhood, or Panama because it's a small, scrappy underdog. Many Europeans from countries that failed to qualify, such as the Netherlands and Italy, will root for Iceland for similar reasons. Of course none of this will matter, because as former English striker Gary Lineker has said: "Football is a simple game. Twenty-two men chase a ball for 90 minutes and at the end, the Germans win."