Italians Play Russian Roulette With ECB
(Bloomberg Opinion) -- Italy's anti-establishment parties have only just formed a government but they're already busy looking for excuses. This week, they pointed the finger at the European Central Bank, blaming it for buying too few Italian bonds during the market turmoil that accompanied their rise to power.
The accusation doesn't stand up to scrutiny and may be self-defeating. The ECB has been given free rein to run its bond-buying program after emphasizing that it's a purely technical tool for hitting its inflation target. Any accusations of covert political motives will merely strengthen the voice of those who want quantitative easing to end as soon as possible.
The conspiracy theories arose because the share of Italian bonds purchased by the central bank fell to an all-time low in May. Meanwhile, interest rates on Italian debt rose sharply. The yield on Italy's benchmark 10-year bond rose from 1.79 percent to 2.79 percent.
Italy's populists seized on the news. "The ECB and Italian banks have reduced, if not stopped, the purchases of BTPs [Italian bonds of 10 years or longer] on the Italian market, contributing to an increase of the spread [with German bonds]," said Laura Castelli, a senior lawmaker for the Five Star Movement.
The trouble with this theory is that there's no evidence of a cut in Italian bond purchases in May. The ECB bought a net 3.6 billion euros ($4.2 billion) of them, in line with the rest of the year. The ECB did, though, purchase many more German bunds after a big portion of its holdings matured. This pushed down the share of new purchases of other sovereign bonds, including Italy's.
The anti-establishment parties are unconvinced. Lorenzo Fioramonti, an economist and Five Star lawmaker, tweeted on Tuesday that the relative increase in German purchases still mattered, as it increased the spread between the yield on Italy's and Germany's bonds. But if that's the case, then why did the spread between Italian and French 10-year bonds more than double in May?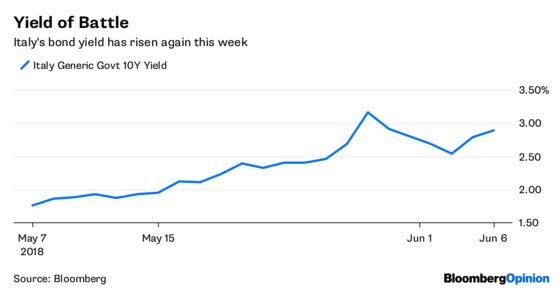 And while the volume of ECB purchases of Italian bonds is big, it's still much smaller than the volume traded on financial markets.
The populists are playing a dangerous game here. The ECB is particularly sensitive to suggestions that QE is anything other than an inflation-targeting tool. Its program was designed to avoid accusations of favoring one country over another. It buys government bonds in proportion to each country's share of the ECB's paid-in capital. Any deviations are meant to be temporary, to minimize disruptions on financial markets.
Critics have long countered that QE risks undermining the independence of monetary policy because it leaves central bankers having to answer to politicians. This also spooks investors, who fear that the central bankers on the ECB's governing council might take their eyes off inflation to please their political masters.
So the rabble-rousing by Italy's lawmakers risks reinforcing the fear that QE is too politically charged to use in a fractious environment like the euro zone. Some central bankers may prefer to stop it rather than getting more embroiled in politics.
From an Italian perspective, the populist complaints are foolhardy brinkmanship. The ECB's top brass is already set to discuss next week what should happen to asset purchases when they reach their scheduled end in September. Peter Praet, the ECB's chief economist, said on Wednesday that there were "improving" signals of inflation converging toward the objective of "close to, but below" 2 percent. Investors took notice. The yield on all euro zone bonds, including Italy's, rose sharply.
The governing council will make its decision on the basis of the economic outlook. But by talking so much, the populists may just have given it an extra reason to step back.