Italy's Extraordinary $146 Billion Experiment
(Bloomberg Opinion) -- Italy's new government is one of the most extraordinary democratic experiments tried in western Europe since the Second World War.
The Five Star Movement and the League have put together a largely inexperienced ministerial team, which is promising a set of policies that seem impossible to deliver. They face formidable constraints, from Italy's fragile public finances to the EU rules that Rome must abide by. It's only fair that the two parties have their shot at governing, but it's hard to see how they can succeed.
Italy will be led by a prime minister, Giuseppe Conte, whom most Italians have never heard of. His two deputies – League leader Matteo Salvini and Five Star's Luigi Di Maio – will be his political bosses. The two anti-establishment parties have worked hard to reconcile their differences and put together a draft coalition agreement. But it's hard to see how they won't pull Conte in different directions on a number of issues, including whether Italy's priority should be cutting taxes or lifting spending for the most vulnerable.
The cost of the coalition agreement is up to 125 billion euros ($146 billion), according to independent estimates. And yet, Italy's sovereign debt is among the world's largest. Investors and the rest of the euro zone will be watching intently when the new government presents its first budget in the autumn. Expect tensions. Italy's financial constraints will inevitably bite and the two parties will squabble over what pet projects to prioritize.
The last-minute reshuffle of the top team has at least reassured investors and European partners. Enzo Moavero Milanesi, a seasoned law professor and EU expert, will be foreign minister. Bizarrely, for an avowedly anti-elitist administration, he has worked before in a technocratic government led by Mario Monti.
The finance minister, Giovanni Tria, is a little-known academic whose unorthodox views will raise German hackles. For example, he argued last year that the European Central Bank should pay for state funding of investment, so long as governments kept other spending under control.
However, his views on Italy's euro membership seem more moderate than those of Paolo Savona, whom the president vetoed as finance minister and who's been moved to EU affairs. Tria still needs to show his true colors but, unlike Savona, he has never drafted a "Plan B" to leave the euro in secret.
Other ministers are more of a worry. As minister for labor and economic development, Di Maio will take charge of Italy's industrial policy and reforming its labor code, even though he lacks any real business or administrative experience. He has vowed to punish companies that close their Italian plants and move production abroad, but it's unclear how. The risk is a clash with Brussels over strict rules on state aid.
The mood among investors has nevertheless improved after a rocky week; bond yields have moved sharply lower and Italian stocks higher. The chief reason is President Sergio Mattarella's veto of Savona's appointment as finance minister, which shows he won't let Italy sleepwalk out of the euro without a popular mandate for an "Ital-exit." This lessens the "re-denomination risk" on Italian assets.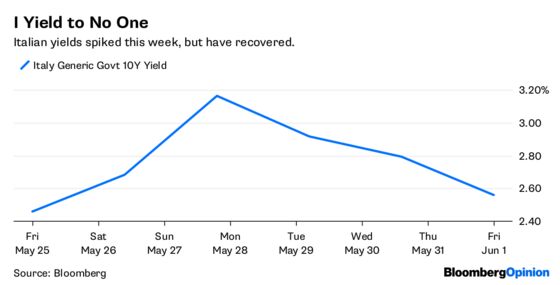 Meanwhile, we avoid (for now) a fresh election that would have been seen as a referendum on Italy's membership of the single currency. At the very least, the Five Star-League coalition contract includes no reference to quitting the euro and the party leaders have moderated their views of late.
Still, a fundamental question persists. That 125 billion euro-spending plan is entirely incompatible with existing euro zone rules and will set Italy on a collision course with Brussels and its European partners. So how will the new government react when these constraints are enforced? Will the coalition stick together or splinter? Italy has a government, but it is unclear how long it will last. The political drama in Rome will go on.