Americans Like Smart Speakers, But Europeans Are Wary
(Bloomberg Opinion) -- The Facebook privacy scandal and Europe's new General Data Protection Regulation appear to have increased people's interest in online privacy. Whether they will act on it, however, is a different matter.
To get an answer to that question, one could watch Facebook's and Google's revenue or Facebook's user numbers. They look healthy so far, but then it's difficult for people to give up entrenched habits even if they're more worried about privacy than before Cambridge Analytica and the GDPR. A better gauge would be to track the sales of what promises to be the year's hottest gadget — the smart speaker, first created by Amazon as the Echo but now offered by a number of other companies, including Google, Apple, Alibaba and Xiaomi.
The smart speaker is an intrusive device. It sits in the home and gathers data about the whole family's consumption preferences and general habits. It's listening all the time, which can lead to scary outcomes, like the recent situation in Portland, Oregon, where an Echo device recorded a conversation between spouses and sent it to one of the husband's employees, responding to what it mistakenly interpreted as a series of commands from the random talk.
That's only the latest creepy incident; earlier this year, Echos were reported suddenly to burst out laughing because they misheard random noises for a request to do so. The devices are also known to be vulnerable to subversion with inaudible ultrasound commands. 
In other words, these devices should raise alarms with consumers even mildly concerned about privacy. And yet the devices appear to be gaining traction. Though the vendors don't break out their sales in financial reports, at least two research firms have reported more than 200 percent year-on-year growth in unit sales in the first quarter of 2018. According to Canalys, the sales shot up 210 percent in the three months to reach 9 million units. Strategy Analytics puts growth at 278 percent to 9.2 million devices. 
While analysts chart the battle of giants for our families' data, and for billions of dollars in hardware sales revenue, a more existential question is whether Europeans will take to smart speakers. Poll data indicate that people in continental Europe are far more worried about privacy and the safety of their personal data than consumers in the U.S. and the U.K., who tend to worry more about identity and credit card theft. At the same time, continental Europeans are at least as fond of gadgets in general as people in the English-speaking world.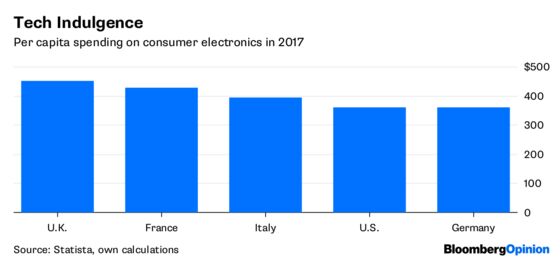 If privacy concerns outweigh the desire to keep up with the latest consumer tech, the European per capita sales of smart speakers will be lower than those in the U.S. or the U.K.
The first quarter of 2018 is a good time to start watching the trend. These are really the first three months during which smart speakers are not just available but also heavily advertised and pushed into retail channels throughout the world. And sales data as collected by Canalys appear to indicate that the take-up rate is significantly lower in continental Europe.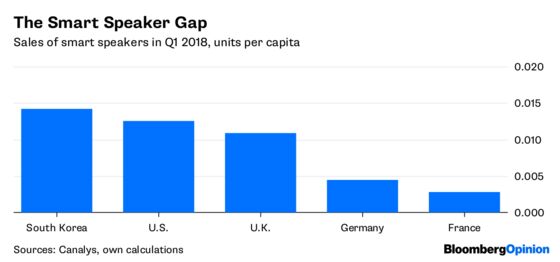 At this stage, any such analysis comes with several important caveats. The U.S. has had a significant head start; the product is well-known there, word of mouth helps its spread, and retail channels already have measurable experience selling smart speakers. Besides, there's the linguistic factor — speech recognition is a more mature technology in English than in other languages — and the wider "skillset" of the speakers in the English-speaking world, where third-party developers have been working on applications longer than elsewhere.
Hattie He, a Canalys analyst, told me that promotion, especially during the holiday season, is the top driver of speaker sales today. With a new product, pricing and channel strategies are also important to drive adoption: In South Korea, for example, interest from service providers such as SK Telecom has helped produce stronger per capita sales than even in the U.S. As for privacy, according to He, "vendors are trying to address the concern through different ways, such as informing users about the usage of data and offering them a way to control data collection like the feasibility of turning microphones on or off."
In Germany and France, the current centers of the drive for more privacy, these attempts to sell smart speakers as safe are less effective than other places. If the trend continues after the retail channels are saturated and the language factor becomes irrelevant for practical purposes, it will be possible to talk about limits to the so-called privacy paradox — the discrepancy between the value consumers say they attach to privacy and their actual willingness to sacrifice it for convenience.
The limit is flexible, I suspect: Privacy-conscious consumers need a bigger increase in convenience to sacrifice data safety than those who have largely given up on how internet giants exploit their data. That's helps explain why wearables such as smart watches never took off as expected, remaining a niche product for enthusiastic tech adopters and never acquiring the smartphone's staple status.
At this point, the smart speakers don't deliver a convenience leap, either. That could change as more products for the devices are added. Running smart homes through them rather than an array of control panels is a promising avenue for expanding functionality. Premium content subscriptions is another.
If vendors such as Amazon and Google fail to prove that the speakers deliver a significant life improvement, then the Echoes, the Google Homes and their followers may well remain a product with wide adoption only in the U.S., where Canalys expects 38.4 million out of a total of 56.3 million smart speakers to be sold this year, and in a few other places with similar privacy attitudes. Europeans will be a harder sell.