Turkey's Central Bankers Locate Their Spines
(Bloomberg Opinion) -- What took you so long? That was the question investors were asking Turkey's central bank after policy makers finally acted to arrest the lira's epic 17 percent slide since mid-March by raising interest rates 3 percentage points to 16.5 percent after an emergency meeting. The move provided some support for the lira, which reversed a 5.5 percent loss to gain 0.1 percent.  
More important, the rate increase helped tamp down the doomsday-like talk surrounding emerging-markets globally, with Nobel Prize-winning economist Paul Krugman writing on Twitter earlier in the day that current malaise bears some resemblance to the Asian financial crisis in the late 1990s. That remains to be seen, but at least the MSCI EM Currency Index, which had dropped about 3 percent between the end of March and Tuesday, erased most of its losses on the day. Sure, central bankers should have done this sooner, but President Recep Tayyip Erdogan, who's seeking re-election next month, has publicly opposed higher rates and told Bloomberg Televison in an interview this month that he would  seek more control over monetary policy if he wins. Such talk is a reminder that emerging markets are still risky despite the big gains in their currencies, stocks and bonds in 2016 and 2017.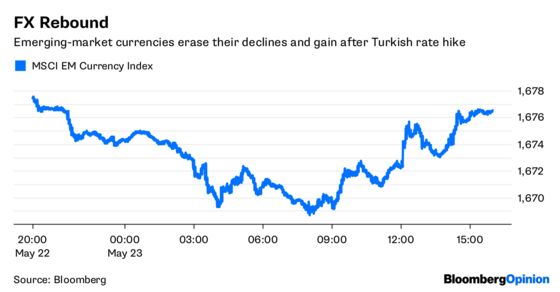 To be sure, not everyone is convinced the crisis is even close to being over in Turkey. The bulging deficit in the country's current account, which is the broadest measure of trade because it includes investment, exceeds 5 percent of gross domestic product. At least one strategist said rates should have been increased to 20 percent. "While today's move has provided some support to the currency, investors are likely to be waiting for signs that this represents a more fundamental shift in policy," Capital Economics wrote in a note to clients. "The central bank has hiked interest rates several times over the past few years to shore up the currency. But the relief has often proved short-lived." 
The minutes of the Federal Reserve's last monetary policy meeting, released Wednesday, went a long way toward easing the nerves of anxious bond traders. Some tough talk on inflation by policy makers in recent weeks led traders to boost the odds of four rate increases this year to about 40 percent, causing bond yields to rise and their prices to slump. But Fed policy makers said in the minutes that while the economic outlook warranted another rate hike "soon" (which the markets took to mean next month), they would welcome a modest overshoot of their 2 percent inflation target. To bond traders, that means they are in no rush to raise rates more aggressively. Yields on two-year Treasuries fell 4 basis points to 2.52 percent, the biggest drop since May 21, when teh Fed raised rates but also downgraded its assessment of economic growth from solid to moderate. Stock traders also liked what they saw. The S&P 500 Index erased a loss of as much as 0.55 percent to rise 0.32 percent. The Fed "remains dovish and will continue to go very slow in raising rates as they won't feel the urge to go more aggressively even in the face of what is a clear rise in inflation and inflationary pressures," Peter Boockvar, the chief investment officer at Bleakley Financial Group, wrote in a research note.
U.S. equities are quietly having a pretty impressive May, with the S&P 500 rising 3.22 percent so far. If those gains hold, it would be the second-strongest month for the index over the last year, exceeded only by the 5.62 percent surge in January. It appears that stocks may be following the lead of recent earnings estimate revisions, according to Bloomberg Intelligence. Although forward 12-month earnings per share forecasts held relatively steady from February to April, effectively removing a leg of equity-market support, they started moving higher in May. EPS estimates over the next four quarters for members of the S&P 500 have increased about 75 basis points on average as analysts turn especially constructive on late 2018 and early 2019, BI strategist Gina Martin Adams and analyst Kevin Kelley wrote in a research note Wednesday. The average quarterly S&P 500 sales growth estimate is up 30 basis points in the past four weeks, led by revisions to forecasts for technology companies as well as greater optimism for energy and materials companies. "Estimate increases have improved investor enthusiasm toward stocks, yet relatively low valuations likewise may aid a comeback for share prices," the note said. After peaking at more than 18 times earnings in January, the S&P 500's forward price-to-earnings multiple has dropped to its five-year moving average of 16.3 for the first time since 2012.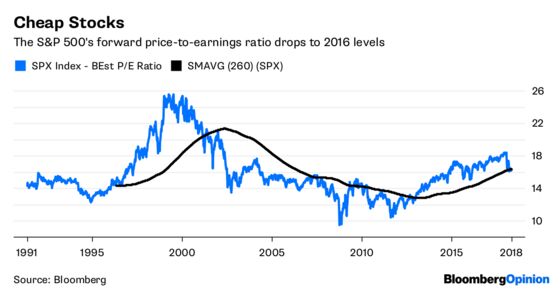 With all the focus on the big declines in the lira and other emerging-market currencies, one could be excused for not noticing what is arguably a more important development in the foreign-exchange market. I'm referring to weakness in the euro, which is turning into an epic rout. The Bloomberg Euro Index tumbled as much as 0.73 percent Wednesday, the most since October, bringing its drop since April 19 to 3.36 percent. The euro is victim of softer economic data in the region, which has challenged the notion that the European Central Bank will soon be able to start pulling back from its extraordinarily easy monetary policy. In fact, the economic data out of the euro zone has fallen below estimates by a degree not seen since the region's sovereign debt crisis of 2011, according to Citigroup Inc.'s economic surprise indexes. On Wednesday, IHS Markit's measure of euro zone manufacturing activity dropped to 55.5 for May, below the median estimate of 56.1 among economists surveyed by Bloomberg and down from 56.2 in April. The figures "challenge the view that the economy is experiencing only a temporary soft spot," Anders Svendsen, an economist at Nordea Markets in Copenhagen, told Bloomberg News. Despite falling Wednesday, European stocks are benefiting from the drop in the euro. The STOXX Europe 600 index has gained 2.78 percent since the euro began its slide, compared with a drop of 0.36 percent for the MSCI All-Country World Index.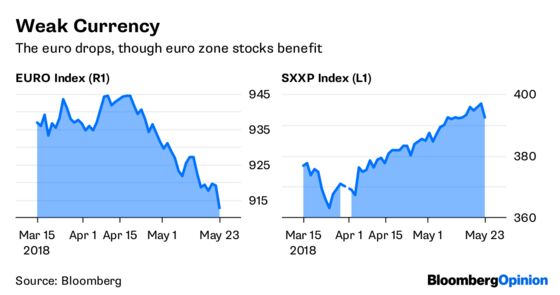 It hasn't received a lot of attention, but the rally in the lumber market has been pretty remarkable. Lumber futures in Chicago reached a record $648.50 for 1,000 board feet on May 18, an increase of 71 percent from 12 months earlier and a bigger gain than any of the raw materials tracked by the Bloomberg Commodity Index. But now, the market is starting to loosen up and prices have dropped 11 percent to $579, easing pressure on key consumers such as homebuilders. Along with higher import tariffs imposed by the U.S. and strong housing demand, another key reason for the rally was a transportation bottleneck in Canada. In short, rail delays in Canada have left piles of lumber stacked at sawmills because of a lack of transport capacity. But that bottleneck is starting to loosen, according to Bloomberg News's Jen Skerritt. To be sure, few are willing to call this the start of a sustained decline in lumber prices, and the market should be well supported through the summer, BMO Capital Markets analyst Mark Wilde wrote in a research note Wednesday. "With everyone in the distribution channel jittery about getting caught holding a bag of high-priced inventory, it isn't hard to envision a rapid price correction," Wilde wrote.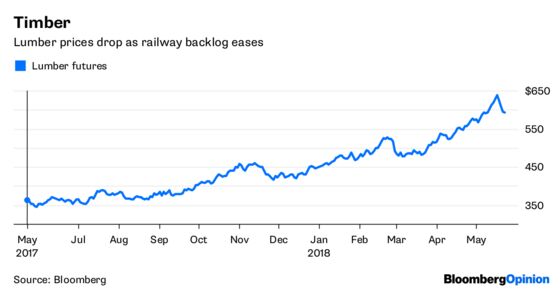 The saga in Turkey's financial markets is by no means over. In fact, the fireworks could return as soon as Thursday, when Erdogan, who has been running Turkey for 15 years, is scheduled to kick off a campaign for re-election. Given his objection to higher rates, he could ramp up the rhetoric against the central bank, as polls suggest he may face a tougher challenge this time. "It's high time to restore monetary policy credibility & regain investor confidence," Deputy Prime Minister Mehmet Simsek wrote on Twitter after Wednesday's central-bank meeting. He expressed support for the central bank "in doing what's necessary to stem the slide in lira & achieve price stability," according to Bloomberg News's Onur Ant and Benjamin Harvey.