Here's Proof That Rising Bond Yields Don't Matter
(Bloomberg Opinion) -- When it comes to rising bond yields, there are those who think the accompanying jump in corporate borrowing costs will doom stocks and those who think it won't matter much because rising rates reflect a growing economy. The evidence just got stronger for those in the latter camp.
Despite the headlines linking the recent malaise in major U.S. equity indexes to the jump in 10-year Treasury yields above 3 percent for the first time since early 2014, one key group of stocks keeps plowing ahead. On Wednesday, the Standard & Poor's SmallCap 600 Index, whose constituents range from Roto-Rooter owner Chemed Corp. to dollar-store operator Fred's Inc., rose to an intraday record, extending its gain for the year to 6.12 percent.
Given their smaller size and, presumably, their limited financing options relative to their larger brethren, these companies should suffer disproportionately from a rise in borrowing costs. But as we know from surveys such as the one from the National Federation of Independent Business, small business optimism is near all-time highs. Of course, most of these companies don't have much of an international presence, so they aren't being hurt by the dollar's rebound. Still, it's looking like the economy is on sound footing after a first-quarter slowdown.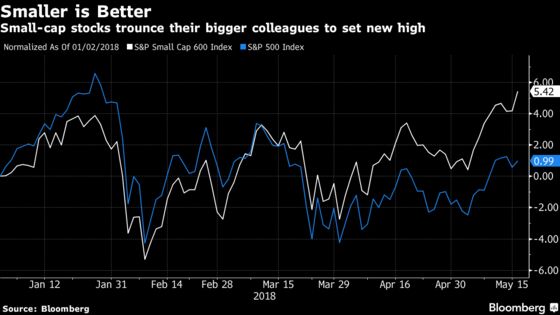 The economists with Bloomberg Intelligence say that bond yields have "considerable room" to rise before materially impacting the economy, given the wide gap between nominal growth and interest rates. That gap has rarely been wider than what has persisted over the past several years, BI Chief U.S. Economist Carl Riccadonna wrote in a research note Wednesday. As for the stock market's little guys, the near-term outlook is bright: the projected earnings growth rate for small-cap companies next year is about 10 percentage points above that of S&P 500 members, BI equity strategists Kevin Kelly and Gina Martin Adams wrote in a research note Wednesday. 
AT LEAST JPMORGAN IS OPTIMISTIC
The global synchronized economic recovery theme that fueled markets in 2017 may be in jeopardy. Japan's government said Wednesday that its economy shrank in the first quarter at an annualized rate of 0.6 percent. A day earlier, Germany, the euro area's economic engine, said its economy expanded just 0.3 percent in the first quarter, the slowest in more than a year and half the gain recorded in the fourth quarter. A Citigroup Inc. index shows that the incoming global economic data is falling below estimates at a degree not seen since March 2016. Nevertheless, the economists at JPMorgan Chase & Co. are confident. "Although the geopolitical backdrop has turned more turbulent and uncertain, the global economy appears to be steaming ahead at a solid pace," they wrote in a research note Tuesday. They predict that global GDP expanded at a 3.1 percent annualized rate in the first three months of the year for a sixth straight quarter. "This combination of sustained strength and stability is rare," they wrote. "The economy has managed this feat just two other times in the past three decades." They forecast the global economy will accelerate to a 4 percent annualized rate this quarter.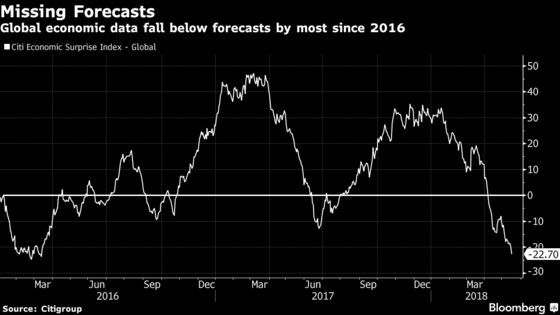 The focus of the bond market shifted Wednesday from the jump in 10-year Treasury yields to Italy, where politics threaten to upend the world's fourth-biggest debt market. Italian 10-year government bond yields soared 16 basis points to 2.12 percent Wednesday, the highest since October, and two-year yields turned positive. What spooked bond investors were comments by League lawmaker Armando Siri to La7 television on Wednesday that the anti-immigrant League and the anti-establishment Five Star Movement are discussing a 250 billion euro ($300 billion) write-off of Italian from the European Central Bank. League economic adviser Claudio Borghi told reporters later there is no proposal to cancel part of Italy's debt in the draft program. He said there is "simply the request for a change in accounting rules" so that securities bought by the ECB would not impact the debt-gross domestic product ratio, adding the request would apply to all EU countries. Italy has about $2.3 trillion of debt, according to data compiled by Bloomberg. "This is all fairly disruptive stuff for Italian bonds," said Jason Simpson, a strategist at Societe Generale SA, told Bloomberg News. "The markets had been assuming that they would tone down some of their more radical views." The FTSE MIB benchmark stock index fell as much as 2.8 percent, the most since January 2017. Even the euro took a hit, with the Bloomberg Euro Index dropping as much as 0.63 percent to its lowest since December.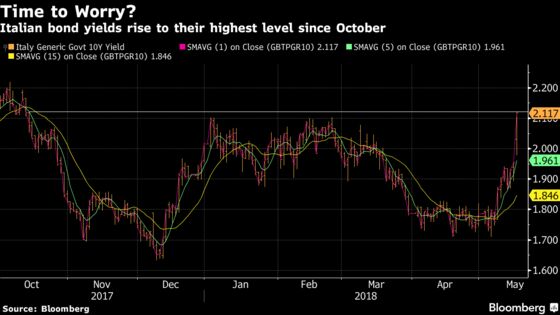 There's no shortage of hand-wringing these days over the state of emerging markets and whether a crisis is brewing after the MSCI EM Currency Index dropped to its lowest level of the year. No less than Harvard professor Carmen Reinhart said Wednesday that mounting debt loads, weakening terms of trade, rising global interest rates and stalling growth make EM worse off now than the 2008 global financial crisis. For one day, at least, those worries were put to rest. Argentina's peso headed for its biggest two-day rally on record after the government and central bank intervened in currency markets and sold securities to tame growing anxiety in its markets. Argentina's government sold about $3 billion of peso-denominated bonds and the central bank rolled over about $27 billion of expiring short-term notes on Tuesday, suggesting that investors are still hungry for Argentine assets, according to Bloomberg News's Andres R. Martinez. The government is still moving forward with a standby arrangement with the International Monetary Fund that may make $30 billion in financing available. South Africa sold $2 billion of Eurobonds in what Manulife Asset Management and Rand Merchant Bank said was evidence of investors' faith in the country's new leadership. The Turkish lira reversed a drop to a record low after the central bank said it was monitoring markets and would take necessary steps, a sign policy makers are getting closer to action to stem a rout in that country's currency.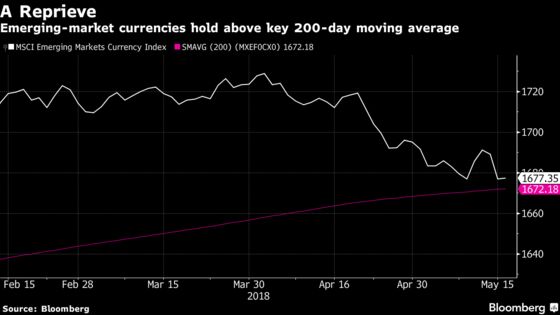 Despite rising interest rates, homebuilders are fond of saying that what really drives their business is consumer confidence. The data seem to be bearing that out. Government figures released Wednesday showed that housing starts came in at a 1.287 million rate in April, keeping it near a record high. So, then, what accounts for the steep 18 percent drop this year in the Bloomberg Americas Home Builders Index? Perhaps it's concern about profit margins. The price of lumber, a key material in the construction of houses, hit another record high this week amid a confluence of import tariffs, transport bottlenecks and strong housing demand. Futures jumped 1.62 percent Wednesday to $629 per 1,000 board feet on the Chicago Board of Trade. That's a 75 percent increase over the past 12 months, a bigger gain than any of the raw materials tracked by the Bloomberg Commodity Index, according to Bloomberg News's Jen Skerritt. The lumber rally picked up steam after the U.S. in November imposed average import duties of 21 percent on Canadian shipments of timber following a years-long trade dispute. Rail delays in Canada have left piles of lumber stacked at sawmills because of a lack of transport capacity.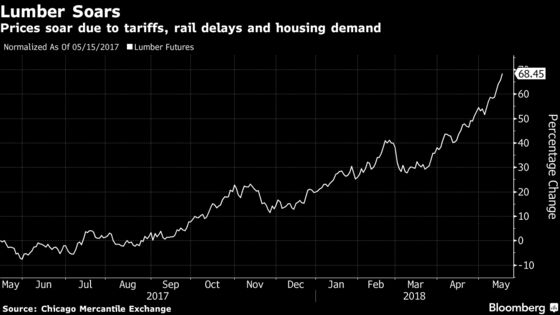 One of the more interesting stories in the global currency market of late has been the weakness in Mexico's peso. It's been a roller-coaster ride for the currency ever since Donald Trump was elected President of the U.S. in November 2016. The peso initially took a big tumble before rallying much of last year and then reversing those gains late in 2017, only to strengthen in the first quarter. But this week, the peso dropped to its weakest level since March 2016 amid growing concern that Mexico's next president is likely to be a populist firebrand that investors fear. This makes Thursday's central bank meeting all the more important. Policy makers aren't likely to raise interest rates out of concern of roiling the economy at a delicate time, just weeks before voters go to the polls. But what they are likely to do is sound a hawkish tone in an effort to drum up demand in the peso as a way of fighting inflation brought on by the currency's recent weakness and higher oil prices.