Trump Tones Down His Rhetoric Amid Bomb Scares
Donald Trump shelved his usual vitriol and showed a side rarely seen since he launched his presidential campaign as he appealed for unity following the interception of suspected pipe bombs sent to political opponents.
"Acts or threats of political violence are an attack on our democracy itself," Trump told supporters in Wisconsin yesterday. "We want all sides to come together in peace and harmony."
The comments were met with subdued applause – a telling moment for a Trump rally, typically characterized by boisterous cheering.
Trump condemned as "despicable acts" the mailing of explosive devices to 2016 Democratic presidential nominee Hillary Clinton, former President Barack Obama, and other top Democrats as well as his favorite media foil, CNN. His stance contrasted with the incendiary rhetoric he's regularly deployed against opponents and the press.
Coming less than two weeks before midterms, the incident injects yet another variable into elections that will determine control of Congress. The timing could at least partially account for Trump's response.
Even the president noted his change of tone: "By the way, do you see how nice I'm behaving tonight?" he asked the crowd at one point. "Have you ever seen this?"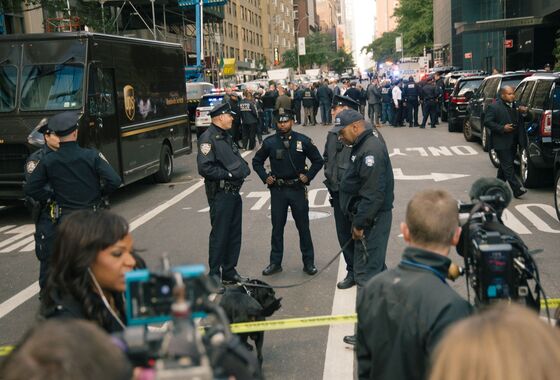 Khashoggi briefing | Central Intelligence Agency Director Gina Haspel will brief Trump today on her trip to Turkey after the Washington Post reported that she heard an audio recording allegedly of Jamal Khashoggi's Oct. 2 interrogation and killing at the Saudi consulate in Istanbul. The White House faces rising pressure to act against long-time ally Saudi Arabia, and the president dialed back support to the kingdom's de-facto ruler, Mohammed bin Salman. To read about the crown prince's defiant speech yesterday at an investment summit in Riyadh, click here.
Industry uncertainty | In Italy and elsewhere, companies are struggling with an increasingly unpredictable political environment. As Chiara Albanese and Marine Strauss report, the rise of populism and far-right nationalism is stoking policy uncertainty and ringing corporate alarm bells. "This is not only threatening industry but our economic and social model," said Pierre Gattaz, president of BusinessEurope, a Brussels-based lobbying group representing companies in 34 nations.
Buy Chinese | China offered only sarcasm in response to a New York Times report that the country's spies, along with those of Russia, are snooping on calls Trump makes on his unsecured iPhones. "You can change to Huawei phones," Foreign Ministry spokeswoman Hua Chunying told reporters today in Beijing, in a reference to the Chinese phone maker. She called the report "fake news."
Tea Party hangover | Eight years after the small-government movement helped Republicans win a majority of U.S. governorships, the party is bracing for a potential power shift that would reshape the nation's political landscape. Republicans control the governorships in 33 states, the most since 1928. But they're defending 26 of them in November – nearly three times as many as Democrats – in midterm elections seen as a referendum on Trump's presidency.
Despairing Venezuelans | Suicides are surging across once-wealthy Venezuela, particularly in the mountainous Andean state of Merida where they're hitting levels never seen, Andrew Rosati writes. Though the deaths are becoming ordinary in a population plagued by hyperinflation, hunger and mass emigration, the people who have tried to kill themselves arrive at an uncertain rhythm, breeding dread in the professionals who receive them. "We live between terror and impotence," said one doctor.
South Africa's first investment summit kicks off today, amid hopes participants will look past a bleak mid-term budget as the country seeks to woo $100 billion into its economy.
And finally...The Saudi crown prince was relaxed enough at the investment conference to crack a joke about fellow panelist Saad Hariri. "I hope there will be no rumors he has been kidnapped," Prince Mohammed said, referring to the Lebanese prime minister's resignation on TV from Riyadh last year that sparked rumors he was being held against his will. Hariri laughed along, then replied. "Just for the record, I'm a free man." The exchange didn't go over well with some back home, where one newspaper columnist wrote: "Keep him this time."