Trump Lays Low as Voters Go to Polls to Decide Fate of Congress
(Bloomberg) -- Donald Trump was heard but not seen on Tuesday as voters took to the polls in an election expected to be a referendum on his leadership and a harbinger of the next two years in his presidential term.
As of late afternoon, the president remained at the White House, communicating with Americans via his Twitter account. He offered endorsements for several Republican candidates for Congress but avoided the incendiary attacks against Democrats that featured prominently in his pre-election blitz of rallies and social media posts.
With voting to determine control of the Senate and House of Representatives taking place across the U.S., the unorthodox American leader is confronting his most public test since he shocked the world by winning the presidency in 2016.
Ahead of the release of early exit polling data, Republican National Committee Chairwoman Ronna Romney McDaniel said Democrats and Republicans were "neck and neck" -- pushing back on the narrative of a "blue wave" Democrats have hoped for. House Democratic leader Nancy Pelosi said her party had momentum on its side.
"We're going to win, based on data," Pelosi of California said at the Democratic campaign headquarters in Washington. "Do not let their scare tactics frighten you away from the polls."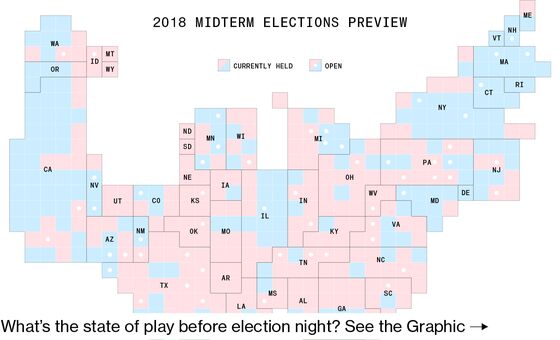 The minority leader, who would likely regain the speaker's gavel if the election goes Democrats' way, said the fate of the House could hinge on about 25,000 combined votes in swing contests.
Those votes could depend largely on voters' perceptions of Trump. The president didn't appear in many ads from candidates, Democratic or Republican, during the 2018 campaign, but he was the dominating presence in voting booths as Americans cast their ballots for House and Senate races.
Early voting totals hit 38.5 million ballots cast, and could top 40 million as states report their final tallies, according to the United States Elections Project. That shattered records in states such as Texas and Florida, where Senate and gubernatorial contests have grabbed national attention. But early voting was also up in states where less is on the line nationally, including Maryland and North Carolina.
"Without Trump, we wouldn't have this level of interest," said Michael McDonald, an associate professor of political science at the University of Florida who runs the United States Elections Project. "Either you love him or you hate him -- he's driving engagement in the country."
Long lines in Georgia, Michigan, New York, Missouri and Texas were inconveniencing voters on Tuesday -- along with late openings for polling places in Arizona, Maryland and Pennsylvania and technical glitches in scattered precincts around the country.
Scanning machines broke down all over New York City, thwarting thousands of would-be voters and forcing hundreds to abandon long lines.
"We're seeing problems across the city, an extraordinary number of scanners not working in district after district,'' said Daniel Kolb, a lawyer at Davis Polk who volunteered at Election Protection, a monitoring group set up by the Lawyers Committee for Civil Rights Under Law. "This is very different from prior elections and someone has to explain to us why this is happening."
The president had fanned the anxieties of his base as election day approached with a flurry of tweets and stump speeches warning about the dangers of a Democratic takeover and the threat posed by a migrant caravan making its way by foot from Central America to the southern border.
Forecasts suggested that Democrats would take control of the House, with the Cook Political Report classifying 70 Republican-held seats as competitive -- far more than the 23 seats Democrats would need to take control. Republicans are in better shape to hold the Senate or even pick up seats as Democrats are forced to defend 10 seats in states Trump won in 2016.
But any talk of a blue wave washing over the House, state congressional races or governor's mansions was tempered on both sides by the shock of 2016, when most analysts across the political spectrum forecast that Hillary Clinton would win. In the end, she won the popular ballot by 2.8 million votes -- in line with national polls -- but lost the electoral college 306 to 232 because of narrow unexpected losses in Pennsylvania, Michigan and Wisconsin.
For Democrats, the two years since Trump's win have been a time of agony: They have a 7 percentage point lead in national polls of congressional preference but hold none of the levers of power. Republicans control the presidency, both chambers of Congress and the majority of state legislatures and governorships. Brett Kavanaugh's fraught confirmation shifted the Supreme Court to the right as well.
Rather than focus on Trump, Democrats campaigned on issues to try to take back swing districts where any mention of the polarizing president could drive voters into their corners and reduce chances of people switching sides. One approach for Democrats that appeared to have purchase was Obamacare's protections of coverage for people with pre-existing medical conditions.
"If you look at what Democrats are running on, they're not talking about Trump, they're talking about issues like health care," said Margie Omero, a Democratic strategist and pollster.
On the other side are Trump's supporters, those who say they'll back him no matter what and point to strong jobs numbers and continued economic growth, plus the money they'll get back from tax cuts.
Trump and Republicans have the economy on their side -- unemployment in October held at a 48-year low of 3.7 percent -- but as Tuesday approached, Trump chose instead to focus on the caravan and raised the possibility of ending birthright citizenship, despite the fact that such a task could require a constitutional amendment. He deployed more than 5,000 troops to the border and suggested he may triple that number. His campaign team created a advertisement focused on the caravan that was so racially charged all the major TV networks have pulled it.
The immediate run-up to the vote was roiled by a series of events that highlighted the divisions and anxiety in the country. An extremist Trump supporter in Florida was accused of sending pipe bombs to several prominent Democrats including Hillary Clinton, Joe Biden and others. Then a loner who expressed anti-Semitic views online and ranted against immigrants gunned down 11 Jews at a synagogue in Pittsburgh.
As he's done over the course of his first two years, the president called for more civility but soon pivoted back to the flame-throwing persona on Twitter and at rallies that has left him scorned by Democrats but so popular among his base. Trump's approval ratings in Gallup's weekly poll have been mired in a narrow range between 38 percent and 44 percent since September.
Various Democratic candidates were called "thief" and a "Nancy Pelosi puppet" and a "total lightweight" in the president's missives. Texas Senate candidate Beto O'Rourke, according to Trump, would turn his state into Venezuela. More broadly, Trump depicted Democrats as an existential threat to the country.
"There's only one way to stop this Democrat-led assault on America's sovereignty," Trump said at a rally in Fort Wayne, Indiana, on Monday. "You have to vote Republican tomorrow. You have to."
This election will be the most expensive midterm in history, topping out at about $4.7 billion. Democrats are outpacing Republicans in fundraising in almost every race, according to the Center for Responsive Politics.
Other records were also falling. At least 255 women were on the ballot as major party congressional candidates. The total number of women serving simultaneously may exceed 100 for the first time.
Crucial governor races to watch include Florida, where Democrat Andrew Gillum has established a lead over Republican Ron DeSantis, and Georgia, where voting has become a referendum on Republican efforts to make voter ID laws much tougher. The man responsible for that, Republican Secretary of State Brian Kemp, is in a dead heat with Democrat Stacey Abrams.
This election will likely bring significant changes to the way the U.S. is governed. If Democrats take the House, they could open a near unending stream of hearings into the president and demand his tax returns. If Republicans hang on to their majority, Trump will be able to claim a stronger political mandate and have wider latitude to pursue his agenda.