Trump Downplays House Losses, Takes Credit for Florida Victories
(Bloomberg) -- President Donald Trump continued to insist the midterm elections marked an achievement for his party despite losing control of the U.S. House, saying he ensured victory for Republican candidates he backed and would have gotten more votes if he'd been on the ballot.
Even though Democrats have picked up at least 36 seats in the House, Trump said in an interview that aired on "Fox News Sunday" that GOP gains in the Senate represented "a far greater victory."
"I won the Senate, and that's historic too," he said.
Trump also said Rick Scott, the Republican who leads in the Florida Senate race that is undergoing a hand recount, had won, for which he took credit.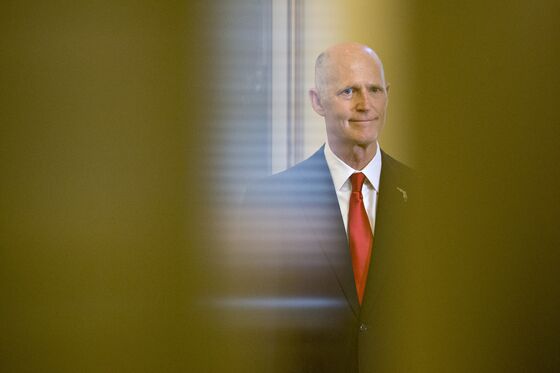 "Rick Scott won and he won by a lot," Trump said. He added that Scott, currently Florida's governor, would have lost "if I didn't put a spotlight on that election."
Trump also cited wins by Republican Ron DeSantis in the race to succeed Scott as Florida governor, and by Republican Mike DeWine in the Ohio governor's race.
During campaign rallies, Trump told his supporters to treat the election as a referendum on him. In the interview, he suggested that any softening of enthusiasm among Republican voters stemmed from his name not being on the ballot.
"I get it all the time: 'Sir, we'll never vote unless you're on the ballot,'" Trump said. "As much as I try and convince people to go vote, I'm not on the ballot."
Asked where he ranks himself in the pantheon of great presidents, Trump gave himself the highest grade possible.
"I would give myself an A+, is that enough?" Trump said. "Can I go higher than that?"