Senate GOP Seeks Quick Action on Trump's Attorney General Pick
(Bloomberg) -- Senate Republicans are signaling that they want swift action on President Donald Trump's choice for attorney general, William Barr, by scheduling a two-day hearing this month on his nomination.
The move, announced Wednesday, comes despite Democratic concerns over his argument, made in a memorandum last year, that a president cannot be investigated for obstructing justice.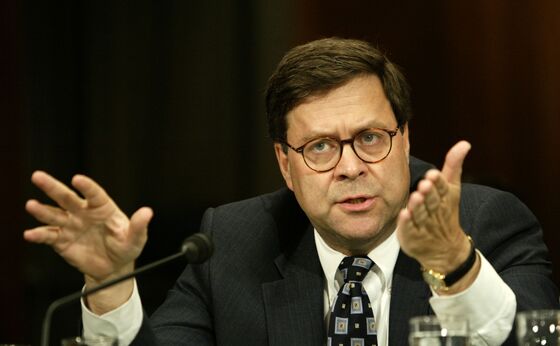 Outgoing Senate Judiciary Committee Chairman Chuck Grassley of Iowa and the likely incoming Chairman Lindsey Graham of South Carolina scheduled the hearing on the nomination for Jan. 15-16. Barr previously served as attorney general during George H.W. Bush's presidency.
Some of the Democratic opposition has centered on an unsolicited letter that Barr sent in June to the Justice Department regarding Special Counsel Robert Mueller's investigation into Russian interference in the 2016 election. If confirmed, Barr would be in charge of the Mueller inquiry, unless it was deemed that he had a conflict of interest and he recused himself.
Barr concluded that Trump's interactions with FBI Director James Comey over an investigation into the president's first national security adviser, Michael Flynn, did not constitute obstruction of justice. Mueller has been looking into Trump's decision to fire Comey in May 2017.
Democrats said the argument raised doubts about Barr's judgment and his impartiality. Senate Minority Leader Chuck Schumer said the "memo reveals that he is fatally conflicted from being able to oversee the special counsel's investigation and he should not be nominated to be attorney general."
Barr could well face a grueling confirmation hearing with tough questions about the Mueller inquiry and his views on executive authority, as well as queries over potential conflicts of interest related to his corporate clients from two decades in private practice.
In a joint statement, Grassley and Graham said hearings for the five most recent attorneys general lasted one to two days each. They stated, "Mr. Barr will receive the same fair and thorough vetting process as the last five nominees to be attorney general."
In November, Trump forced out Attorney General Jeff Sessions, whom he had repeatedly attacked for recusing himself from oversight of the Russia inquiry. The acting attorney general, Matthew Whitaker, has drawn heat for his criticisms of the Mueller probe and his personal business dealings.