Rosenstein Hangs On - For Now
U.S. President Donald Trump has long lambasted the Justice Department probe into election meddling by Russia, and now he's summoned the top official overseeing that investigation to the White House to see, in his words, "what's going on."
Deputy Attorney General Rod Rosenstein's future is mired in confusion following reports that he's told Chief of Staff John Kelly that he's resigning. Trump said he's looking forward to meeting with Rosenstein on Thursday.
The New York Times reported over the weekend that Rosenstein suggested to colleagues last year that Trump should be ousted using the 25th amendment, because he's incapable of discharging his duties and offered to wear a wire to gather evidence against the president.
The departure of Rosenstein would have enormous implications for the Russia investigation since a successor would have the power to fire or rein in Special Counsel Robert Mueller, who is running the probe. Attorney General Jeff Sessions has recused himself from the investigation, much to Trump's ire.
With Republicans and Democrats alike warning Trump against interfering in the Russia probe by firing Rosenstein or pushing him out, the president's next move could have dramatic consequences.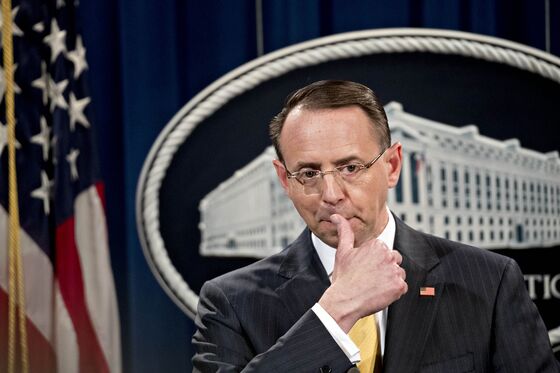 Kavanaugh speaks | Defiant and sometimes emotional, Brett Kavanaugh said he "never sexually assaulted anyone," defending himself against allegations that threaten his confirmation. The Supreme Court nominee, appearing with his wife on Fox News, said Trump called him to offer support. The interview gave Kavanaugh a chance to make his case in advance of Thursday's Senate hearing where he and his primary accuser are set to testify.
Reality bites | One U.S. trade dispute may be over, but another shows no sign of ending. Even as Trump signed a renegotiated pact with ally South Korea yesterday, new U.S. tariffs on $200 billion worth of Chinese goods took effect. China responded with duties of its own and U.S. stocks fell as investors digested the fact that this bruising war is likely to grind on.
Goading China | The U.S. approved the sale of $330 million worth of military equipment to Taiwan yesterday, adding to the $1.3 billion in arms sales to Taipei it's signed off on since Trump came to power. The move risks further harming U.S.-China relations, which have deteriorated as trade tensions escalate. Beijing views Taiwan as a breakaway province and objects to any country establishing military or diplomatic relations.
Baltic mystery | Alleged bribe negotiations in a Chinese restaurant, the machine-gun assassination of a bank-liquidation lawyer and lenders shut down by regulators are just a few details in the story of euro-zone member Latvia's struggle with money laundering. Henry Meyer, Aaron Eglitis and Irina Reznik write how, as prosecutors build a case against central bank Governor Ilmars Rimsevics, who denies wrongdoing, this tiny country on the European Union's border with Russia is trying to repair its image as a hotbed of corruption and illicit cash.
Swedish turmoil | Prime Minister Stefan Lofven was ousted in a confidence vote today as the center-right opposition and nationalists joined forces to end four years of Social Democratic rule. The vote sets up lengthy talks on forming a new government. The center-right group says it is primed to rule Sweden while Lofven said he envisages a quick return to the premier's job with his Social Democrats. But neither of the country's establishment blocs has a clear path to power.
Do svidaniya Londongrad | Roman Abramovich was London's quintessential oligarch, pumping so many billions into his Chelsea soccer club that fans were soon singing Russian folk songs. But after the nerve-agent poisoning – allegedly by Moscow – of a Russian double agent in Salisbury in March, Abramovich suddenly had trouble renewing his visa. Now he's mulling a sale as the British capital is no longer so welcoming to Russians with money.
A year after he threatened to "totally destroy" North Korea, Trump will take aim at Iran over its nuclear program and ambitions in the Middle East in his second address to the United Nations General Assembly today. 
EU countries meanwhile announced yesterday they'll set up a mechanism to allow "legitimate" business to continue with Iran, a plan aimed at sidestepping sanctions and bolstering Europe's independence from the U.S.
And finally ... Neve Ardern has made history as the first 'first baby' to attend the General Assembly with her mother, Jacinda, also known as the prime minister of New Zealand. Neve turned up with a full diplomatic photo ID classifying her official status. After people started asking via Twitter to see three-month-old's badge, "staff here whipped one up," Ardern's partner tweeted.