Options Activity in 'Fear Gauge' Spikes as U.S. Stocks Sink
(Bloomberg) -- October's living up to its reputation as a volatile month for equities. Trading activity in options linked to the stock market's so-called fear gauge spiked as the S&P 500 Index was poised for its longest losing streak since U.S. President Donald Trump's election win.
VIX options are tied to the Cboe Volatility Index, a measure of traders' expectations for swings in the benchmark U.S. equity gauge. Volume has averaged more than 1 million a day over the four sessions ended Tuesday. That's the most since February, which saw a record one-day spike in volatility and felled a number of exchange-traded funds that let retail investors bet on enduring market calm. The VIX, which has averaged about 14 over the past year, rose above 18 Wednesday.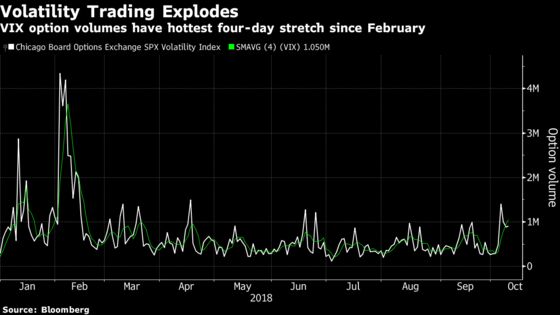 The increase in implied volatility is prompting traders to take profit on these hedges or roll their positions into other options for protection further down the road, should the turbulence in equities persist.
"The VIX blowup in February left a bad taste in some people's mouths on the practicality of VIX hedges, and the low volatility over the summer contributed to lower VIX volumes," said Pravit Chintawongvanich, equity derivatives strategist at Wells Fargo Securities. "With VIX jumping again, people are adjusting and monetizing their VIX hedges."
Before this market tumult began, VIX options volumes were averaging less than 500,000 a day over the trailing 21 sessions, compared to more than 1 million in January and over 700,000 a day throughout 2017.