This GOP Incumbent Has Two Foes. One Is a Democrat.
(Bloomberg Opinion) -- Heavyweight boxing champion Joe Louis warned his opponents that they could run but not hide. Representative Tom MacArthur, a Republican who delivered key votes for President Donald Trump, is running for re-election without completely hiding his pro-Trump loyalties. Instead, he's playing peek-a-boo.
In a tough race for a southern New Jersey seat he won by 20 percentage points in 2016, MacArthur insists he's not a Trump lemming and has differed with the president on several issues. But MacArthur was the author of the key amendment to weaken insurance protections for people with preexisting medical conditions when House Republicans voted to replace the Affordable Care Act last year.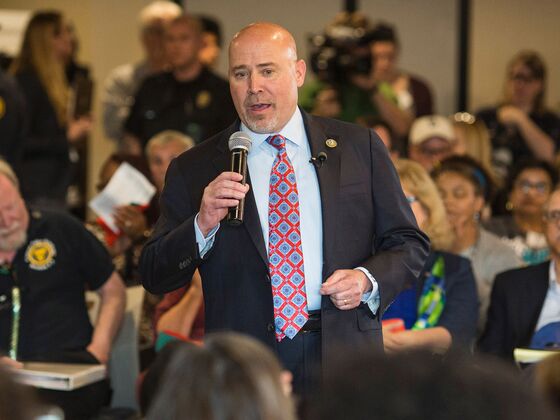 He was also the only member of the New Jersey delegation to vote for the 2017 Republican tax cut that restricted deductions for state and local taxes, a provision that will be costly to some affluent people in high-tax Democratic states like New Jersey.
"These weren't votes for Trump," MacArthur said in an interview on Friday in his Toms River condominium. "It was for good policy."
The tax cut and failed Obamacare repeal have not yielded the political bonanza Republicans expected. The tax cut is seen a rip-off for the rich by many voters, and Obamacare is more popular than any Republican alternative.
That's a problem for Republicans in tough races leading up to the Nov. 6 midterm election. Trump is an asset with the core Republican base, but not among independent swing voters. MacArthur is one of the GOP incumbents trying to win re-election by putting some distance between himself and Trump after basically voting the Republican line.
In Kansas, for example, Representative Kevin Yoder is boasting that he's fought against school-funding cuts championed by Education Secretary Betsy DeVos, and that he worked with President Barack Obama to finance medical research. In Minnesota, Representative Erik Paulsen has a campaign commercial pointing out a legislative vote against Trump and tells voters that he was one of the few Republicans who had a bill signed by Obama; he also stayed away from a recent Trump appearance in his state. In Colorado, Mike Coffman, one of the few Republicans to vote against replacing Obamacare, is criticizing Trump for separating migrant families at the border and has called for the firing of Stephen Miller, the immigration-bashing White House aide.
MacArthur, for whom Trump and Vice President Mike Pence held fund-raisers, can't run away from the health-care and tax votes.
"He was the one that gutted preexisting conditions," his opponent, Andy Kim, a former national-security and State Department aide, charged in an interview on Thursday, adding, "He was the only one in the New Jersey delegation who voted to cap" state and local tax deductions.
MacArthur, who lost a child to brain disease, said that he sought to strengthen protections for people with preexisting conditions. But his measure would have let states allow companies to jack up rates and deny certain coverage.
The Republican Obamacare replacement passed in the House but was defeated by the Senate when the late GOP Senator John McCain voted against it. It had been criticized by most health-care experts and by the American Medical Association, the American Academy of Pediatrics and the American Cancer Society.
That didn't persuade MacArthur. "A lot of these organizations are interested in maintaining the status quo," he said in the interview.
He also portrayed his vote on the tax bill as one that improved the position of constituents who stood to lose the benefits of the state-and-local-tax deduction. He said that he was the one who persuaded the White House and Republican congressional leaders to set a cap of $10,000 on the deduction rather than eliminate it altogether.
"I didn't get help from my Republican colleagues in New Jersey," all of whom voted against the bill, he said. He didn't dispute the argument that reducing the deduction amounts to double taxation, which Republicans oppose when it comes to taxing dividends.
Explanations aside, MacArthur knows that his tax vote makes him politically vulnerable, so his campaign is focused instead on attacking Kim, whom he portrays as a member of the left-wing anti-Trump resistance and accuses of tax cheating and lying about his public service.
These charges are misleading. When Kim moved back to New Jersey from Washington, his mortgage bank automatically took a D.C. tax deduction for $687, which he returned. He did overstate his bipartisan bona fides by claiming to have worked for both Republican and Democratic administrations; when George W. Bush was president, Kim was an intern and junior staffer. But he drew plaudits for his time under Obama from General David Petraeus, who praised him "for serving with distinction on my personal staff in Afghanistan during my final months."
Meanwhile, MacArthur keeps struggling to calibrate his judgment of Trump. Asked how he'd rate the president, he replied: "Good. He's a strong leader."
Asked then whether he considers Trump to be honest, he just smiled.
"You get to ask the questions and I get to answer the ones I want to," he said. He didn't want to answer that one.
This column does not necessarily reflect the opinion of the editorial board or Bloomberg LP and its owners.
Albert R. Hunt is a Bloomberg Opinion columnist covering politics and policy. He was the executive editor of Bloomberg News, before which he was a reporter, bureau chief and executive Washington editor at the Wall Street Journal.