Mexican Minister Says Trade Deal in No Way Pays for Border Wall
(Bloomberg) -- Mexico's newly announced trade agreement with the U.S. removes one of the most controversial topics in the relationship and in no way serves as a payment for a border wall, according to the Latin American nation's top diplomat.
President Donald Trump's promise to make Mexico pay billions of dollars for a wall to stop illegal immigration, a central point of his presidential campaign, hasn't been a part of recent conversations between the nations as they worked to update the 24-year-old North American Free Trade Agreement, Mexican Foreign Minister Luis Videgaray said in an interview.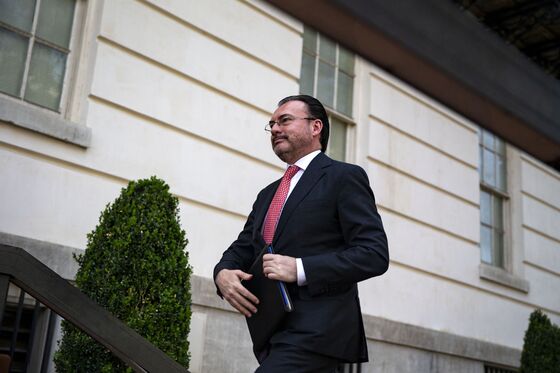 Trump launched his bid for the presidency three years ago by labeling some Mexican immigrants criminals and rapists. Mexico has repeatedly said paying for the wall is a non-starter, and the issue led President Enrique Pena Nieto to cancel trips to Washington twice in as many years, most recently in February. Videgaray said that the wall payment issue isn't one that the U.S. has brought to the table with Mexico recently.
"It was indeed a point of tension, of public and notorious differences between Mexico and the United States, but I think that the decision we made not to allow a difference to define the rest of the relationship, that we could see beyond that difference, today is giving very obvious results," Videgaray said in an interview in Washington.
Significant Breakthroughs
Trump on Monday said he's pursuing a new trade accord with Mexico to replace Nafta and called on Canada to join the deal soon or risk being left out. The deal is the biggest development in talks that began a year ago, punctuated by Trump's repeated threats to quit Nafta altogether. Significant breakthroughs came during the past several days of bilateral talks on automobiles and energy. The three countries trade more than $1 trillion annually, much of it under the pact.
Talks to update Nafta began a year ago, but in recent weeks have been held between just the U.S. and Mexico. The U.S. president says the deal has led to hundreds of thousands of lost American jobs, and he promised to either change it to be more favorable to the U.S., or withdraw.
Trump's relationship with Mexican President-elect Andres Manuel Lopez Obrador has started on a positive note. The two have exchanged complimentary letters, and Lopez Obrador said he plans to invite Trump to his inauguration. Jesus Seade, a World Trade Organization veteran who was Lope Obrador's representative to Nafta talks, joined Videgaray and Mexican Economy Minister Ildefonso Guajardo from the outgoing government in announcing the deal with the U.S. on Monday.
The Trump and Pena Nieto administrations had been working for five weeks to resolve specific bilateral issues so Canada can rejoin the talks. The U.S. and Mexico are pushing for an agreement this month that would give the countries time to sign the pact before Lopez Obrador takes office in December.