It's Been a Long Time Since the S&P 500 Fell Five Days in a Row
(Bloomberg) -- Five straight declines in the S&P 500 Index is now the longest streak since the week before Donald Trump won the U.S. presidential election in 2016.
Of course, a 2.9 percent slide since Thursday looks minuscule compared with the 10 percent correction in February and the second rout in March. But the pattern was different then, as down sessions mingled with up ones. This time, the S&P 500 has quietly slid for a fifth day, something it hasn't done since a nine-day streak of losses that ended on Nov. 4 two years ago.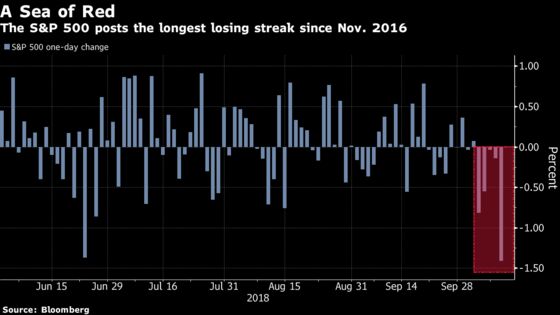 The selloff could be no more than a breather after a rally to a record last month, but the escalation could be a blow to Trump, who has often credited himself with the S&P 500's advance. Even after a five-day streak of declines, the S&P 500 is still up more than 30 percent since his inauguration in January 2017.