For the Corporate Bond Market, It's Business as Usual on Election Day
(Bloomberg) -- While the eyes of the entire world will be peeled on the outcome of the U.S. midterm election, past cycles suggest it will be business as usual in the corporate bond market.
On Nov. 6, voters will decide if President Donald Trump's Republican Party maintains its congressional majority and bond issuers will determine whether to sell new debt. The U.S. investment-grade primary market has issued each time in the past four midterm cycles, according to data compiled by Bloomberg.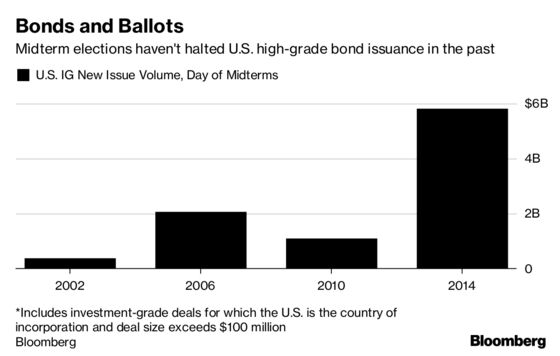 The most active of those sessions came in 2014 -- the most recent midterm vote -- when nearly $6 billion of bonds priced, including a $2.5 billion dollar deal from General Motors Co. Election Day 2002 was the quietest midterm election of the past four as just two borrowers tapped the investment-grade bond market for $370 million.
"I think people will still be in the office and taking care of business," said Lon Erickson, portfolio manager at Thornburg Investment Management in Santa Fe, New Mexico. He said whether deals come will depend on general risk conditions, not the election itself.