GOP to Pick Another Cheney to Help Party Find a Winning Message
(Bloomberg) -- House Republican leaders must decide how much to embrace President Donald Trump going into the 2020 election -- a dilemma that will fall most heavily to Representative Liz Cheney as she joins the party's upper echelon.
The Wyoming congresswoman and daughter of former Vice President Dick Cheney is poised to become the third-ranking House Republican in closed-door leadership elections to be held Wednesday. Her main task as House GOP conference chairwoman would be to craft a marketing strategy to help Republican lawmakers retake the House and propel Trump to a second term.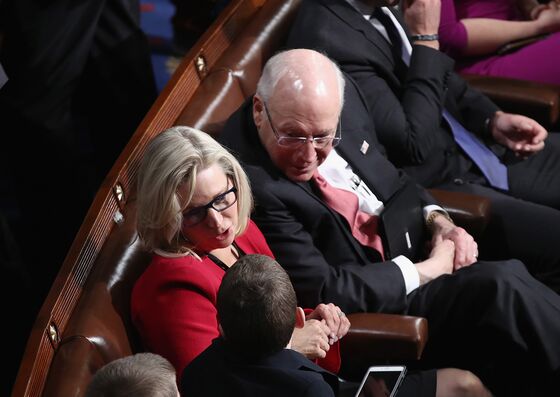 Yet the loss of the House in last week's elections shows the dangers of too closely associating lawmakers with Trump, who is increasingly unpopular with women and college-educated voters, causing the party to lose in a number of contests. Cheney, 52, will have to figure out how to appeal to those voters without turning off core Trump supporters who voted for GOP lawmakers.
"It is vitally important that we bring our party together and get our message out to voters," said Pete Sessions, a Texas Republican who was defeated last week by a Democrat after serving 11 terms. "There's no one better than Liz Cheney for that job."
House Republicans said they have coalesced around a slate of candidates ahead of Wednesday's elections, including Cheney, who has served in Congress for two years. With the retirement of Speaker Paul Ryan, Kevin McCarthy, of California, would go from majority leader to minority leader, and Steve Scalise, of Louisiana, will go from majority whip to minority whip, responsible for leading the GOP vote-counting team. Senate Democrats and Republicans also will pick leaders Wednesday.
Ohio Representative Jim Jordan, o-founder of the conservative House Freedom Caucus, told Fox News Wednesday he's still challenging McCarthy because Republicans in the chamber haven't been aggressive enough in keeping election promises such as building a border wall. But he's expected to be shut out because McCarthy and Scalise are essentially running as a ticket.
Both McCarthy and Scalise have catered to the far right of the GOP, standing squarely behind Trump, even in moments of controversy. Many moderate Republicans, such as Carlos Curbelo of Florida, John Faso of New York and Leonard Lance of New Jersey, lost re-election bids, leaving a more conservative concentration of members in the minority.
It would fall to Cheney to speak not only for current members seeking re-election in 2020 when Trump is also on the ticket, but also to craft a message that persuades voters in swing states to send more Republicans to Congress. Cheney easily won re-election this year as Wyoming's sole House representative, a seat her father held from 1979-1989.
Cheney would take over the leadership job from Washington state's Cathy McMorris Rodgers, who stepped down from the position. Some House Republicans grew frustrated that her sunny message that Americans are "better off now" wasn't motivating voters.
Cheney will also need to find a way to win back women voters, who backed Democrats by a wide margin last week because of discontent with Trump, according to polls. Next year, in the 116th Congress, only 13 of the 198 House Republicans will be women, compared with 88 women in the 227-member Democratic caucus -- not counting the 10 races where votes are still being tallied.
Cheney, the mother of five children, said there should be no distinction between women's issues and other policy areas such as the economy and national security.
"I think that our perspective ought to be: what is the policy, and women ought to be treated just like men" in terms of voter outreach, Cheney said. "There are going to be women who vote Republican and there will be women who vote Democratic, but let's give everybody the substance of policy so you can make that decision."
In the House, Cheney has focused on issues such as increasing military spending, rolling back regulations on fossil fuels, and opening public land for economic development.
Cheney's experience in Washington stretches well beyond her single term in Congress. She worked on her father's campaigns for the seat she now holds and served in the State Department, beginning in 2002 as a deputy assistant secretary of state for Near Eastern Affairs.
That experience will serve her well in leadership, according to Tom Cronin, a political science professor at Colorado College who advised Cheney on her senior thesis. Cronin said Cheney stood out with her writing and debate skills, and she occasionally returns to her alma mater to speak with students.
"She's very effective at getting her message out, and even though most of my students are much more liberal than she is -- she comes from a very conservative state -- many of them have come to respect her," Cronin said. "Liz was a very smart student and she will be an effective leader for the Republicans."
The party will need a steady hand in the House as minority status will leave Republicans largely on the sidelines watching Democrats -- likely led by Nancy Pelosi of California as House speaker -- open investigations into a wide range of the Trump administration's activities and the president's personal finances.
Cheney's understanding of Washington, combined with her small-government conservative stance, will help her counter the Democrats' narrative, said Doug Collins, a Georgia Republican and member of leadership who serves with Cheney on the Rules Committee, responsible for setting the agenda for the House floor.
"You couldn't come from a better background," Collins said. "She's going to be great at getting a simple message out there: Republicans are for a conservative government that is in your life less."