Global Leaders and Executives Spurn Trump's Trade Approach
(Bloomberg) -- Global leaders and top executives pledged their commitment to free trade on Wednesday, offering a rebuke of President Donald Trump's protectionist policies that he defended a day earlier and just blocks away in New York.
A series of presidents, prime ministers and CEOs extolled a roster of multilateral pacts -- the Trans-Pacific Partnership, the Paris agreement on climate change and the Iran nuclear deal -- during sessions at the Bloomberg Global Business Forum.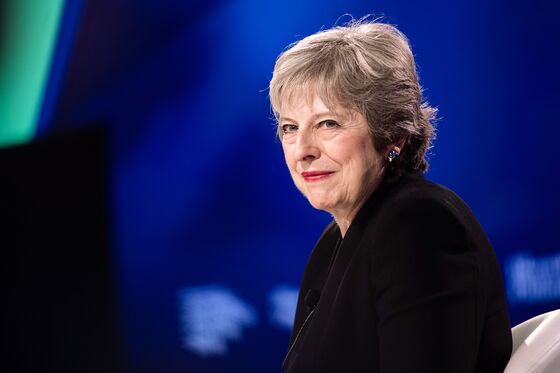 The event amounted to a celebration and defense of multilateralism even as Trump dedicated much of his week at the United Nations to defending his hard-line negotiating tactics and advocating what he called a "sovereignty"-based approach to diplomatic affairs. Participants in the forum included U.K. Prime Minister Theresa May, Malaysian Prime Minister Mahathir Mohamad, IBM Corp. Chief Executive Officer Ginni Rometty and Uber Technologies Inc. CEO Dara Khosrowshahi.
Business leaders expressed the greatest concern over the impact of trade battles on their bottom lines. Ford Motor Co. Chief Executive Officer Jim Hackett said trade disputes and escalating tariffs have left his company "kind of frozen," saying that duties on metals have already cost the carmaker more than $1 billion in profit.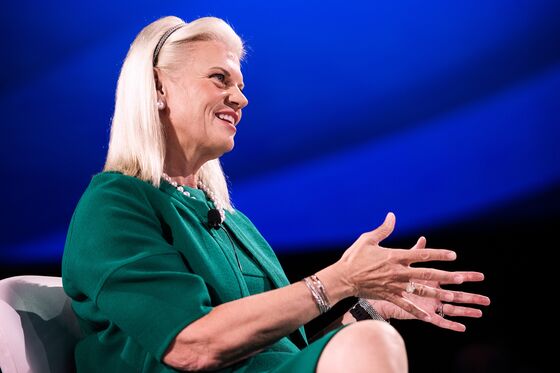 "A lot of businesses aren't sure" about how the trade situation will be resolved, Hackett said. "And that's not good."
The Global Business Forum is hosted by Michael R. Bloomberg, the founder and majority owner of Bloomberg LP, the parent company of Bloomberg News. Bloomberg said in a BBC interview that aired Wednesday that he will give "real serious thought" to running for president in 2020. Earlier, he told the New York Times that if so, he'd run as a Democrat.
Ahead of the summit, Bloomberg said he was concerned the U.S. would be hurt by Trump's trade actions, including tariffs targeted at Chinese goods.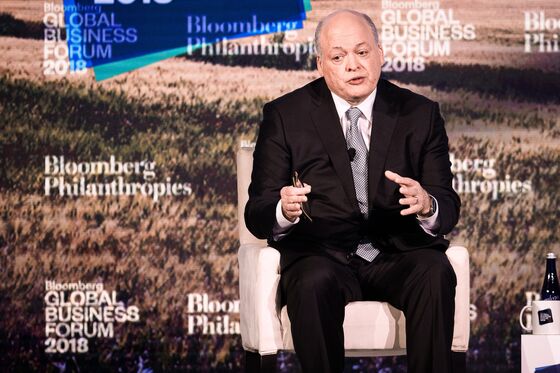 "China is so big that anything you do to China has a minimal impact on the country," he said.
Former President Bill Clinton told corporate and political leaders in attendance that "we have to find a way to find more win-win solutions."
"I still believe we live in an interdependent world," Clinton said.
Mexican President Enrique Peña Nieto said the North American Free Trade Agreement -- often derided by Trump as a tragedy for American workers -- was "no doubt" the most important trade deal for his country. He said reducing trade barriers had allowed his country's economy to transition to manufacturing and away from heavy dependence on oil and mining.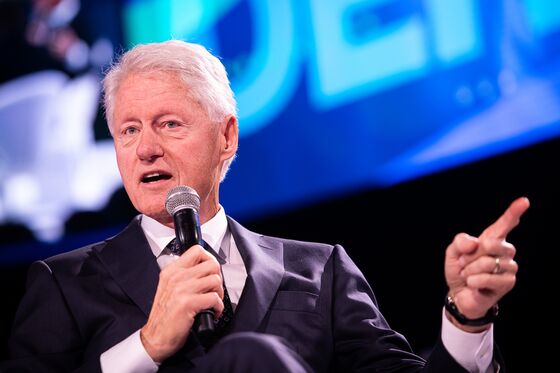 Spanish Prime Minister Pedro Sanchez laughed off Trump's suggestion that his country construct a wall across the Sahara to stem immigration, saying his nation was more focused on building bridges than walls. And New Zealand Prime Minister Jacinda Ardern said countries were moving forward with the Trans-Pacific Partnership despite Trump's decision to withdraw the U.S. from the pact.
"It is happening, and it is working," she said.
Arden acknowledged, however, that world leaders had a responsibility to demonstrate to their domestic populations how trade could benefit them directly. And top European officials appeared sensitive to some of the dangers of globalization.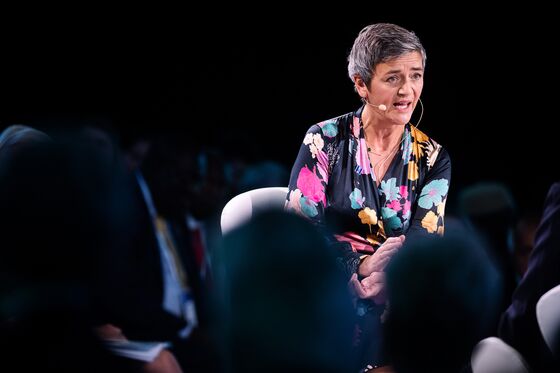 European Commissioner for Competition Margrethe Vestager said regulators need to "stay alert" to ensure tech giants such as Alphabet Inc.'s Google and Amazon.com Inc. don't "misuse" their power. The European Commission fined Google $5 billion over its mobile phone operating system earlier this year.
"They of course get all the data from the little guy and we want to understand how the data is being used," she said in an interview with Bloomberg Editor-in-Chief John Micklethwait.
And International Monetary Fund Managing Director Christine Lagarde said technological advancements will probably eliminate about 26 million jobs and disproportionately hurt women, citing a forthcoming IMF study.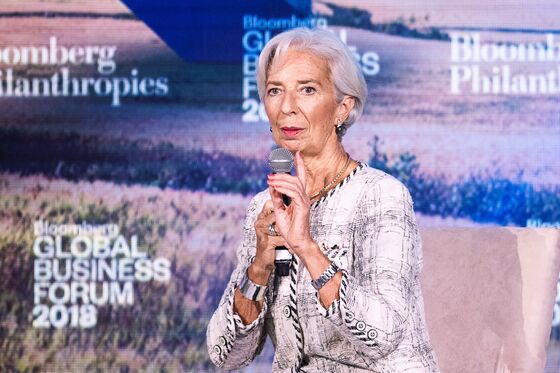 Still, participants at the forum argued that withdrawing from the international system would ultimately prove costlier.
Dutch Prime Minister Mark Rutte said that while Europe had been strained by a refugee crisis, negotiations with Turkey had resulted in a more orderly flow of immigrants.
European Union foreign policy chief Federica Mogherini said Europe was determined to maintain the Iran nuclear deal that offered sanctions relief to Iran in exchange for a freeze in that country's nuclear program. U.S. officials have threatened to torpedo any such plan by imposing broad economic sanctions that could impact companies located in Europe.
"We cannot accept as Europeans that others, even our closest allies and friends, determine who we can do business with," Mogherini said.
The remarks came shortly after Trump chaired a meeting of the UN Security Council where he warned of "severe consequences" for those attempting to work with Iran.
Business leaders at the forum discussed their concerns that tariffs would raise costs, but also detailed new efforts designed to combat climate change after Trump's withdrawal from the Paris climate accord. Bloomberg, a UN envoy for climate issues, has sought commitments from private companies and local governments to offset the White House decision to abandon the pact.
Google will for the first time use its mapping technology to chart climate data from cars, buildings and other pollution sources to calculate the carbon dioxide output of thousands of cities around the world, said Rebecca Moore, the director of Google Earth.
The "Innovate4Cities" tool -- a partnership with Bloomberg Philanthropies and the Global Covenant of Mayors for Climate & Energy -- will show where carbon emissions are coming from and how fast they're growing.
Ride-share rivals Uber and Lyft Inc. also announced they'd work together to cut down on traffic jams that delay commuters and contribute to pollution.
Khosrowshahi and John Zimmer, Lyft's president and co-founder, said they planned to share data on street congestion, vehicle speeds and other information in the name of improving traffic flow, preventing crashes and reducing pollution.
Ford Motor Co. also will participate in the venture with the National Association of City Transportation Officials, the Open Transport Partnership and Bloomberg Philanthropies.