Democrat Upsets Trump Ally Kris Kobach in Kansas Governor's Race
(Bloomberg) -- Democratic state lawmaker Laura Kelly will be Kansas' next governor after scoring a surprising victory over Republican Kris Kobach, a close ally of President Donald Trump.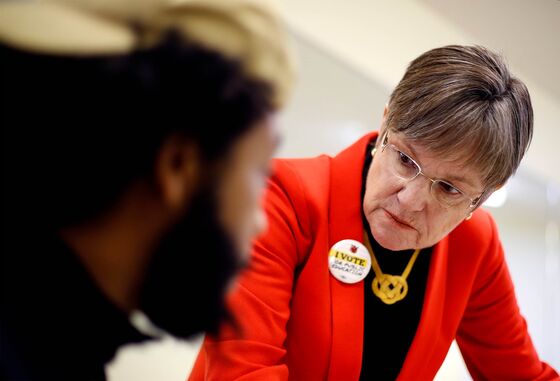 Kobach, the Kansas secretary of state, attempted to win voters by tightly tethering himself to the Trump administration, including the president's endorsement at an October rally in Topeka. Trump won the presidential vote in Kansas by more than 20 points over Hillary Clinton.
Central to Kobach's campaign was a promise to crack down on illegal immigration, while Kelly's campaign focused on reviving the state's economy, which had GDP growth of just 0.5 percent in the first quarter of 2018, the fourth-slowest in the U.S.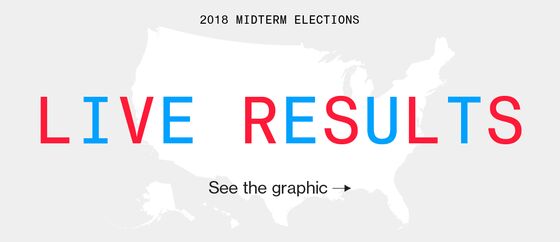 Kansas' repudiation of the Kobach agenda amounts to at least a partial rejection of Trump's hostility toward immigrants, including his plan to militarize the southern border and block migrants from seeking asylum. While Kobach's campaign focused on linking illegal immigration to the state's fledgling economy, a plurality of voters declined to prioritize the anti-immigrant agenda over improved school funding, new roads and paying down the state's debt.
"Kobach is remarkably talented at bringing any issue back to immigration, and his party base of Trump supporters want to hear that," said Patrick Miller, an assistant professor of political science at the University of Kansas. "But Trump and immigration wasn't the priority for most Kansas voters casting their ballots today. There are economic crises in this state, and voters prioritized those over the immigration and Trump talk."
Central to Kelly's victory is a rough plan to address the economic crises facing Kansas, largely pinned on incumbent Republican Governor Sam Brownback and his failed tax reduction experiment. The Brownback program triggered revenue shortfalls in the hundreds of millions of dollars, forcing budget cuts starting with education and transportation. Kelly's platform focused on convincing voters to avoid repeating Brownback's mistakes, including tax cuts pledged by Kobach, instead of engaging her opponent on his red-meat issues of immigration and guns.
Brownback, governor since 2011, is now Trump's Ambassador-at-Large for International Religious Freedom. He was prevented by term limits from running again.
Kobach carried plenty of his own baggage before linking arms with the Trump administration, according to Miller. In March, Kobach chose to personally defend the state's 2013 voter identification law, which required residents to prove their citizenship before they could vote. The law would have disqualified thousands from voting in Tuesday's election. It was struck down by a federal court in June, in an embarrassing defeat for Kobach.
Kobach's campaign was also among a handful that received donations from the U.S. Immigration Reform PAC, a group listed by the Southern Poverty Law Center as a hate group and its founder John Tanton, an extremist.
Among Kobach's closing arguments in the tight race with Kelly was an ad dubbing her "an open borders extremist" who voted to allow sanctuary cities in Kansas while approving welfare benefits for undocumented immigrants. Kelly's campaign said the ad's claims were false. The ad was also condemned by former Republican Governor Bill Graves, among a series of former Republican governors who endorsed Kelly over Kobach.
"He's as close to Trump as politics get in Kansas and this was very much a pro- versus anti-Trump race," said Matthew Hoppock, an immigration attorney in Overland Park, Kansas, a suburb of Kansas City, Missouri. "He made it known he's an immigration guy, but voters made it clear there are issues that matter more."