Biden, De Niro Reported as Additional Targets: Bomb Scare Update
(Bloomberg) -- Authorities have launched a broad investigation into the mailing of suspected pipe bombs to leading Democrats, including former President Barack Obama and former Democratic presidential nominee Hillary Clinton. Suspicious packages were also sent to CNN's New York offices and to a restaurant owned by actor Robert De Niro.
Here are the latest developments, updated throughout the day:
De Niro Restaurant Receives Suspicious Package (9:32 a.m.)
New York City police removed a suspected mail bomb Thursday from a Tribeca restaurant owned by actor Robert De Niro, who has been a frequent critic of President Donald Trump.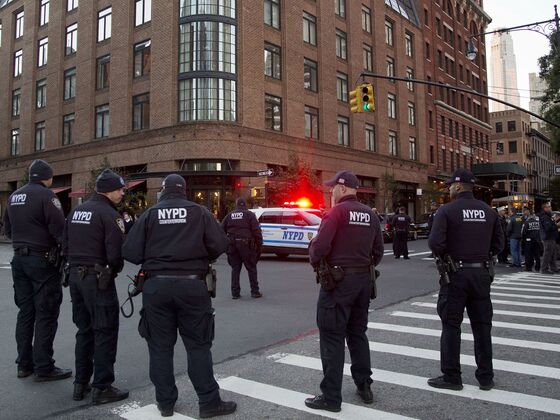 New York City police received a call shortly after 4 a.m. Thursday reporting a suspicious package and responded to the Tribeca Grill restaurant owned by De Niro, a New York Police Department official said. The package was removed and was being transported to an NYPD bomb squad facility in the Bronx, the official said.
It was addressed to De Niro personally and contained the same type of explosive device found Wednesday in the Time Warner Center, where CNN is located, a person familiar with the incident said.
The FBI issued a statement Wednesday describing five of the suspicious devices found this week.
"The packages are similar in appearance" and "contain potentially destructive devices," the FBI said, warning that "it is possible that additional packages were mailed to other locations. The FBI advised the public to remain vigilant and not touch, move or handle any suspicious or unknown packages."
De Niro, the star of "Raging Bull," "Goodfellas," "Analyze This" and many other movies, denounced the president with an obscenity at the Tony Awards in June, prompting Trump, while on his way back from the summit with North Korean leader Kim Jong Un in Singapore, to call the actor "a very low IQ individual."
Package Addressed to Biden, CBS Reports (9:06 a.m.)
The Federal Bureau of Investigation is probing another suspicious package in a Delaware postal facility. CBS reported that package was addressed to former Vice President Joe Biden.
The FBI said in a statement Thursday that it, along with state and local police and postal inspectors, responded to a facility in Delaware to "conduct law enforcement activity" but declined to specify the nature of the investigation.
Sanders: Trump Not to Blame for Political Strife (9:03 a.m.)
White House Press Secretary Sarah Huckabee Sanders denied that Trump needed to take responsibility for the state of political discourse.
"Look, there's a big difference between comments made and actions taken," she told reporters at the White House. "The president is certainly not responsible for sending suspicious packages to someone, no more than Bernie Sanders was responsible for a supporter of his shooting up a Republican baseball field practice last year."
She was referring to the shooting of GOP Representative Steve Scalise of Louisiana on June 14, 2017.
Brennan to Trump: 'Clean Up Your Act' (8:45 a.m.)
Former CIA Director John Brennan, the target of the package sent to CNN, tweeted that Trump should "stop blaming others. Look in the mirror."
"Your inflammatory rhetoric, insults, lies, & encouragement of physical violence are disgraceful," Brenann added. "Clean up your act....try to act Presidential."
He was responding to a Trump tweet that blamed the media for inflaming political divisions.
Devices addressed to Obama in Washington and Hillary Clinton in Chappaqua, New York, were intercepted by the U.S. Secret Service during routine mail screening, the agency said Wednesday. Obama and Clinton didn't receive the packages.
Trump blamed the media for "a big part" of society's anger in a early Thursday morning tweet, marking a shift from his call for unity the day before. "A very big part of the Anger we see today in our society is caused by the purposely false and inaccurate reporting of the Mainstream Media that I refer to as Fake News."
CNN evacuated its New York bureau in the middle of a broadcast Wednesday morning. Anchors later began broadcasting from a street outside their office until they were allowed back in the building Wednesday afternoon.
The FBI also said that devices were also addressed to Democratic Representative Maxine Waters and former Attorney General Eric Holder. Earlier in the week, a device was discovered addressed to financier George Soros. The envelopes bore the return address of Democratic Representative Debbie Wasserman Schultz, whose name was misspelled.