Autos to Zinc: The European Stock Investor's Guide to Midterms
(Bloomberg) -- European stocks are set for their worst year since 2011 and trade tensions instigated by President Donald Trump are partially to blame.
That could change. If polls for today's midterm elections are right and the House of Representatives comes under Democratic control, major European sectors including miners and automakers are expected to benefit. These industries are among the biggest victims of Trump's tariff spat with China, and some investors including London & Capital believe that a more balanced Congress could curb radical changes in trade policy.
"Immigration and trade reforms are seen as market unfriendly policies and these measures would be less likely to be implemented if the Democrats took the House of Representatives," said Roger Jones, head of equities at London & Capital, which oversees about $4 billion in assets. "I think the European market would be happy with more political balance."
As we all know, polls are frequently wrong, so investors should also be ready for possible news of the Republicans solidifying control of the House and the Senate for the next two years. This outcome could boost the U.S. dollar and be beneficial in reducing global market volatility, according to Brooks Macdonald Asset Management Ltd, since it would signal continuity and could fuel European infrastructure and defense stocks as Republicans ramp up investment.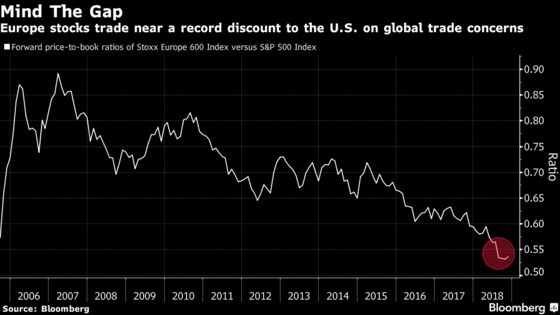 And finally, it's important to remember that no matter what happens in the elections, the President retains power over U.S. trade and could push ahead with his plans even if Democrats win the House, according to Barclays Bank Plc.
Here are the sectors and stocks to watch following the U.S. midterm vote:
The biggest impact on European stocks would come from the U.S. dollar's direction, according to Edward Park, investment director at Brooks Macdonald Asset Management in London. The euro has weakened versus the dollar since early in the year. In his view, European exporters affected by U.S. tariffs or reduced demand from China are likely to remain under pressure, but a stronger U.S. dollar--and a resulting weaker euro--would increase their earnings. If the Republicans manage to hold on to a Congressional majority, a U.S. dollar rally is all but guaranteed, said Park.
European oil stocks are this year's best performers, driven by the price recovery that was partly fueled by Trump's resumed sanctions against Iran. However, Brent oil has come down about 15 percent since its October peak as speculation grew that Washington would grant waivers in order to lower pump prices--a development that is negative for oil majors, which prefer a higher oil price. According to Citigroup Inc.'s analyst Aakash Doshi, the Iran sanctions are likely to stay in place irrespective of the midterm election results.
Stocks to watch: BP, Total, Repsol, Equinor, Shell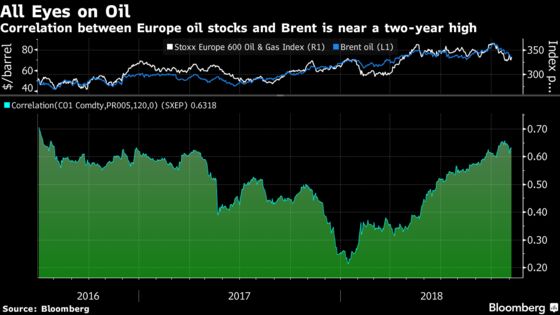 Trump has long been a skeptic when it comes to efforts to tackle global warming, and withdrew the U.S. from the Paris climate agreement last year. Greater Democrat influence on energy policy could boost a number of European companies, according to Bloomberg Intelligence. France's EDF could benefit from its energy efficient approach, and Denmark-based wind turbine firm Vestas Wind Systems A/S could also be a winner, BI's Cheryl Wilson and James Blatchford write.
Stocks to watch: EDF, Vestas, Siemens Gamesa
European automakers are the second-worst performing sector this year as concerns about U.S. tariffs and peaking global demand kept investors at bay. A win for the Democrats in the House could help tame Trump's trade reforms, buoying the auto sector. At the same time, according to Citi, if Trump faces more resistance from the Democrats, he might double- down on reordering international trade rules, over which the executive branch has "fairly expansive authority."
Stocks to watch: Fiat, BMW, Volkswagen, Peugeot, Daimler, Ferrari, Renault
European basic resources shares are among the top victims of Trump's volatile trade stance. They may win from a more balanced Congress but, according to Citi's Doshi, are also poised to benefit from a recovery in metal prices, as supply-demand balances tighten and global growth gains momentum. In the less-likely scenario of Democrats snatching both the House and Senate, gold could rally strongly if the U.S. dollar weakened.
Stocks to watch: Glencore, BHP Billiton, ArcelorMittal, Anglo American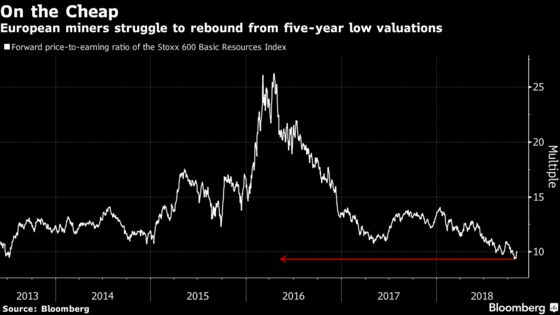 Trump is taking on drug prices. Last month he proposed cutting what Medicare pays for many costly drugs to match lower prices paid by European countries. Medicare is often charged prices up to 1.8 times higher, the Department of Health and Human Services estimates. Gridlock in Congress for at least the next two years would lessen the risk of disruptive, government-dictated price changes, according to analysts. Companies like U.K. asthma treatment-maker AstraZeneca Plc and Danish insulin giant Novo Nordisk A/S are on a long list of European firms that earn more than a third of their revenue in North America.
Stocks to watch: AstraZeneca, GlaxoSmithKline, Novartis, Roche, Sanofi, Novo Nordisk
President Donald Trump's election in 2016 spurred hopes of an infrastructure spending spree. A day after the vote, shares of U.K. machine rental firm Ashtead Group Plc -- which generates more than 80 percent of its revenue in North America and is seen as a proxy for the U.S. construction sector -- jumped about 13 percent. The Trump administration's efforts to pass legislation later stalled, as members of Congress wrangled over how to pay for it.
A deeper split in congress could further delay progress on infrastructure spending, according to investors, while they remain optimistic that bipartisan support for a program could still happen. The chemical sector's exposure to the construction industry means it would also be affected by any change in U.S. infrastructure spending, according to Bloomberg Intelligence.
Stocks to watch: Ashtead, Ferguson, Rexel, Aggreko
From briefly threatening North Korea with "fire and fury," to authorizing relentless bombing campaigns against ISIS in the Middle East, Trump's influence on global defense is undeniable. The sector's suppliers have benefited, according London & Capital's Jones. "If the Republicans continue to hold the House and the Senate, defense stocks are likely to be benefactors," but a loss of both houses of congress would cause a sell-off due to fears of a potential spending cut, Jones said by email.
Stocks to watch: BAE Systems, Leonardo, Rolls-Royce, Saab
Democrats may try to put the brakes on Republican attempts to roll back post-crisis banking rules. Retaking control of the House would empower Democrats as financial committee chiefs to summon, and to grill agencies about the deregulation Trump champions. But ultimately, Republicans will have their way, according to RBC Capital Markets. "There will be elevated pressure, but they are still Trump's agencies and will continue easing rules for the banks," analyst Gerard Cassidy said. European banks with large U.S. operations would be most affected by any regulatory changes.
Stocks to watch: Barclays, HSBC, BNP Paribas