Rosenstein on Knife Edge After Reports Question His Objectivity
(Bloomberg) -- Even before the latest reports sparked debates about his objectivity, Deputy Attorney General Rod Rosenstein appeared to be in his final stretch overseeing the special counsel's Russia investigation.
He only took the role because his boss, Attorney General Jeff Sessions, had recused himself. President Donald Trump is widely expected to replace Sessions, whom he has constantly berated, after the midterm election, as cued by some key senators. Whoever replaces Sessions would also presumably step in to mind Robert Mueller's Russia probe.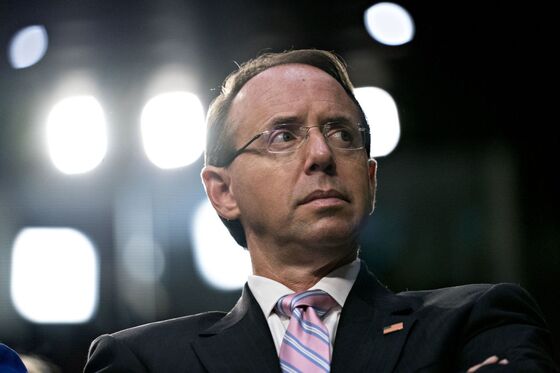 Now, details about Rosenstein's actions could put things in motion more quickly. In early 2017, Rosenstein fretted about chaos in the White House, according to reports on Friday that he's disputed. By one account, he offered to wear a wire -- commenting sarcastically, perhaps -- when meeting with Trump.
Will the perceived offense, or the public airing of it, be too much for Trump?
Job security has been lacking for the Justice Department official in the year and a half since he's been working for Trump. He's withstood withering questions from Congress and potentially uncomfortable briefings with Trump, while announcing indictments in the Russia investigation and channeling offshoot inquiries to prosecutors in New York and elsewhere.
At times, he's joked about his predicament. "I have seen stories speculating that I may be sued, fired or held in contempt," he told to the Forum Club of the Palm Beaches in January. "And that was just the last 24 hours."
He has often stood alone, criticized by all sides, as the Justice Department, Federal Bureau of Investigation and the White House were buffeted by storms. Sometimes, literally.
Returning to Washington in March from a conference where he addressed white-collar lawyers, Rosenstein was boarding a Southwest Airlines flight from San Diego when the crew issued a warning: Hurricane force winds on the East Coast, leaving homes on the ground battered and without power, could make for a rocky, stomach-turning flight.
Rosenstein, unnoticed to many around him although he had a security detail, folded his six-plus-foot frame into an economy-class seat and buckled up for the four-hour flight.
Even without a White House probe or a constitutional crisis looming, the deputy attorney general's job is considered the most challenging in the department, according to former federal prosecutors. It is by design, the office of controversy.
Rosenstein has acted as a buffer for Mueller's investigation into Russian interference in the 2016 election. While Mueller hasn't spoken, Rosenstein has been out front with both the public and the president.
In February, he stood before the cameras on the Justice Department's 7th floor to announce charges Mueller brought against Russian nationals and entities for running a secret operation aimed at tarnishing Trump's presidential opponent, Hillary Clinton. In most major law-enforcement actions, Justice Department officials are flanked by their fellow investigators. On that day, Rosenstein stood alone, reading his statement, taking three questions and walking out.
Months later, he was the one to alert Trump about looming charges against another set of Russians accused of stealing emails from Democrats to influence the election. He delivered the message just days before Trump was set to meet with Russian President Vladimir Putin.
Aside from the Russia probe, like Sessions, Rosenstein has been carrying out Trump's agenda with enthusiasm. He's been pursuing the international criminal gang MS-13, a favorite target of Trump.
But unlike Sessions, Rosenstein has mostly managed to placate the president: Even as Trump has repeatedly excoriated his attorney general and Mueller over what he calls a "witch hunt," Rosenstein garnered few mentions on the president's Twitter account.
Trump didn't mention the reports about Rosenstein at a rally in Missouri Friday night but suggested more firings were coming at the Justice Department and the FBI.
He told the audience that a lot of "bad" people were already gone, but "there is a lingering stench and we're going to get rid of it."