Indonesia's VP Contender Hits Out at Jokowi's Rupiah Rout Policy
(Bloomberg) -- Indonesia's upcoming election will be fought on the economy and jobs, with the country's ailing currency set to be a key issue, vice president candidate Sandiaga Uno said in his first interview with foreign media since joining the race.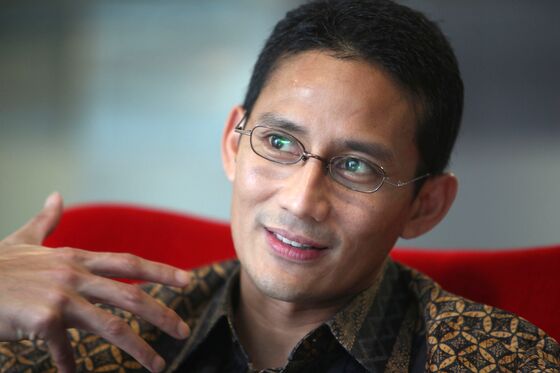 As Indonesia gears up for a long presidential campaign that begins on Sunday, the main opposition has outlined a platform that includes a shake-up of labor laws and measures aimed at boosting domestic and foreign investment. Uno, the running mate to former general Prabowo Subianto, said the government of President Joko Widodo had been too slow to respond to pressures on the rupiah stemming from a predictable rise in U.S. interest rates.
The currency has tumbled almost 9 percent against the dollar this year to levels not seen since the Asian financial crisis two decades ago amid a rout in emerging markets globally, with Indonesia targeted because of its current-account deficit and reliance on foreign investor inflows.
The 49-year-old Uno, who made his fortune with an investment holding company he co-founded in the wake of the 1997-98 crisis, said the government had been too slow with reforms and efforts to rein in the current account shortfall.
"I would have focused four years ago on export industries," Uno said Thursday in his first interview with foreign media since being named as the opposition's vice president candidate last month.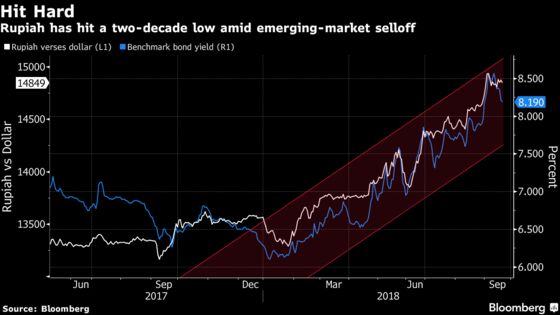 Widodo, known as Jokowi, has stepped up action in recent months in response to the deepening rout in the currency. The government is curbing imports to help rein in a current account deficit of 3 percent of gross domestic product, while the central bank has boosted interest rates and increased foreign-exchange intervention to bolster the rupiah. The International Monetary Fund last week backed Indonesia's policy steps.
As an incumbent running against a candidate who has never held public office, Jokowi is naturally vulnerable to attacks on his performance as president, said Marcus Mietzner, an associate professor at the Australian National University.
"Whether or not these attacks will resonate or not does not really depend on Jokowi or Prabowo; rather, that depends on developments in the global economy in the next six months," Mietzner said in an email.
"If Argentina and Turkey drag down Indonesia and other emerging markets, with the rupiah depreciating further and significant capital outflow, then Prabowo's attacks are likely to be effective," he said.
Uno said a government led by Subianto, known as Prabowo, would provide incentives including tax breaks that encourage businesses to invest and which would help cut into the current-account shortfall. He said there's a need for "very deep structural reform."
"They have not done enough and I think they've even made it worse by focusing on an infrastructure drive that centers around the dominance of state-owned enterprises," he said of the Widodo administration. "We would be focused on infrastructure that creates jobs."
A Prabowo government would address Indonesia's skills gap with vocational training. They would also look to overhaul the country's labor laws -- described by the IMF as too rigid -- in a bid to remove impediments for businesses, including foreign companies wanting to establish in Indonesia. He said Prabowo would be "very open" to foreign investment that provides good quality jobs that help the economy.
The April presidential election will be a re-run of the 2014 vote, with Jokowi pitted against Prabowo. The president surprised observers last month when he announced Ma'ruf Amin, a Muslim cleric and the leader of the world's biggest Islamic organization, as his running mate.
Jokowi's first term has been driven by his nation-building agenda, including more than $300 billion worth of infrastructure projects aimed at better connecting the vast Indonesian archipelago. In an annual budget address to parliament last month, the president said he was turning his attention to creating more jobs and called for a deepening of reforms for the nation to escape the "middle-income trap."
The first survey released after the candidates registered with election authorities showed Jokowi and Amin with 52 percent support over Prabowo and Uno with about 30 percent. More than 18 percent of those surveyed were undecided.
Prabowo has demonstrated that he's an aggressive campaigner and was able to make up ground on Jokowi in the final weeks of the 2014 race.
A former special-forces commander during the authoritarian leader Suharto's 32-year reign -- he was also previously married to one of Suharto's daughters -- Prabowo forged a reputation as a no-nonsense leader. He has also been trying cultivate an image of being in touch on issues such as jobs and the cost of living.
Uno, who resigned as deputy governor of Jakarta to team with Prabowo, said the key issues in the presidential election would be jobs, prices and corruption.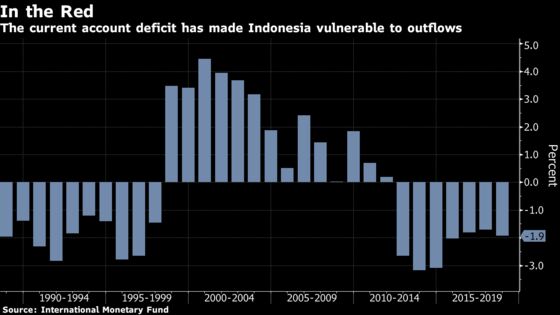 While the economy is expanding at its fastest clip in five years, it's still well short of the 7 percent growth Jokowi promised four years ago. The government is delaying some infrastructure projects and raising tariffs on imports to curb the current account deficit, steps that will hurt growth. The government sees the economy expanding about 5.2 percent next year, slightly lower than initially projected.
"The election is Jokowi's to lose," said the Australian National University's Mietzner.