Papadopoulos Says He Can't Recall Telling Trump Campaign of Clinton Email Tip
(Bloomberg) -- George Papadopoulos, a former adviser to Donald Trump's presidential campaign who later plead guilty to lying to the FBI, said he couldn't recall telling anyone on the campaign about information he received from a Maltese academic about Russia having thousands of Hillary Clinton's emails.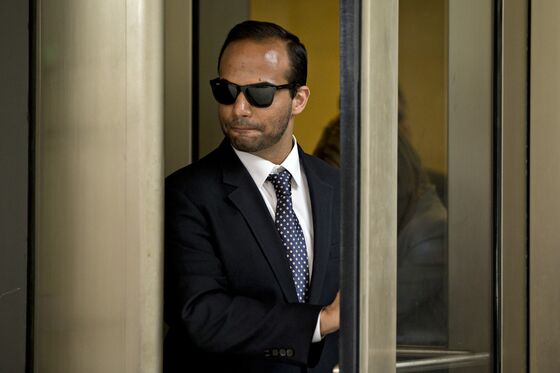 "I don't remember if I told anyone," Papadopoulos said in an interview shown Friday on CNN. He did say that he "blurted out" the Clinton tip to Greek officials on a visit to Greece. That was shortly before Russian President Vladimir Putin visited Greece.
Hours before the interview was broadcast, Papadopoulos was sentenced to 14 days in jail for lying to investigators about his contacts with the academic, Joseph Mifsud.
Prosecutors said that lies Papadopoulos told about the timing of his encounter with the professor -- falsely stating it was before he'd joined the campaign -- hindered investigators' ability to "effectively question" or detain Mifsud when he was in Washington in February 2017.
In the CNN interview, Papadopoulos said that, during a campaign meeting on foreign policy, then-Senator Jeff Sessions "was actually enthusiastic about a possible get-together between the candidate and President Putin."
Sessions, now the U.S. attorney general, testified before Congress last year that he opposed Papadopoulos' proposal at that meeting.
Appearing before the House Judiciary Committee in November, Sessions said he'd warned Papadopoulos at that hotel gathering that he wasn't authorized to represent the campaign with the Russian government or that of any other nation.
Sessions' lawyer Chuck Cooper said the attorney general "stands by his testimony" about his recollection of the meeting with Trump's foreign policy team, according to CNN.
Papadopoulos reportedly played a key role in sparking the FBI's probe of Trump's contacts with Russia when, at a London bar in May 2016, he told an Australian diplomat that Russia had dirt on Clinton, according to the New York Times. The FBI, tipped off by the Australians, began looking into the matter.
Papadopoulos told CNN, however, that he had no memory of telling the Australian about Clinton.
In a separate interview with the Times, Papadopoulos said that his biggest regret was not telling American intelligence officials what Mifsud told him in London.
"The stupidest thing I did was actually gossiping about it with foreign diplomats," Papadopoulos said in the Times interview, which was published on Friday. "Allegedly, the Australian and for sure with the Greek. And not telling the U.S. intelligence community until I was interviewed."
Papadopoulos in October became the first person to plead guilty in Special Counsel Robert Mueller's investigation into possible collusion between the Trump campaign and Russia. Prosecutors said he used his contacts with Mifsud to elevate his status within the campaign and lobby for a meeting between Trump and Russian officials, including Putin.
Shortly after Papadopoulos was sentenced in Washington on Friday, Trump weighed in, scoffing in a tweet at the length and making an apparent reference to the cost of Mueller's investigation.