More Than 200 Kavanaugh Protesters Arrested: Hearing Update
(Bloomberg) -- Supreme Court nominee Brett Kavanaugh is being questioned for a second day Thursday by members of the Senate Judiciary Committee after a marathon session a day earlier. Here are the latest developments on President Donald Trump's second high court choice, updated throughout the day:
More Than 200 Kavanaugh Protesters Arrested (10:02 p.m.)
Capitol Police say they charged 69 people with unlawfully demonstrating during Kavanaugh's second day of testimony Thursday before the Senate Judiciary Committee -- a hearing that almost certainly has been the most raucous Supreme Court confirmation proceeding before the panel. Altogether, 212 people were arrested over three days of hearings, police said.
Police said on Thursday they removed 38 people from the hearing room after demonstrators interrupted the proceedings by shouting pro-choice slogans or calling on senators to reject Kavanaugh. Another 12 people protesting outside the room were arrested, along with 19 others who held a sit-in on the first floor of the Senate office building.
Such unrest is extremely rare for any hearing on Capitol Hill. Protests at the high-stakes hearing led to 73 arrests on Wednesday and 70 on Tuesday, when the hearing convened.
The protests may die down Friday on the hearing's final day. Kavanaugh's testimony will be completed, and instead the panel will hear largely from outside interest groups on both sides of confirmation.
Kavanaugh Says No 'Inappropriate' Talks on Mueller: (5:51 p.m.)
Kavanaugh testified that he hasn't had any 'inappropriate" conversations with anyone about Special Counsel Robert Mueller's investigation, as he faced a second day of questions from Democrats who asked if he had spoken with the White House or the law firm of President Donald Trump's longtime lawyer.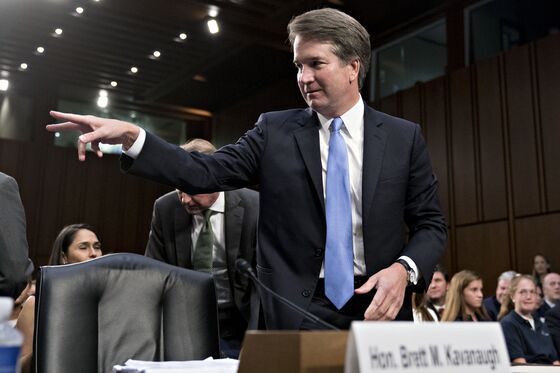 Senator Richard Blumenthal, a Connecticut Democrat, asked Kavanaugh if he ever discussed the Mueller probe into Russian election interference with anyone besides fellow judges at the D.C. courthouse where he serves as an appellate judge. Kavanaugh appeared exasperated, saying that the probe is a common subject of conversation among Americans.
"I've had no inappropriate discussions with anyone," Kavanaugh said.
Democrats remain concerned that Kavanaugh, if confirmed to the high court, could decide issues including whether Trump can be subpoenaed in Mueller's investigation. Blumenthal asked Kavanaugh if he'd spoken with anyone at the White House about the probe.
"If I understand your question correctly, I haven't had such discussions," Kavanaugh said. Blumenthal said Kavanaugh had "dodged the question."
The nominee said he is acquainted with just one lawyer at the firm of Kasowitz Benson Torres, the firm of Trump's longtime attorney Marc Kasowitz. Kavanaugh said he isn't acquainted with Kasowitz and hasn't discussed the investigation with Edward McNally, the lawyer he knows at the firm.
Later, Judiciary Committee Chairman Chuck Grassley, one of Kavanaugh's fiercest backers, stepped in.
"Did you make any pre-commitments or offer any hints, previews, forecasts, winks, nods or secret handshakes to the president, the vice president, the White House lawyer or anyone else in the administration or anyone at all about if and how you would rule on any matter related in any way to Special Counsel Robert Mueller's current investigations?" Grassley asked.
"No, I have not," Kavanaugh responded.
Kavanaugh Says Nixon Comments 'Mischaracterized' (4:20 p.m.)
Kavanaugh said he didn't intend to suggest years ago that the Supreme Court's 1974 Nixon tapes ruling was incorrect, even though a magazine quoted him in 1999 as saying in a lawyer roundtable that the ruling might have been "wrongly decided." The decision required President Richard Nixon to turn over secret Oval Office tape recordings.
Kavanaugh said his comments published by Washington Lawyer were a response to arguments from lawyers for President Bill Clinton that an investigation by Independent Counsel Kenneth Starr had weakened the presidency. Kavanaugh had worked for Starr.
"I said, well, we were just following U.S. v. Nixon," Kavanaugh said Thursday. "My position is: Either you're wrong or Nixon's wrong."
The Washington Lawyer quoted Kavanaugh as saying: "Maybe Nixon was wrongly decided -- heresy though it is to say so." He added: "Maybe the tension of the time led to an erroneous decision."
Kavanaugh said Thursday those comments had been "seriously mischaracterized."
Kavanaugh Criticized 'Naked Racial Set-Aside' (11:55 a.m.)
As a White House staffer, Kavanaugh criticized an affirmative action program used in federal contracting as a "naked racial set-aside," a newly released 2001 email shows.
The comment involved a program designed to direct more federal highway dollars to minority-owned contractors. At the time, the Bush administration was engaged in an internal debate over what position to take in a court fight.
The administration eventually took a middle ground, urging the Supreme Court to throw out a challenge to the program without reaching the substantive issues. The court then dismissed the case unanimously.
Kavanaugh's characterization drew criticism Wednesday night from Senator Cory Booker, though at the time the email wasn't publicly available. The committee's Republican chairman, Chuck Grassley of Iowa, released the email Thursday along with other documents after Booker, a New Jersey Democrat, threatened to do so on his own.
The documents also show Kavanaugh discussing using racial profiling at airports in the aftermath of the Sept. 11, 2001, terrorist attacks. In one email, Kavanaugh describes himself as among those "who favor effective security measures that are race-neutral."
That email left open the possibility that racial profiling could be used as an interim measure until "a truly effective and comprehensive race-neutral system is developed and implemented."
Kavanaugh Says Roe Comments Sought 'Accuracy' (11:02 a.m.)
Kavanaugh said he suggested changes in a draft op-ed discussing the Roe v. Wade abortion rights ruling for the sake of "accuracy." In a 2003 email written while working in the George W. Bush White House, he questioned a passage that said legal scholars "widely understood" Roe to be settled law.
"I think it was overstating something about legal scholars, and I'm always concerned about accuracy," Kavanaugh testified Thursday. Under questioning from Democratic Senator Dianne Feinstein of California, he again refused to say whether he believes Roe was correctly decided.
Email Shows Kavanaugh Discussed Roe, Abortion (10:40 a.m.)
An email from Kavanaugh's time in a Republican White House shows he questioned the accuracy of a claim that legal scholars widely accepted the Roe v. Wade abortion-rights ruling as settled law of the land.
"I am not sure that all legal scholars refer to Roe as the settled law of the land at the Supreme Court level since the court can always overrule its precedent, and three current justices on the court would do so," Kavanaugh wrote in the 2003 email, which suggested changes to a draft opinion piece.
The email is within almost 200,000 pages of documents Republicans have designated as "committee confidential," meaning they are available to senators but not the public. The New York Times first reported the existence of the email.
Protesters interrupted Thursday's hearing for a third straight day. More than 140 people were arrested by Capitol Police on Tuesday and Wednesday.
Democrats Say They'll Release Kavanaugh Papers (10:15 a.m.)
Democrats said they plan to release some now-confidential documents from Kavanaugh's time in President George W. Bush's White House, as the third day of the hearing began with a new round of partisan squabbling.
Senator Cory Booker, a Democrat from New Jersey, said he plans to expose that "emails being withheld from the public have nothing to do with national security." Booker, who Wednesday pressed Kavanaugh on non-public emails discussing affirmative action and racial profiling, said he would be "knowingly violating the rules."
Almost 200,000 pages of White House documents are currently designated as "committee confidential," available to senators but not to the public. Democrats say that designation has previously been used only for much smaller batches of documents.
Republican Senator John Cornyn of Texas called Booker's plan "irresponsible and outrageous."
"No senator deserves to sit on this committee or be in the Senate, in my view, if they believe they can write the rules for themselves," Cornyn said.
Committee Chairman Chuck Grassley of Iowa said he's willing to release some of the documents on a case-by-case basis. He said he did so on a request by Democratic Senator Amy Klobuchar of Minnesota involving emails that discussed campaign finance law.
Democrat Sheldon Whitehouse of Rhode Island said no Senate rule barred release of the documents.
Second-ranking Senate Democrat Dick Durbin of Illinois said to Booker, "I concur with what you are doing, and let's jump into this pit together. If there is going to be some retribution against the senator from New Jersey, count me in."
What to Watch on Thursday:
Kavanaugh is undergoing additional questioning from committee members after more than 12 hours of questions on Thursday.
The hearing is expected to continue Friday with testimony from outside witnesses presented by committee Republicans and Democrats. The Judiciary Committee is likely to vote on confirmation Sept. 20, and Senate Majority Leader Mitch McConnell is aiming for a full Senate vote before the court begins its new term Oct. 1.