The Latest on Kavanaugh's Confirmation Hearing
(Bloomberg) -- Supreme Court nominee Brett Kavanaugh is being questioned Wednesday by members of the Senate Judiciary Committee on the second day of a confirmation hearing that is bitterly dividing Republicans and Democrats. Here are the latest developments on President Donald Trump's second high court choice, updated throughout the day:
Kavanaugh Won't Promise to Recuse in Trump Case (5:55 p.m.)
Kavanaugh refused to promise he would disqualify himself should the Supreme Court consider a criminal or civil case directly affecting Trump.
"To be consistent with the principle of independence of the judiciary, I should not and may not make a commitment about how I would handle a particular case, and the decision to participate in a case is itself a decision in a particular case," Kavanaugh said.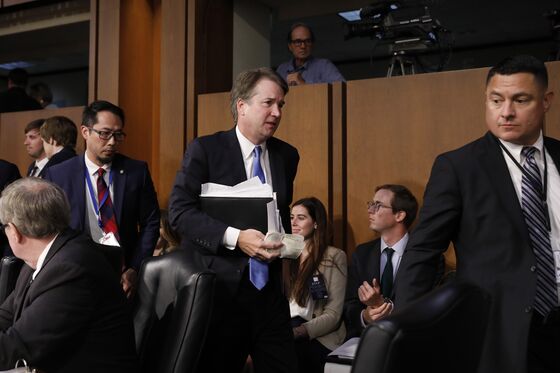 Democratic Senator Richard Blumenthal of Connecticut said he was "troubled and disturbed" by that answer. Blumenthal said Trump has been "implicated in some of the most serious wrongdoing that involves the legitimacy" of his presidency.
Kavanaugh Shuns White House 'Rein In' Statement (4:07 p.m.)
Kavanaugh wouldn't defend a White House statement that said he "has led the effort to rein in unaccountable independent agencies."
Democratic Senator Amy Klobuchar of Minnesota asked Kavanaugh to explain the meaning of the statement, issued when he was nominated.
"I don't know," Kavanaugh responded. "I don't know what that's referring to. I know my record. I'm sure I've upheld agency decisions dozens and dozens and dozens of times."
Klobuchar also pressed Kavanaugh on an opinion he wrote involving the Consumer Financial Protection Bureau. Kavanaugh wrote that the agency was unconstitutionally set up because its director couldn't be fired without cause. He said his reasoning wouldn't apply to multi-member agencies, such as the Securities and Exchange Commission and the Fed.
"My constitutional concern was the structure, with the single-member head, which had never been done before for an independent agency of that kind," Kavanaugh said.
Kavanaugh added that he wouldn't have invalidated the CFPB entirely and just would have let the president fire the director for any reason.
Kavanaugh Defends Dissent in Teen Abortion Case (1:59 p.m.)
Under sharp questioning from Democratic Senator Dick Durbin, Kavanaugh defended his dissenting opinion in 2017 when he sided with the Trump administration in a fight with an undocumented immigrant teenager seeking to end her pregnancy while in federal custody.
Kavanaugh's dissent said he would have blocked the girl, who was 15 weeks pregnant, from having an abortion for at least another week. The government said it was trying to find a sponsor for her so officials wouldn't have to "facilitate" her trip to an abortion clinic. The girl later had the procedure.
Kavanaugh wrote that the majority was creating "a new right for unlawful immigrant minors in U.S. government detention to obtain immediate abortion on demand." He didn't go as far as the Trump administration sought, however, ducking broader questions in the case.
Durbin said Wednesday that Kavanaugh disregarded the fact that the girl already had a judge's order allowing her to bypass getting parental consent required under Texas law. "This young woman complied with every legal requirement put in front of her" as her pregnancy was advancing, he said.
Kavanaugh said, "If she had been an adult she would have had a right to obtain an abortion immediately," but that Supreme Court precedent allowed some delay in cases involving parental consent.
"I specifically said the government cannot use this as a ruse to prevent abortion," Kavanaugh told Durbin. He said he also weighed the facts that the girl was in a foreign country, didn't speak English and was faced with a tough decision. "I did my level best in an emergency posture," he said.
More Protesters Removed From Kavanaugh Hearing (12:14 p.m.)
Nearly two dozen protesters have been cleared from the Senate hearing room so far, as Kavanaugh began answering committee members' questions on Wednesday.
"He'll support presidential criminality!" one woman shouted before Capitol police officers escorted her outside. "Trump's puppet!"
A day earlier, 70 people were arrested after being removed from the hearing room or the corridors of a Senate office building.
Kavanaugh was interrupted from almost the moment he took his first question Wednesday by a protester who shouted, "The courts are broken! Sadly broken!" Protesters also cut into his remarks as he tried to answer a question about the 1973 Roe v. Wade decision that legalized abortion.
There were early hints that the protests would continue Wednesday. A number of people in line to get into the public seating area appeared to be exchanging hand signals with each other.
Kavanaugh Won't Discuss Presidential Self-Pardon (11:56 a.m.)
Kavanaugh declined to say whether a president can constitutionally pardon himself, calling that a "hypothetical question."
"The question of self-pardons is something I have never analyzed," he said. "It's a question I've not written about. It's a question therefore that's a hypothetical question that I can't begin to answer in this context as a sitting judge and as a nominee to the Supreme Court."
Kavanaugh similarly declined to discuss whether a president could pardon someone in exchange for a promise that the person wouldn't testify against the president.
"I hope for the sake of the country that remains a hypothetical question," Democratic Senator Patrick Leahy of Vermont said.
Nominee Discusses Dissent in Assault-Weapon Case (11:55 a.m.)
Earlier Wednesday, Democratic Senator Dianne Feinstein questioned Kavanaugh about his dissent in a 2011 appeals court decision in which he would have ruled that the District of Columbia's ban on assault weapons was unconstitutional. Semi-automatic weapons are in "common use today," he said in his dissent.
Kavanaugh said Wednesday his dissent was based on the Supreme Court's precedent that the Constitution protects individual possession of handguns. That ruling said "dangerous and unusual weapons" such as machine guns can be prohibited, he said.
Because most handguns are semi-automatic weapons, Kavanaugh said, "I concluded that it could not be distinguished as a matter of law, semi-automatic rifles from semi-automatic handguns. And semi-automatic rifles are widely possessed in the United States."
"I was trying to follow strictly and carefully the Supreme Court precedent," he said.
Kavanaugh Says He Told Truth on Interrogation: (11:32 a.m.)
Republican Senator Orrin Hatch of Utah, a senior member of the panel, asked Kavanaugh whether he was involved in developing controversial "enhanced interrogation techniques" used by President George W. Bush's administration after the Sept. 11 terrorist attacks.
Senator Dick Durbin, an Illinois Democrat, has said he believes Kavanaugh misled the committee during his 2006 appeals court confirmation hearing by denying any involvement. Durbin said he will ask Kavanaugh to explain himself later in Wednesday's hearing.
"I was not read into that program, not involved in crafting that program, nor involved in crafting the legal justification for that program," Kavanaugh said. "I told the truth, the whole truth in my prior testimony."
Kavanaugh Says He's Not a Regulation 'Skeptic' (11:15 a.m.)
Kavanaugh said he's been misportrayed as a skeptic of federal regulations.
"I am not a skeptic of regulation at all," he said. "I am a skeptic of unauthorized regulation, of illegal regulation, of regulation that's outside the bounds of what the laws passed by Congress have said."
As a federal appeals court judge, Kavanaugh has voted to strike down environmental and net-neutrality regulations and said the Consumer Financial Protection Bureau was set up in an unconstitutional manner because its director couldn't be fired by the president without cause.
Kavanaugh Calls Nixon Ruling a 'Greatest Moment' (11:07 a.m.)
Kavanaugh said one of the Supreme Court's "greatest moments" was the 1974 decision that forced President Richard Nixon to turn over secret White House tape recordings.
"It was one of the greatest moments because of the political pressures of the time," Kavanaugh testified. "The court stood up for judicial independence in a moment of national crisis."
In a lawyer roundtable discussion published in 1999, Kavanaugh said that "maybe Nixon was wrongly decided." Under questioning Wednesday by Democratic Senator Dianne Feinstein of California, he said his statement at that time has been misunderstood.
Kavanaugh declined to say whether he thought a sitting president should have to respond to a subpoena. "I can't give you an answer on that hypothetical question," he said.
Although Kavanaugh has called on Congress to pass a law shielding the president from civil and criminal investigations, he said Wednesday those represented only "ideas for Congress to consider."
"I have never taken a position on the Constitution on that question," he said.
Kavanaugh Calls Roe v. Wade 'Settled' Precedent (10:35 a.m.)
Kavanaugh said that the landmark Roe v. Wade abortion-rights ruling is a "settled" precedent of the court and that he understands its real-world consequences.
"I don't live in a bubble," he told Democratic Senator Dianne Feinstein of California. "I live in the real world. I understand the importance of the issue."
Roe is "settled as a precedent of the Supreme Court entitled to respect under principles of stare decisis," he said, referring to the legal doctrine that means the court should respect its precedents.
Kavanaugh also said the 1992 Planned Parenthood v. Casey decision, which reaffirmed Roe, was a "precedent on precedent."
Kavanaugh Says He Won't Give Views on Past Cases (10:16 a.m.)
Kavanaugh said he won't give his opinion on past Supreme Court rulings, saying doing so would undercut judicial independence. Kavanaugh said he would follow the approach of past nominees, including Ruth Bader Ginsburg, Elena Kagan and John Roberts.
"I'm going to have to adhere to the lines drawn by those prior nominees," he said.
Kavanaugh Says Precedent 'Rooted' in Constitution (9:56 a.m.)
Kavanaugh said the Supreme Court is constitutionally required to pay attention to its precedents, pre-emptively addressing an issue that's likely to be a focus of Democratic attacks on his nomination.
"Precedent is rooted right into the Constitution itself," he said in response to a question from the committee's chairman, Republican Senator Chuck Grassley of Iowa. The court is constitutionally required to "pay attention and pay heed to the rules of precedent," he said.
Kavanaugh's confirmation would give the court five potential votes to overturn the 1973 Roe v. Wade abortion-rights ruling and other longstanding precedents backed by liberals.
Demonstrators disrupted the hearing for the second straight day, repeatedly interrupting both Grassley and Kavanaugh. About a dozen people were removed by Capitol police officers in the first half hour of the hearing.
What to Watch on Wednesday:
Republican and Democratic members of the committee are questioning Kavanaugh for the first of two days on issues including abortion, gun rights and presidential powers.
The hearing is expected to continue late into the evening and resume on Thursday. The Judiciary Committee is likely to vote on confirmation Sept. 20.