Lewandowski Questions Whether Trump Can Enforce Non-Disclosure Agreements
(Bloomberg) -- Donald Trump's former campaign manager Corey Lewandowski, who remains a confidante of the president, said Wednesday that the confidentiality agreements Trump required of workers on his campaign and in the White House probably aren't enforceable.
Trump's campaign has filed a complaint with a private arbitrator in New York over a book published this week by his former aide Omarosa Manigault-Newman. The campaign says she breached a non-disclosure agreement she signed in 2016.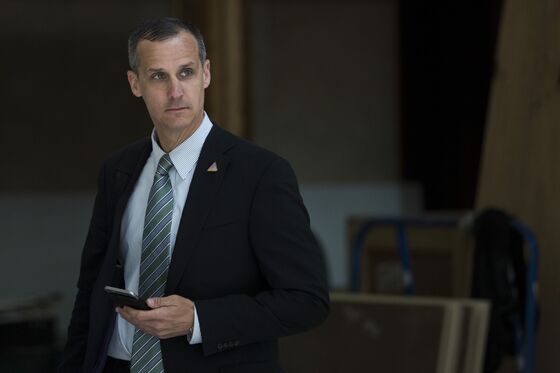 In the book, "Unhinged: An Insider's Account of the Trump White House," Manigault-Newman accuses Trump of being racist and mentally unwell.
"I don't know if they're valid whatsoever," Lewandowski said of the NDAs at a breakfast with reporters hosted by the Christian Science Monitor. "I don't know how you hold a public employee accountable."
Lewandowksi said he signed his own non-disclosure agreement when he joined Trump's campaign. He said he heard nothing from Trump's lawyers after he published a book last year about his experience that was largely complimentary of the president.
"I don't know if they're enforceable," he said, because they may violate the First Amendment right to free speech.
Lewandowski also said he'd recommend that Trump not sit for an interview with Special Counsel Robert Mueller in the investigation of Russian interference and possible collusion in the 2016 election.
"I don't see any benefit in doing that," he said, adding that there was no collusion with Russia on the campaign.