Toys `R' Us Workers Go to Congress to Seek Curbs on Buyout Firms
(Bloomberg) -- Fired Toys "R" Us Inc. workers took their travails to Congress on Tuesday to press for changes in the way private equity deals are structured.
Potential U.S. presidential candidates Kirsten Gillibrand and Cory Booker, and Minority Leader Chuck Schumer were among Democratic senators who met with former staff members and workers' rights groups on Tuesday. The ex-employees are asking for new leverage limits on private equity deals, along with a worker-protection tax and profit clawbacks that would fund payments in situations similar to the one now playing out with the demise of the private equity-owned U.S. toymaker.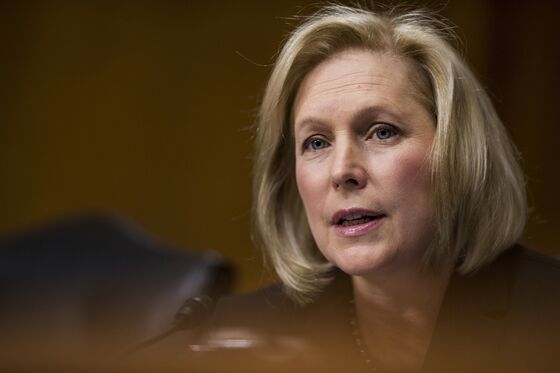 The fact that this issue is even on the agenda highlights the leftward pull on the Democratic Party, and the consternation following the meltdown of a major retailer that left 33,000 workers without severance pay. Lawmakers are taking notice.
"We need to fight for all workers who are being treated like the Toys 'R' Us employees, who are bearing the personal economic costs of corporate greed run amok," Senator Gillibrand said on Tuesday in a meeting organized by Rise Up Retail and the Center for Popular Democracy, which represent retail workers. "I will keep doing everything I can in the Senate to make that happen."
In a joint meeting with Senators Booker and Bob Menendez, several workers, wearing blue and purple Toys 'R' Us or Babies 'R' Us shirts, asked the legislators to take action to prevent similar scenarios. Besides broader industry legislation, they asked that lawmakers urge creditors and the buyout firms to contribute to a hardship fund for the laid-off Toys workers.
Menendez said he and Senator Booker are considering specific policy proposals and may offer an amendment to the fiscal 2019 appropriations bill set for a vote in the coming days.
"Judging the entire private equity industry based on one company or experience ignores the vast value created by private equity and their overall track record of growing businesses," said Emily Schillinger, a spokeswoman for the American Investment Council, a Washington group that represents the firms. "Private equity firms are investing in every state across our country and working to create jobs and grow businesses -- including previous retail investments."
Critics of the U.S. bankruptcy process say the system offers rich compensation to the executives and advisers in charge of dismantling a company, but little to rank-and-file workers who stay on to assist in winding down operations. Representatives for the former employees are trying to tap a pool of $180 million earmarked to pay lawyers, advisers and suppliers.
Representatives for the Wayne, New Jersey-based company didn't respond to messages seeking comment. Representatives for KKR & Co. and Bain Capital LP, two of the company's private equity owners, declined to comment. Vornado Realty Trust didn't respond to an after-hours request for comment.
KKR told members of Congress in a July 6 letter that it has been in touch with representatives for the workers in an effort to help them.
Former workers, along with representatives from the Center for Popular Democracy, say they're being punished for the collapse of a company that was hampered by the debt heaped on it during a 2005 buyout.
They say they'll also look to share with lawmakers the personal impact the bankruptcy has had on them. Ann Marie Reinhart Smith of Durham, North Carolina, the named plaintiff in the employees' bankruptcy court claim for severance pay, worked for Toys "R" Us for 29 years until the company's liquidation.
Reinhart Smith and her colleagues won the right to negotiate for severance pay last month when the judge overseeing the Toys "R" Us bankruptcy granted their claim the same status as other key post-bankruptcy bills.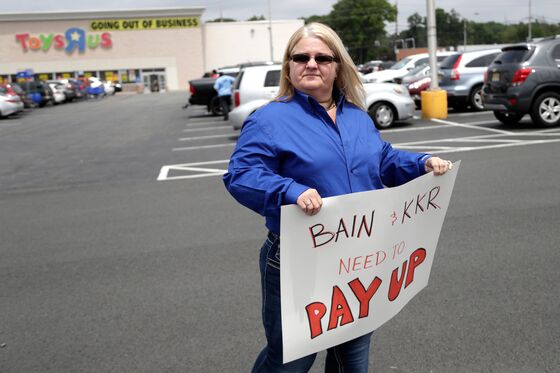 "We're fighting for everybody in retail," Cheryl Claude, who worked at a Toys "R" Us in New Jersey for 33 years before the liquidation, said on Tuesday in Washington.
Toys "R'' Us filed for bankruptcy in September, part of a wave of retail bankruptcies in the past two years as consumer habits shifted and debt incurred in the go-go deals a decade ago came due. The company intended to close a portion of stores and reorganize, but a grim holiday season derailed the turnaround effort.
"I deeply believe that some of these practices are immoral and we need to get a more conscious capitalism, a more moral economy back in the U.S.," Senator Booker said Tuesday. "We are discussing trying to put an end to the kind of behavior that doesn't stand up to public scrutiny."