Trump Says Warren Should Be Tested 'Very Gently' on Her Heritage
(Bloomberg) -- President Donald Trump described a hypothetical re-election contest against Senator Elizabeth Warren at a rally on Thursday and said the Massachusetts Democrat should be tested "very gently" for Native American heritage.
"Because we're in the MeToo generation," he said at a political rally in Montana, referring to the movement against sexual misconduct by powerful men.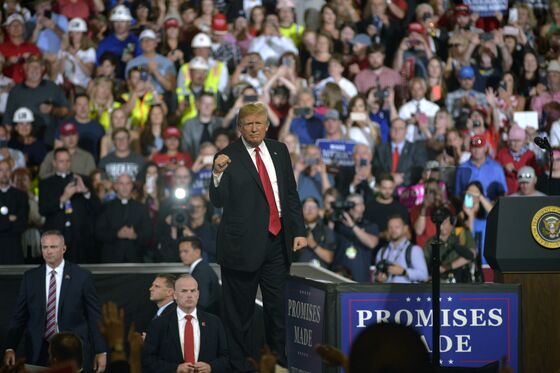 Trump has been accused of sexual transgressions himself by several women and has denied their claims. He has been sued for defamation by an adult film actress, Stormy Daniels, for calling her a liar for claiming she had an affair with Trump in 2006.
His remarks on Warren came as he riffed about the news media and his re-election campaign in 2020. He ridiculed potential challengers including former Vice President Joe Biden, whom he derided as "sleepy," and Warren, whom he again called "Pocahontas," in mockery of her claim that she had ancestors in the Cherokee and Delaware tribes.
The media, he said, have demanded that he apologize for the slight against Warren. In November, Trump used the racially-charged nickname at a White House ceremony for three Navajo "code talkers" who had served in World War II.
"Pocahontas, I apologize to you. To you, I apologize," Trump said Thursday. "To the fake Pocahontas I won't."
He then mused about buying a genetic test like "those little kits they sell on television for $2" and challenging Warren to have it administered during a presidential debate in exchange for a $1 million contribution to charity.
"I'm going to get one of those little kits and in the middle of the debate when she proclaims that she is of Indian heritage because her mother said she has high cheekbones -- that is her only evidence that her mother said she had high cheekbones -- we will take that little kit and say -- but we have to do it gently because we are in the MeToo generation so we have to be very gentle -- we will very gently take that kit and we will slowly toss it, hoping it doesn't hit her and injure her arm even though it only weighs probably two ounces," Trump said. "And we will say, 'I will give you a million dollars to your favorite charity paid for by Trump if you take the test and it shows you're an Indian."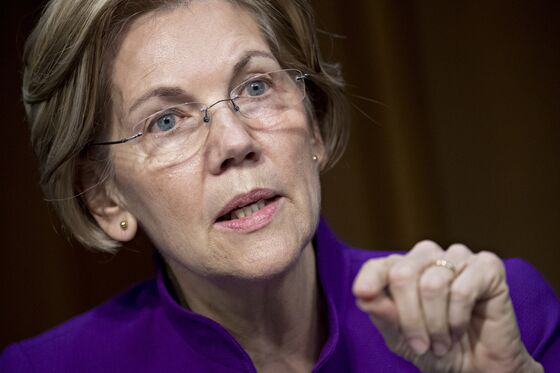 Warren responded in a tweet that criticized Trump's immigration policies.
"While you obsess over my genes, your Admin is conducting DNA tests on little kids because you ripped them from their mamas & you are too incompetent to reunite them in time to meet a court order," she wrote. "Maybe you should focus on fixing the lives you're destroying."
The Trump administration said Thursday that it was rushing to comply with a U.S. District Court judge's order that it return more than 2,000 immigrant children seized from caregivers after the families illegally crossed the Mexican border. Some of the children and adults who claim to be their parents will undergo genetic testing to confirm a family relationship, Health and Human Services Secretary Alex Azar told reporters earlier in the day.
Trump was accompanied to the rally by his newest staff addition, Deputy Chief of Staff Bill Shine, a former Fox News executive who resigned after a sexual harassment scandal at the network. Shine was accused of ignoring complaints, but was not accused of sexual misconduct himself. He has denied the claims.
The Montana rally was intended to dent the re-election bid of Senator Jon Tester, a Democrat. Trump frequently travels to states he won that are represented by Democratic senators up for re-election this year, but he appeared to take a personal interest in attacking Tester because of concerns the senator raised about Trump's nominee to run the Veterans Affairs administration.
Trump blamed Tester for the failed nomination of White House physician Ronny Jackson. Jackson, a Navy rear admiral, withdrew his name from consideration in April after some colleagues complained to members of Congress about his behavior.
"I put him into the world of politics where Jon Tester said things about him that were horrible and weren't true," Trump said. "That is probably why I'm here because I won Montana by so many points I don't have to come here."
While several members of Congress, including Republicans, expressed reservations about Jackson's nomination, Trump lashed out at Tester, who publicly discussed some of the allegations against the White House doctor. Jackson's accusers claimed he improperly dispensed prescription drugs, was "repeatedly drunk on duty, while traveling" and created a hostile work environment while serving as White House physician, according to a summary that Democrats on the Senate Veterans Affairs Committee released.
Tester, who has been in office since 2007, has been complimentary of Trump on a number of issues in a state Trump handily won in 2016. He is being challenged by state auditor Matt Rosendale.
After the rally, Tester's campaign released a statement that said, "Jon's record is clear — if it's good for Montana, Jon works with anyone from either party to get things done. If it's bad for Montana, he'll stand up to anyone."