Kirsten Gillibrand Embraces Liberal Rallying Cry to Abolish ICE
(Bloomberg) -- New York Democrat Kirsten Gillibrand on Thursday became the first U.S. senator to call for abolishing the Immigration and Customs Enforcement agency, or ICE, embracing a left-wing cause that has been gaining traction in the Democratic Party.
"I believe you should get rid of it, start over, re-imagine it, and build something that actually works," she said in an interview with CNN's Chris Cuomo.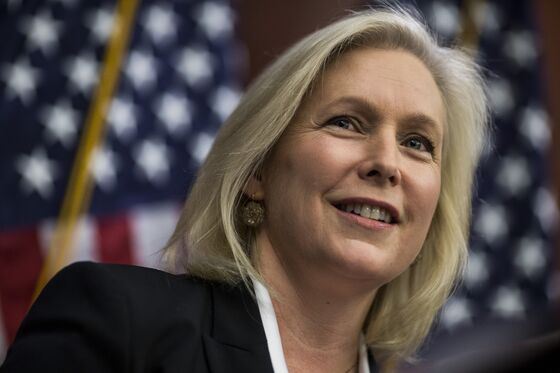 The call from Gillibrand, a possible 2020 presidential contender, came two days after 28-year-old Alexandria Ocasio-Cortez won a stunning upset victory over fourth-ranking House Democrat Joe Crowley in a primary contest for his Queens-area New York district.
Ocasio-Cortez emphasized abolishing ICE in her campaign, a goal that has no support among Republicans and is highly unlikely to be achieved in the near future. But it is quickly becoming a base-pleasing ideological issue for ambitious Democrats as their voters have turned against the harsh immigration enforcement practices under President Donald Trump.
"I don't think ICE today is working as intended," Gillibrand said. "It has become a deportation force. And I think that you should separate the criminal justice from the immigration issues and I think you should re-imagine ICE under a new agency with a very different mission."
So far progressive senators like Bernie Sanders of Vermont and Elizabeth Warren of Massachusetts have stopped short of calling for eliminating ICE, which was created in 2003. Senate Minority Leader Chuck Schumer, also a New York Democrat, has called for reforming ICE but not axing it.
Other Democrats appear open to the idea. Kamala Harris of California said recently on MSNBC that she sees a need to "critically re-examine ICE" and "probably think about starting from scratch."
Republicans have described the idea of eliminating the agency as a radical cause and likened it to an advocacy of "open borders."
Trump's zero-tolerance immigration enforcement policy, which has produced harrowing images of children separated from parents seeking to come to the U.S., has "radicalized people," said Sean McElwee, a left-leaning activist behind the cause. "The Democratic Party is having a reckoning with their complicity in right-wing immigration policy."