Trump-Backed S.C. Governor McMaster Survives GOP Primary Runoff
(Bloomberg) -- South Carolina's Republican Governor Henry McMaster won the runoff in his party's primary after President Donald Trump put his political clout on the line to repeatedly and energetically back him in the race.
McMaster's win bolsters the power of Trump's endorsement and comes just two weeks after another South Carolina Republican, Representative Mark Sanford, lost his primary after Trump tweeted about him hours before polls closed. The president campaigned for McMaster, one of his early supporters, Monday at a Charleston-area rally and was active on Twitter in promoting the governor. Vice President Mike Pence also traveled to the state to campaign for McMaster over the weekend.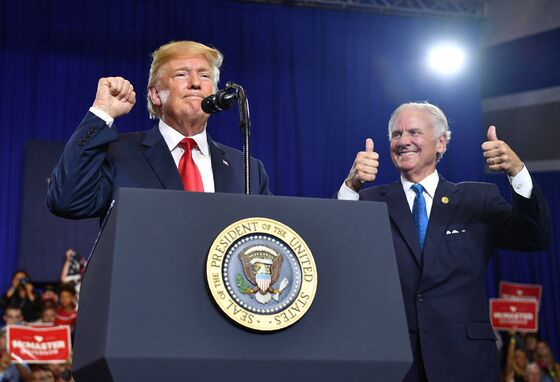 McMaster was the top vote-getter in the state's June 12 GOP primary, but didn't win outright. He faced off against businessman John Warren, who founded Lima One Capital, in the runoff. McMaster will face state Representative James Smith, who won the Democratic nomination for governor.