Mitt Romney Wins Republican Senate Primary in Utah
(Bloomberg) -- Mitt Romney won his party's Senate primary in Utah and advanced to the general election in November where the former Republican presidential nominee and sometimes critic of President Donald Trump will be heavily favored to win.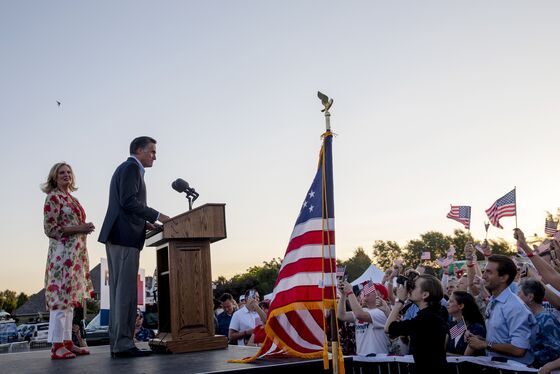 Romney, a former governor of Massachusetts, has been one of President Donald Trump's most prominent critics from within the Republican Party, referring to then-candidate Trump in a March 2016 speech as "a phony, a fraud." As a senator, Romney could prove an irritant for the White House, like Arizona Republican John McCain who has been a prominent voice -- and sometimes vote -- against some of the president's policies and actions.
Tensions have thawed in recent months between the current and former Republican standard bearers. Trump backed Romney in his bid to become a senator, while Romney, who thanked the president for his support on his own Twitter feed, told the Associated Press he wasn't "going to be a daily commentator on everything the president says or does."
Trump congratulated Romney on Twitter late Tuesday for his "big and conclusive win," adding, "I look forward to working together - there is so much good to do."
Romney announced in February he would run for the seat of retiring Republican Senator Orrin Hatch, who decided not to seek an eighth term despite Trump's entreaties. Romney starts the general election campaign as a heavy favorite against Jenny Wilson, a Democratic Salt Lake County council member.