Ocasio-Cortez Defeats Crowley in U.S. House Upset in New York
(Bloomberg) -- Longtime Representative Joe Crowley was dealt a stunning upset in New York's Democratic primary Tuesday by a young challenger from the party's progressive wing, while Republican Representative Dan Donovan decisively beat back a challenge from former congressman and ex-convict Michael Grimm with the help of an endorsement from President Donald Trump.
Alexandria Ocasio-Cortez, who previously worked as an organizer for Senator Bernie Sanders's 2016 presidential campaign, won the Democratic nomination for Crowley's district covering Queens and part of the Bronx in a race seen as a fight between the party's old guard and a new, more liberal generation.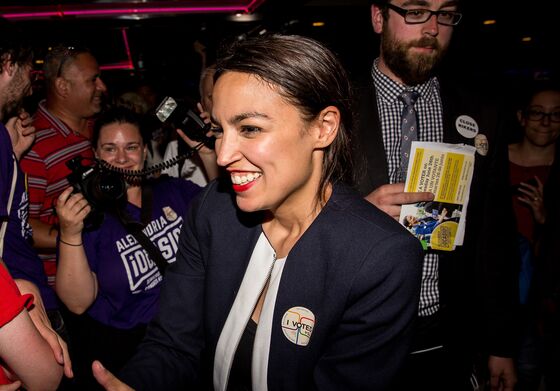 Ocasio-Cortez, 28, had never held elective office and was outspent by a wide margin by Crowley, who hadn't faced a serious challenge since he was elected in 1998. With 88 percent of precincts counted she had 57.6 percent of the vote to Crowley's 42.4 percent.
Crowley, 56, also ran unopposed under the banner of a minor party in the primary, meaning he could still appear on the November ballot. But in a statement Tuesday night, Crowley, who has served 10 terms in the House and had been widely considered a potential future candidate for House speaker, said he would support Ocasio-Cortez and other Democratic candidates in November for the sake of party unity.
"The Trump administration is a threat to everything we stand for here in Queens and the Bronx, and if we don't win back the House this November, we will lose the nation we love," Crowley said. "We will only be able to stop Donald Trump and the Republican Congress by working together, as a united Democratic Party."
In a district where the Census Bureau estimates that 45 percent of the residents are foreign-born, Ocasio-Cortez made immigration and Latino representation a centerpiece of her campaign. She seeks to abolish Immigration and Customs Enforcement and joined a protest outside a Texas detention center the weekend before the primary.
She would be the leading edge of the next generational shift on Capitol Hill and potentially the youngest member of Congress, if she wins in November in the heavily-Democratic seat.
Republicans reveled in the defeat of Crowley a member of the Democratic leadership in the House. Trump mocked Crowley in a tweet Tuesday night, and suggested Crowley should have "been nicer, and more respectful, to his President!"
In the Staten Island race, Donovan was declared the winner over Grimm, 64 percent to 36 percent with 96 percent of precincts counted in Tuesday's primary. Donovan will face the Democratic nominee, Army veteran Max Rose. Grimm had given up the seat after pleading guilty to a felony tax charge,
Though Trump has endorsed Donovan and campaigned with him, Grimm has attempted to take on the Trump mantle. He has pointed to Donovan's moderate record, particularly his vote against the GOP tax law, as evidence that he's not loyal to the president.
Grimm served seven months in prison. Both Democrats and Republicans said Rose's chances of a November victory would have been higher had Grimm defeated Donovan.
Seven states held votes on Tuesday, the last round of primaries before August. Democrats need a net gain of 23 seats to win the House and are showing strength in candidate recruitment, fundraising and other metrics.
Trump also was successful in picking a winning candidate in South Carolina, where Governor Henry McMaster won a Republican primary run-off. Trump campaigned with McMaster, one of the first elected officials to endorse his presidential campaign, in Columbia on Monday.
Mitt Romney, a Trump critic turned occasional ally, won the Republican nomination for Senate in Utah and is the overwhelming favorite to win election in the Republican-dominated state in November. Though Trump previously encouraged incumbent Senator Orrin Hatch to seek re-election, he endorsed Romney in February.