U.S. Investigators May go to Iran, But Role Remains Fraught
(Bloomberg) -- The U.S. government has vowed to clear the way for participation by its investigators in Iran's probe of this week's jetliner crash, but that's just the first step in a highly volatile situation.
Investigators must navigate the unstable political waters that led to dueling missile strikes between the two nations and an authoritarian government that has been accused of causing the fiery crash with an inadvertent missile strike.
And if any U.S. representatives travel to Iran, they must do all that under fear for their safety.
"It's high stakes," said Jeffrey Guzzetti, the former chief of the Federal Aviation Administration's accident investigation office. "You've got to have eyes in the back of your head for your own personal safety."
Ukraine International Airlines Flight 752, a Boeing Co. 737-800, abruptly stopped transmitting its position and plunged to the ground about two minutes after takeoff from Tehran early Wednesday. All of the 176 people aboard died.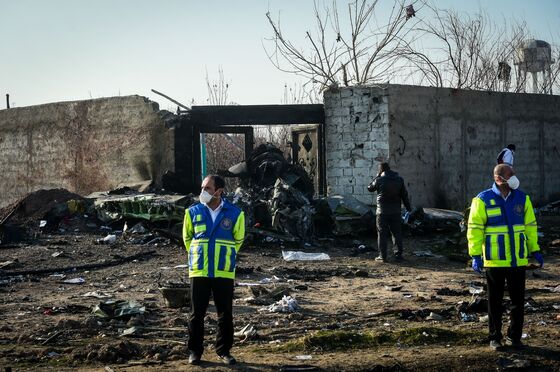 Officials in multiple western countries have said they believe it was shot down accidentally. A U.S. spy satellite detected the firing of two SA-15 surface-to-air missiles, a person familiar with the intelligence said, speaking on the condition of anonymity.
The Security Service of Ukraine said Friday it had concluded that the crash was brought about by either a missile or terrorist act, as reports emerged that the crash site had not been properly secured.
Iran's Fars news agency, citing an unnamed source, said the cause of the crash would be announced on Saturday.
Even as Treasury Secretary Steven Mnuchin said his agency will issue waivers on sanctions against Iran to allow investigators from the U.S. and other countries to participate in the crash inquiry, news reports swirled that evidence from the wreckage was being disturbed.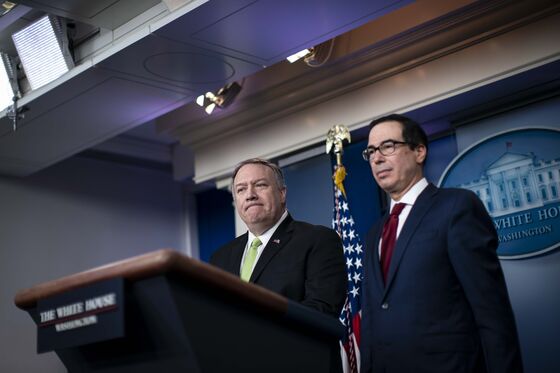 Vadym Prystaiko, Ukraine's foreign minister, didn't express concern over how the remains of the aircraft were being handled in comments to journalists in the capital, Kyiv. Iran has cooperated with Ukrainian officials, Prystaiko said.
Guzzetti and others said it isn't unusual to begin clearing out the wreckage -- which is laced with toxic chemicals and decaying human remains -- so soon. The key will be whether the location of significant pieces is documented and they are preserved for examination, they said.
Iranian officials have vociferously countered charges by western governments that a pair of missiles were fired at the plane, accusing them of "psychological warfare." At the same time they have also vowed to follow the norms of crash investigations, including inviting representatives of the U.S. and Boeing.
In spite of Mnuchin's comments, the National Transportation Safety Board hasn't yet announced whether it plans to send investigators. It has appointed a representative to the investigation, it said in a statement on Thursday, which is a routine step toward participation.
The situation in Iran isn't completely unprecedented.
After Malaysian Airlines Flight 17 was shot down over eastern Ukraine in 2014, Ukrainian authorities couldn't immediately get to the wreckage because it was in a war zone.
The probe was turned over to Dutch investigators, who had to wait months before negotiating for access to the site.
Richard Nephew, who formerly managed sanctions on Iran while at the State Department, said he doubted Iran would conduct a thorough, impartial probe.
"We're not going to have one of those," said Nephew, now a senior research scholar at Columbia University's Center on Global Energy Policy. "They don't want to admit they made a mistake. They don't want to look weak."
There is always the potential that Iranian authorities could try to tamper with evidence or hide the role of a missile, said two U.S. former officials who participated in scores of crash probes around the world.
But signs of a missile strike are relatively easy to spot, they added, and would be evident in wreckage, in human remains and on the plane's crash-proof recorders, making it difficult to conceal. The former officials asked not to be named in order to speak freely about the investigative process.
The dozens of Ukrainian officials who are currently in Iran to work on the investigation will also help ensure evidence is preserved, they said.
The Tehran government's willingness to allow the participation of other countries including Canada and France, which have largely stayed out of the latest confrontation between the U.S. and Iran, may also help, the former officials added.
One inevitable risk to the investigation, which is being led by Iran under international law, is that it must examine whether the Islamic Republic's armed forces were culpable, and the Iranian military has a powerful influence over the government.
The NTSB has sent people to war zones and other politically fraught environments before and managed to gather enough evidence to solve crashes, Guzzetti said.
"You've also got to remember that if it's a shoot-down and you're pretty confident of that, you kind of know exactly what to look for first," he said.