Schumer Calls on 'Dishonest' Trump to Concede: Election Update
(Bloomberg) -- Democrat Joe Biden clinched the electoral votes he needed to become the next U.S. president, based on his growing lead in Pennsylvania. President Donald Trump insisted the election "is far from over," and vote-counting continued in four states.
Trump Doesn't Concede to Biden, Says Election 'Far From Over'
Schumer Calls on 'Dishonest' Trump to Concede
Senate Democratic Leader Chuck Schumer called on Trump to concede.
"I say to Donald Trump, you lost. No more games. Go home. Go home to Florida. Stop delaying. Stop making up lies about the election," Schumer said at a press conference in New York Saturday afternoon.
"It was fair, there have been no irregularities found," he said. "You lost. You lost fair and square, and America now must forget you and move on." Schumer also called for help winning the two seats in Georgia to enact a bold agenda to help people.

"Thank God we will not have four more years of an autocratic, dishonest, uncaring president named Donald Trump," Schumer said. -- Steven T. Dennis
Protesters at Capitol; Dancing Near White House (2:23 p.m.)
Dozens of Trump supporters bearing flags and other gear marched around the grounds of the U.S. Capitol Saturday after the election was called for Biden. The group chanted "America First" and "Stop the Steal." Nearby Biden supporters heckled them, shouting "Bye!" and occasional epithets. Some marchers stopped at the foot of the Capitol for a prayer vigil; few would speak to a reporter.
"Even if he does lose fair and square, I'd like to show my support," said a D.C. area resident who identified himself as Pat. He said that an investigation into the election ballot count was necessary to stop unrest.
Outside the White House, meanwhile, thousands of peaceful demonstrators danced and sang. The raucous celebration could be heard from blocks away. -- Kriston Capps
Celebrations Erupt In Democratic Cities (2 p.m.)
Celebrations erupted in Democratic strongholds across the country as news of Biden's victory spread, while Trump's supporters continued to protest the result.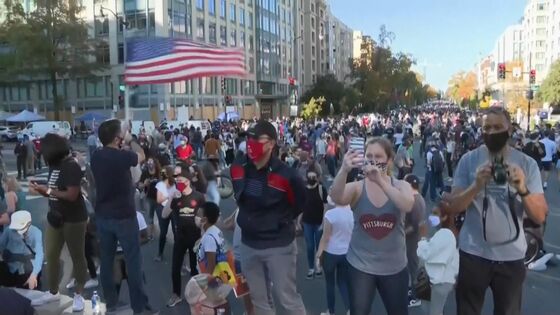 A crowd gathered outside Trump Tower in Manhattan, with people shouting, "You are fired!" In Lansing, Michigan, the president's backers gathered at the capitol in a state that Biden flipped back to the Democrats.
Hundreds of New Yorkers converged on Washington Square Park, a staging ground of protests over the past few nights, to cheer and wave Biden signs. Across downtown Manhattan, cars honked horns and diners clapped and stood up in their restaurant seats when news networks called the race. Carrol Cruz, 41, a photographer, and her husband left their apartment to join the crowds in Washington Square and wave a miniature American flag.
"I haven't slept for days," Cruz said. "I kept an iPad next to my bed and kept checking for results and suddenly I heard 'Celebration' and the neighbors screaming and I knew they had finally come."
In Los Angeles, people stepped out of their homes to cheer on an unusually gray and chilly morning. Drivers honked and celebrities, including singer Lady Gaga and actress Kerry Washington expressed support for Biden on Twitter. Kim Kardashian West, whose husband, Kanye, also ran for president, posted a picture of Biden and Vice President-elect Kamala Harris with three heart emojis.
In Sugar Land, Texas, a suburb of Houston, Cynthia Ginyard was watching MSNBC in her den when news flashed that Biden had won the election. Ginyard, who chairs the Fort Bend Democratic Party, said Biden's win was a huge relief — but having a woman of color as Vice President is even bigger. "Earth-shattering," she said by phone Saturday. "I can say madam Vice President. I can say that." -- Andrew Rosati, Rachel Adams-Heard, Gabrielle Coppola and Chris Palmeri
It's Not Time Yet to Start Presidential Transition (1:39 p.m.)
A formal presidential transition starts only upon the OK of an obscure federal agency, the General Services Administration, which says it has not made the call.
Though television networks and the Associated Press called the race for Biden, the GSA confirmed it hasn't yet ascertained a winner.
"GSA and its administrator will continue to abide by, and fulfill, all requirements under the law," said spokeswoman Pamela Pennington.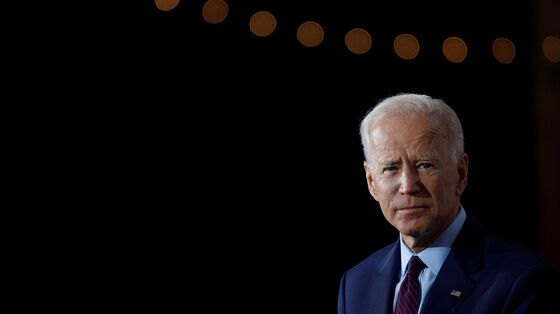 Under a 57-year-old federal law, the GSA's determination of an apparent winner is the trigger for allowing that person's transition teams to fan across the federal government, access expanded office space, start tapping into $6 million of funding and study detailed agency briefing books.
There are no clear standards on how the determination can be made -- whether it's triggered when networks call the contest, for instance, or when the Electoral College meets in December. In past elections, the GSA has permitted transitions to begin even amid recounts.
"The GSA administrator ascertains the apparent successful candidate once a winner is clear based on the process laid out in the Constitution," the agency said in an emailed statement late Friday. -- Jennifer A. Dlouhy
Congressional Republicans Mostly Mum as Race Called (1:20 p.m.)
In the hour after media outlets declared Biden the winner, few congressional Republicans stepped forward to congratulate the president-elect or to support Trump.
No Republican senators had contested the calls of a Biden victory by CNN, the Associated Press, Fox News and others.
Republican Senator John Cornyn of Texas instead focused on the two Georgia Senate runoffs, which are likely to determine control of the Senate and whether Republicans will have the power to cripple Biden's agenda on climate change, health care and other issues. Cornyn reacted to Democratic Senate Leader Chuck Schumer's push to win the runoffs and help Biden enact his agenda with a fundraising appeal on Twitter.
A handful of House Republicans chimed in.
U.S. Representative Fred Upton of Michigan said on Twitter that it's time to "bridge divisions."
A few Trump loyalists in the House, including Representative Jody Hice of Georgia, did contest the media's calls in the race.
And Representative Paul Gosar of Arizona said, "The election isn't over until all the votes are counted." -- Steven T. Dennis
CNN Set Off Cascade of Media Calls for Biden (12:27 p.m.)
CNN was the first to make the call projecting Pennsylvania, and therefore the presidency, for Biden.
Within minutes, decision desks at ABC, NBC, CBS and the Associated Press also determined Biden had won Pennsylvania, pushing him above the 270 electoral votes to win the White House. The calls came moments after the release of a fresh batch of roughly 2,800 ballots from Philadelphia that were overwhelmingly for Biden.
Several minutes later, the Fox News decision desk joined in, also projecting that Biden would win Nevada. -- Laura Davison
Fox News Is First to Call Nevada, for Biden (12:04 p.m.)
Fox News projected that Biden has won Nevada's six electoral votes. The state has been considered too close to call for several days. Other networks haven't called Nevada, nor has the Associated Press.
Biden holds a lead of almost 23,000 in Nevada with roughly 90% of ballots counted. -- Laura Davison
Trump Catching Up, Though Slowly, in Arizona (11:24 a.m.)
Trump cut into Biden's lead in Arizona's Maricopa County again Saturday, but Biden was still up statewide by more than 20,000 votes shortly after 11 a.m. New York time.
Maricopa County, which includes Phoenix, reported the results of roughly 49,000 ballots Saturday morning. They shrunk Biden's lead in the county to about 46,000 from about 53,500. About 29,000 mail-in ballots and 15,000 provisional ballots were left to count. Those numbers will be reported over the next few days, according to the Elections Department.
More than 171,000 ballots remained uncounted statewide before the Maricopa County release, according to estimates from a Secretary of State dashboard. Some results from other counties are expected during the day.
Fox News called Arizona for Trump late on election night, and the Associated Press followed about three hours later. But other networks have held off.
Pro-Trump protesters demonstrated the last several days at a Maricopa County elections building to question the state's counting. Secretary of State Katie Hobbs, a Democrat, defended her office in a Saturday morning tweet, saying it has provided information for months on how Arizona's processes work.
"If you haven't been paying attention, that's on you, but don't show up when you don't like the result & scream fraud w/no evidence," she wrote. -- Brenna Goth and Gregory Korte
Biden's Popular Vote Margin Likely To Expand (10:06 a.m.)
The all-important breakdown of electors remains in question, but one thing that can be said with confidence is that Biden will win the popular vote.
Biden had received 4.1 million more votes than Trump as of 9:48 a.m. New York time, a margin that is likely to expand as large Democratic-leaning states continue to count. For now, Biden's 74.9 million votes and Trump's 70.7 million mean they have each won more votes than any previous presidential candidate in history.
New York and California still have approximately one-fifth of the estimated votes left to tabulate, which could continue to expand Biden's share of the popular vote. In California, Biden is so far garnering 64.7% of votes. In New York, he's received 55.7%. -- Laura Davison
No Proof of Fraud, U.S. Elections Official Says (9:16 a.m.)
There is no proof of voter fraud or vote tampering in the presidential election, despite claims from Trump and his lawyers, a member of the U.S. Federal Election Commission said.
"There is no evidence of voter fraud," Commissioner Ellen Weintraub, a Democrat, said on CNN Saturday. "There is no evidence of illegal votes being cast."
Trump continued to claim, without evidence, that votes are illegally being counted in Pennsylvania and that election observers aren't being allowed to oversee the vote counting.
"Bad things took place during those hours where LEGAL TRANSPARENCY was viciously & crudely not allowed," Trump claimed in a series of tweets Saturday morning that Twitter swiftly marked as disputed and potentially misleading.
Philadelphia Commissioner Al Schmidt, a Republican, has disputed claims that observers were kept at bay. Republican observers were there "the entire time," he said on CNN Friday.
Trump has sued in Pennsylvania, Georgia and other states with close races that are still being counted to disqualify some ballots that he says shouldn't be counted. But some of the suits have already been dismissed and others are unlikely to flip any state in his favor.
"The lawsuits seem to be for the most part going after a few ballots here and few ballots there," Weintraub said. "Given the margins, doesn't seem to be anything that could affect the outcome." -- Laura Davison