Corporate Tax to Top Consumption Levy as India Revenue Source
(Bloomberg) -- Revenue from corporate tax in India will likely overtake collections from a consumption levy in the current financial year to become the top contributor to the nation's coffers, according to the budget for the year ending March 31.
Finance Minister Nirmala Sitharaman kept total borrowing plan unchanged at 7.1 trillion rupees ($104 billion) from a target set in the interim budget in February. Here's a breakdown of the government's revenue sources and where it will deploy every rupee it earns in the year ending March 31.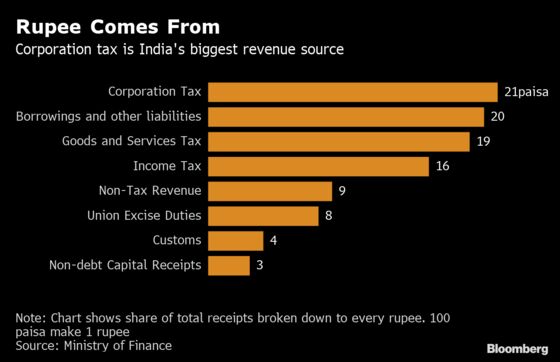 The budget didn't contain any major proposals to boost spending. Total expenditure, including resources of state-run companies, for the fiscal year to March is estimated at 33.2 trillion rupees, compared with 34 trillion rupees forecast in February's interim plan.