Zynga Soars as Analysts Rave About `Compelling Investment'
(Bloomberg) -- Zynga Inc. shares surged to a seven-year high on Thursday, after the company reported first-quarter results that beat expectations and lifted its full-year outlook.
Analysts were essentially unanimous in their praise, with at least five firms raising their price targets on the stock, touting the momentum in its live services business, as well as the success of recent acquisitions. Also in view was the company's gross booking, which jumped to their highest level on record.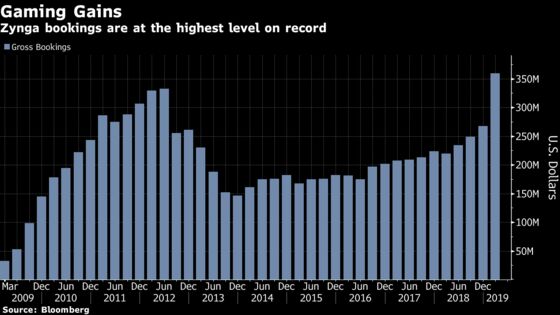 The stock advanced as much as 14 percent and traded at its highest level since May 2012.
Here's what analysts are saying about the results:
Morgan Stanley, Brian Nowak
The results and outlook "underscore the momentum of its growth strategy." Firm has "increased confidence that core live services can drive growth into/through new game launches" in the second half of the year.
Price target raised to $6.80 from $5.75. Overweight rating.
Benchmark Co, Mike Hickey
"We are encouraged by ZNGA's expanding live service game portfolio and accelerated growth profile, geo-expansion opportunities, emerging game pipeline, recurrent bookings generation, expanding ad monies, ongoing M&A opportunities, relative valuation, consistent financial upside and credible executive team."
Buy rating. Price target raised to a Street-high matching $8 from $5.
There was "strong momentum from Zynga's live services portfolio."
Outperform rating. Price target raised to $7.50 from $6.40. "Zynga is a compelling investment."
Piper Jaffray, Michael Olson
The results "exhibited progress for the Zynga strategy of continuing to collectively grow the five 'forever franchises.' " The company "has shown an ability to maintain and improve player engagement within existing titles that helps to drive revenue visibility and improves the company's risk profile."
"With better top-line results and cost containment, margins are trending higher."
Overweight rating. Price target raised to $7.25 from $6.
Company "trounced" estimates in the quarter, and worries about its organic growth rate "seriously miss the point."
"The real story is that Zynga has, through M&A, massively reweighted its portfolio away from older, harder to grow games, and towards younger, fast growing games."
Outperform rating. Price target raised to $7 from $6.
What Bloomberg Intelligence Says

"Zynga's broad-based strength across many of its key franchises and pipeline of promising new game releases position it well to sustain strong bookings, Ebitda and cash flow."

--Matthew Kanterman, technology and gaming analyst
Click here to view the research