YouTuber Draws China Fire for Calling Taiwan Leader 'President'
(Bloomberg) -- A YouTuber in Taiwan said his Chinese talent agency is demanding he remove a video in which he addressed Taiwan leader Tsai Ing-wen as president, the latest clash over China's assertions of territorial control in Asia.
Chen Chia-chin, better known as Potter King, published a video on Facebook and YouTube Saturday, showing Tsai visiting his media startup. He used his signature humorous pickup lines and repeatedly addressed Tsai as "president," which is in fact her title.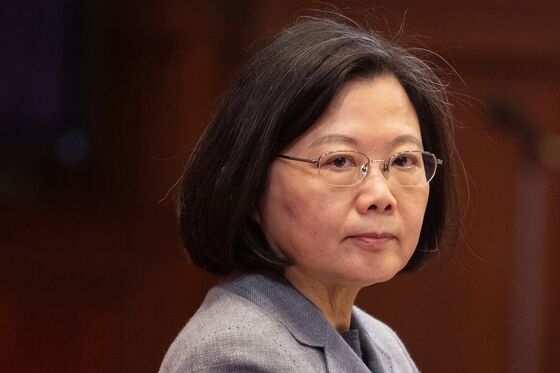 His Chinese agency, Papitube, demanded he not use the word in his videos, nullified his contract and took over his Weibo account without his consent, Chen wrote in a Sunday post on his Facebook page. Facebook and YouTube are banned in mainland China.
"I have told them not to interfere with our content," Chen wrote. "We totally cannot accept this. This is absurd."
The incident is the latest in a growing number of attempts by Chinese officials and companies to impose political views beyond the reach of mainland censors. While Taiwan and China split amid a civil war in 1949, Beijing continues to exert claims over self-governing Taiwan and bristles at any language or action that bestows Taiwan with the image of sovereignty. Global brands such as Calvin Klein, Coach and Givenchy drew the ire of Chinese internet users after implying the island is its own country.
Papitube criticized Chen in a post on its official Weibo account on Sunday. "We strongly condemn Potter King's inappropriate language and actions," Papitube said. "We are ending all partnerships with Chen Chia-Chin, whom we have a contract with, effective today."
Chen declined an interview through a representative at his startup, but the chief executive officer of his media startup, Ju Yang New Media International Co., said they would not comply with Papitube's request.
"We support democracy," said Mars Lee, Chen's business partner. "Everyone should take this seriously because many people fought for and won democracy with their lives, time and souls. Some people think democracy is easy to obtain like air, but it is not easy at all."
In a series of screen-shots of a chat history Chen presented with his post, a contact at his Chinese agency asked that Chen delete his video of Tsai on Facebook and YouTube. The Chinese agency said the issue lies with him calling Tsai "president" and added the agency will cancel Chen's contract. Chinese state media typically refer to Tsai as the "Taiwan leader" or "regional leader."
Papitube may be particularly sensitive to content that could alienate government officials in Beijing. One of its stars, Papi Jiang, was censored in 2016 for foul language, with the authorities demanding that she remove her videos and clean up explicit comments. Papitube didn't respond to emails seeking comment.
Tsai's spokesman Ernesto Ting said it is only natural for Taiwanese to address their president as president. "This is a demonstration of Taiwan's democracy and freedom," he said.
The clash comes as Beijing is more forcefully exerting its national interests abroad. Over the weekend, China's ambassador to Germany threatened Berlin with retaliation if it excludes Huawei Technologies Co. as a supplier of 5G wireless equipment, suggesting the sales of German carmakers in China may be at risk.
China's official CCTV also pulled the broadcast of an Arsenal soccer game after star player Mesut Ozil criticized the Chinese government's treatment of Uighur Muslims on Instagram and Twitter.
Earlier this year, China's state broadcaster dropped National Basketball Association games after Houston Rockets General Manager Daryl Morey voiced support for Hong Kong protesters.