Yelp Tumbles After Warning That Growth Will Continue to Slow
(Bloomberg) -- Yelp Inc. tumbled after warning that a surprise slowdown in third-quarter sales will continue in the current quarter.
The online user review business added fewer new accounts in the quarter while cancellations increased. The result was weaker revenue growth compared with the first half of the year, a trend that will continue in the near term, San Francisco-based Yelp said in a letter to shareholders. The stock fell as much as 30 percent in extended trading on Thursday.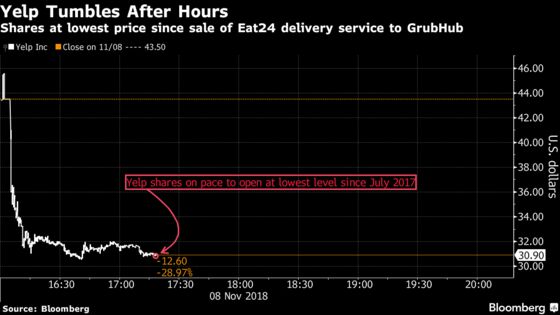 Yelp forecast fourth quarter net revenue of $239 million to $243 million. That trailed the lowest estimate among 24 analysts surveyed by Bloomberg News. The average projection was $259.7 million. Yelp is shifting away from a strategy of expanding its local sales force at more than 20 percent a year to rely more on product and marketing to drive revenue growth, according to the letter.