Yelp Gains But Wall Street Still Says 'Show Me'
(Bloomberg) -- Yelp's fourth-quarter results came in above the Street's consensus, but some analysts remained focused instead on management's moves to address recent criticism from activist investor SQN Investors LP.
Yelp management targeted a 30 to 35 percent Ebitda margin, and authorized a $250 million share buyback. Cowen said investors are still concerned about advertiser churn as Paid Advertiser Accounts declined more than expected.
Yelp fell as much as 3.5 percent, breaking below the 100-day moving average of $38.27. Shares had briefly surged almost 12 percent post-market Wednesday in the wake of the latest earnings.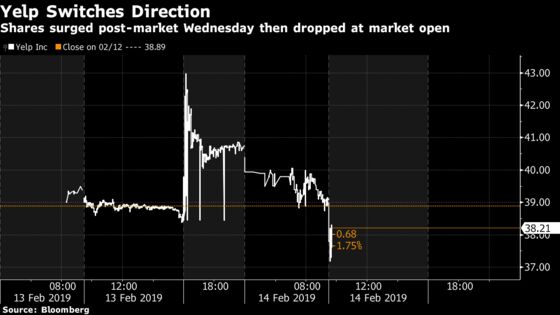 Raymond James, Justin Patterson
"Yelp remains a show-me story" as it will take several quarters of beating estimates for investors to trust the new guidance, given past execution issues. Achieving the new results will require improvements in sales force productivity, account retention and lead volume.
"While we applaud management's swift response to address corporate governance, repurchase shares, and introduce cost savings, it will take consistent midteens revenue growth to drive operating leverage and realize the 30%-35% Ebitda margin target."
Paid Advertiser Accounts (PAA) declined more than forecast, falling 3,000 versus Cowen's estimated increase of 7,500, with management blaming the shortfall on higher-than-expected seasonal cancellations.
While Yelp's content is "best-in-class," and its engagement metrics are solid, it faces "retention issues with the company's sales force and ongoing questions about advertiser churn and the core ad product in a difficult small-business ad model"
Rates market perform, PT $37
MKM Partners, Rob Sanderson
Management provided much more insight than usual into its strategies and areas of changing focus. While this gives investors "more to chew on with aggressive long-term targets and some significant disclosures/decisions on strategy," it was expected given activist involvement.
"We still expect a very wide division between bulls and bears regarding sustainability/need for Yelp and management's ability to deliver."
While management did a good job of describing steps to reach its aggressive targets, "they set a high bar that requires precise and consistent execution." Continued activist pressure, strong buybacks and takeout target potential limits the downside "until execution of the plan comes into better focus."
Rates neutral, PT $38 from $32