Wolt's $8 Billion DoorDash Sale Joins Largest Finland Deals
Finnish food delivery startup Wolt Enterprises Oy built a thriving business focusing on mid-tier markets since its launch in 2015. On Tuesday, its surprise sale to DoorDash Inc. gave the company a top level exit.
The 7 billion-euro ($8.1 billion) all-stock purchase by San Francisco-based DoorDash is among the largest ever Finnish mergers and acquisitions and the largest in five years, according to data compiled by Bloomberg. It's only topped by a 2016 acquisition of gamemaker Supercell Oy and a 2002 deal for telecommunications firm Telia Finland Oy, both for about $8.6 billion, and outranks Microsoft Corp.'s 2013 purchase of Nokia Oyj's devices and services business.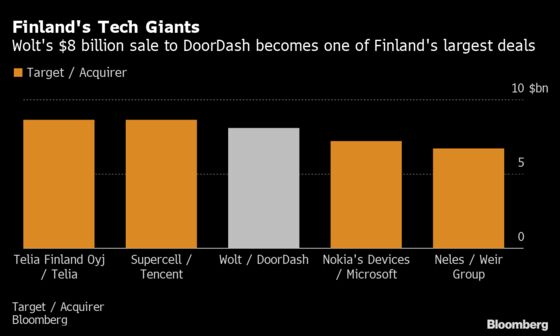 The deal adds to record activity in the Nordics, with the value of transactions targeting the region climbing nearly 200% year on year, according to data compiled by Bloomberg. Attractive valuations, the chase for growth and easy access to financing are driving the boom, according to Soren Moller-Rasmussen, head of investment banking in Denmark at Goldman Sachs Group Inc.
Private equity firms are also doing more deals in the Nordics, and that's expected to continue, Moller-Rasmussen said. "Nordic acquirers are also looking at targets in the U.S. that have become more available because of potential upcoming tax changes," he said.
Wolt, co-founded and led by Chief Executive Officer Miki Kuusi, had rapidly expanded abroad to 23 countries delivering meals as well as groceries and other goods. It raised $530 million from investors earlier this year to keep track with a boom in delivery during the pandemic.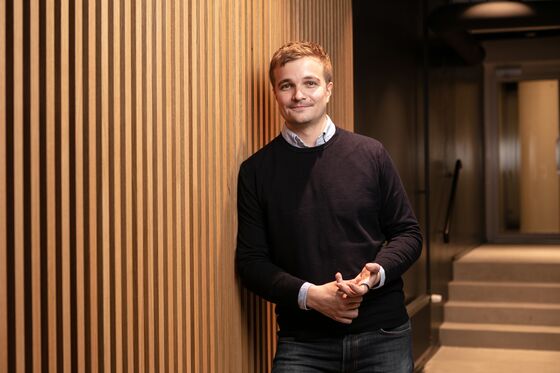 Kuusi will now lead DoorDash's international division as the U.S. leader expands into Europe at a time of intensifying competition. Rival rapid delivery startup Gopuff announced its launch into the U.K. on Tuesday after making a clutch of local acquisitions. 
"DoorDash has built an incredible business in one of the most significant markets in the world, while we came from a small home country and had to master the art of expansion very early on" said Kuusi in a statement. "We're incredibly excited to be joining forces."
Goldman Sachs advised DoorDash and Qatalyst Partners was adviser to Wolt on the deal.
Stay Updated With
Tech News
On BloombergQuint