Wirecard Ex-CEO Braun Leaves Lawmakers Hanging in Hearing
(Bloomberg) -- Wirecard AG's former chief executive officer appeared in public for the first time since his July detention in connection with the collapse of the electronic payment company, but lawmakers hoping for insights from the disgraced manager were left disappointed.
After winding his way through a throng of waiting journalists into the hearing chamber in Berlin, Markus Braun read out a brief statement that set the tone for the remainder of the session: any details of what might have led to the fall of Wirecard would first be shared with prosecutors, he said.
Appearing in his favored outfit of black turtleneck and dark blazer on Thursday, Braun said he has faith in the objectivity of German authorities, and that there is no reason to believe in wrongdoing by regulators or auditors, whom he said were likely "massively misled."
He wrapped up his comments in five minutes, before declining to answer any questions from lawmakers.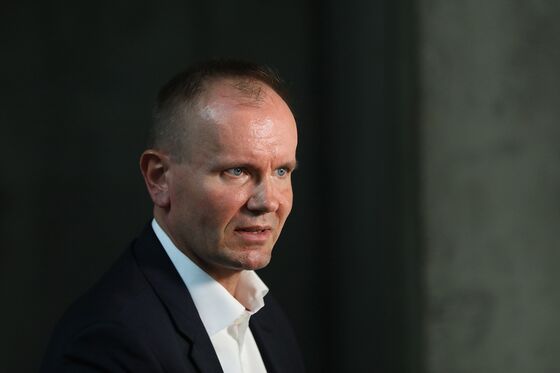 Braun is a key figure for lawmakers and authorities seeking to understand how Wirecard could go for years without its financial wrongdoing being detected. The company's demise has become a corporate and political embarrassment for Germany because allegations of wrongdoing had swirled for years. Braun denied the accusations at every turn, until the company was forced to admit in June that more than $2 billion in cash it had reported as missing likely never existed.
Lawmakers at the hearing tried to elicit additional answers from Braun, on questions ranging from where he spent his 50th birthday to his view on the fate of employees and shareholders to the possible whereabouts of his right-hand man, Jan Marsalek, who remains at large.
But whatever way they tried, Braun, who traveled up from his prison in Augsburg near Munich for the hearing, stoically said he had no additional comments. His refusal left lawmakers visibly frustrated. One member pointed out that Braun isn't helping his standing in public by not showing any willingness to cooperate with the hearing.
Braun was unmoved, his hands folded over the white sheet of paper from which he'd read his statement, a small bottle of water and a plastic cup perched nearby. In Germany, suspects in criminal probes have the right not to testify and usually invoke that privilege when called by parliamentary committees while their cases are still pending. Braun, however, had said before the hearing that he'd be willing to answer questions.
Lawmakers said they'd consider their legal options to make Braun more malleable. The threat of time behind bars, though, will likely do little to sway Braun since that's where he's returning after his brief excursion to the capital.
Lawmakers did not have any more luck with the other main witnesses on Thursday. In a hearing that lasted more than 10 hours, two other former executives declined to testify. Oliver Bellenhaus, a key witness and previously a managing director of a Dubai-based Wirecard unit, said he was "working intensely" with prosecutors to clear up the scandal. He said he would be willing to answer lawmakers' questions once that is done at the end of January.
Wirecard's former head of accounting, Stephan von Erffa, also refused to testify but announced that he would start talking to prosecutors next week. Bellenhaus and von Erffa have both been arrested this summer and are still in detention.
The futile questioning notwithstanding, there were flashes of humor during the meeting. Braun opened his statement by saying he currently resides at a prison. Toward the end of lawmakers' questioning, one member offered him a book on the Wirecard scandal to pass time behind bars. Braun declined politely.
The ex-CEO's lawyers had unsuccessfully sought a video-only appearance for their client to avoid the trip to Berlin. Before Wirecard collapsed, Braun had been a popular guest in Berlin's political quarters, where the rise of his company filled politicians with pride that Germany had managed to create a fintech company of global reach.
It all came crashing down in June after Wirecard disclosed that cash believed to be sitting in an oversees trustee account likely never existed.
The company filed for insolvency shortly thereafter, the first time a member of Germany's benchmark Dax index has done so.