Wind Overtakes Gas in France's Power Mix Amid Slumping Demand
(Bloomberg) -- Wind overtook gas in 2020 to become France's third-biggest source of electricity, amid falling power demand caused by the coronavirus pandemic and record-high temperatures.
Wind generation in France climbed 17% in 2020, placing it behind nuclear and hydro in the country's power mix. While electricity output from the renewable energy source was boosted by gusty weather, installation of new turbines -- and solar farms -- slowed for a third year, according to a report from the country's grid operator published Tuesday.
President Emmanuel Macron is seeking to boost investment in renewables to reduce the share of atomic power to 50% of the electricity mix by 2035. However, France's nuclear output fell 12% last year to the lowest since 1993, according to the report. The dropoff was due to the pandemic disrupting maintenance and Electricite de France SA permanently shutting two of its 58 reactors. It highlights the scale of the country's challenge in reducing its reliance on aging atomic power plants in the coming decades.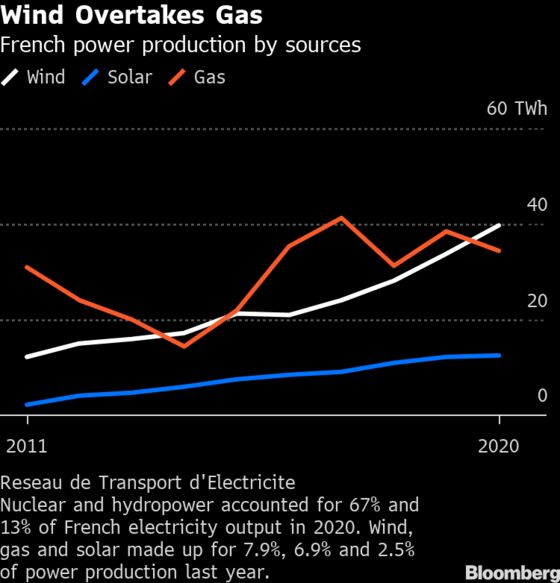 Nuclear generation represented 67% of the country's 500 terawatt-hours of power output last year, the report said, compared with 13% for hydropower and 7.9% for wind. Gas and solar accounted for 6.9% and 2.5% of total production, respectively, with the rest coming from biogas, waste, fuel and coal.
"Thermal plants have been little solicited because of the increase in renewable output and the decline in consumption," grid operator Reseau de Transport d'Electricite said in a statement.
The French power industry's carbon dioxide emissions fell 9% last year, accounting for just 5% of the country's total. That's as domestic demand for electricity fell by 5% because of the Covid-19 pandemic and as temperatures averaged the warmest on record, RTE said. Consumption also fell thanks to use of more efficient equipment and better building insulations, according to the grid.