A Year After the Crypto Bubble Burst, Will Bitcoin Ever Recover?
(Bloomberg Businessweek) -- Bitcoin was worth $3,300 on Dec. 11. That's amazing, considering that cryptocurrency was created out of nothing 10 years ago. But it's also depressing to many, because a year ago, Bitcoin's value hit almost $20,000 in what could prove one of the most dramatic economic bubbles in world history.
The fallout has been stark. "Mr. Satoshi, the CEO, [is] not showing up to provide any kind of explanation … #Shame #Refund," lamented one frustrated crypto enthusiast online, apparently misinformed about the role of Bitcoin's unknown, pseudonymous inventor.
The sentiment, and the many like it, show how far we've come from Bitcoin's dreamy beginnings. For much of its first decade, cryptocurrency was a form of digital populism, fueling a belief that it would be used to fight greed, financial manipulation, and the power of Wall Street while delivering a secure, efficient, and independent payment system.
Today, Bitcoin is unmoored from those ideological underpinnings; it's become many things to many people. Even after the crash, there are those who hold out hope that it will be the path to fast wealth in the form of Lamborghinis. ("When Lambo?" being the rallying call of the generic crypto bro.) To others, it's a vehicle for fraud, money laundering, and other crimes. And for many on Wall Street, Bitcoin is a legitimate asset class that the traditional financial establishment—and regulators—will eventually bless.
That Bitcoin has been co-opted by some of the very people its early advocates hated shows just how wild the ride has been. Not many people remember, for instance, that when one of the biggest crypto exchanges was hacked in 2011, the attacker supposedly went by the handle "George Clooney," briefly leading to headlines such as "George Clooney Roils the Bitcoin Market." There was a Bitcoin-themed wedding in India. And an entirely new vernacular evolved: Don't get distracted by FUD (fear, uncertainty, and doubt)—just HODL (hold), bro.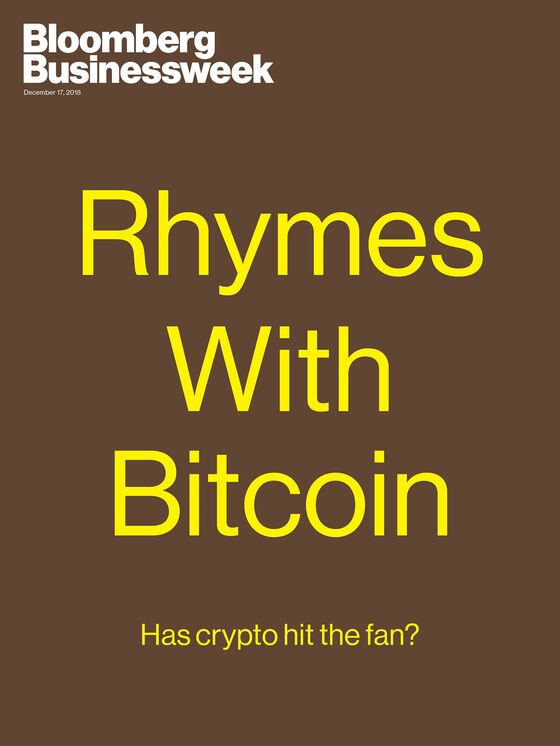 In 2017 companies sought to take advantage of investors' sense of FOMO (fear of missing out). They changed their names to include the word "blockchain" and immediately saw their stock prices soar. There were crypto influencers getting paid to shill for digital assets on social media. (Some famous ones, including boxer Floyd Mayweather Jr., have been fined by the U.S. Securities and Exchange Commission for the practice.) Crypto whales were rumored to have locked up huge swaths of the market. A cult arose of Bitcoin maximalists, who believe their particular digital currency (and no one else's) will one day replace all other forms of money.
"Blockchain but not Bitcoin" became a mantra at almost every financial technology conference in the world. The slogan allowed enthusiasts to signal they were too smart to be suckered into the madness of the Bitcoin bubble but to still insist on the importance of the underlying technology that makes digital currencies possible. You can keep track of diamonds on the blockchain. Or heads of lettuce.
Today anyone can (and will) start a cryptocurrency designed to serve virtually any purpose. All you need to make it work is to copy some existing code and round up some users. Choose a horse, hitch your digital wagon to it, and hope that others come along for the ride. Consensus is the lifeblood of cryptocurrencies, and they shrivel up and die without it. As the universe of crypto believers has grown, it's become harder for them to agree on what, exactly, they believe. Witness Bitcoin forks, which created new chains of code and currencies and have divided enthusiasts into warring factions. And look at the rapid fall in price of countless other digital tokens, now widely derided as shitcoins.
Can Bitcoin and its brethren survive this sell-off? Three times before we've seen peaks in the price and dramatic drops, only for crypto prices to improve later. The big difference this go-round is the sheer scale of the money lost—more than $700 billion, according to Coinbase Inc., a digital currency platform. There are more careers on the line, too. Hundreds of former database managers have rebranded themselves "blockchain experts," and wealth managers have pitched digital assets as a form of portfolio diversification to investors who probably deserved better advice.
Market wisdom says crashes find their bottom when the last bull capitulates and sells. But what does capitulation look like for an asset that's been as much a cultural moment as an investable security? How many different dreams for Bitcoin have to die? To be trustworthy, money should be simple and boring—which Bitcoin has so far never been. Someone was always going to be disappointed.
To contact the editor responsible for this story: Max Chafkin at mchafkin@bloomberg.net, Pat Regnier