When Foxconn Sounds the Alarm, You Better Listen
(Bloomberg Opinion) -- There's no denying it now.
The global electronics industry is in a funk, and the world's biggest manufacturer has the wounds to prove it.
You may know Foxconn as the assembler of iPhones for Apple Inc., a client that accounts for around half its revenue. Yet there's barely a hardware brand in the world that doesn't engage Foxconn — Sony Corp., Dell Inc., Xiaomi Corp., HP Inc., Nintendo Co. and Cisco Inc. are all on the roster.
Put in context, Foxconn's flagship Hon Hai Precision Industry Co. had revenue of $174 billion in the 12 months through Sept. 30. But it's a company that runs on thin margins, returning a gross profit of just $10.4 billion over that period and posting $6.9 billion in operating expenses. Most of Foxconn Group's revenue is consolidated through Hon Hai, so those figures are a close approximation of the entire empire.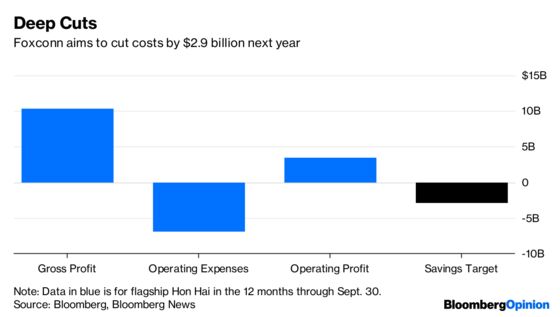 It's important to note that this is not an Apple-only problem.
According to Wu's report, around 30 percent of Foxconn's cost-saving target is to come from the division that makes iPhones. That means 70 percent is aimed at coming from non-iPhone units.
In August, I warned about the storm clouds brewing over the global technology industry. Since then, the S&P Global 1200 Info Tech Index has lost a mere 15 percent. It's even staged three rallies in the past three months, as if investors just don't want to believe what they're seeing.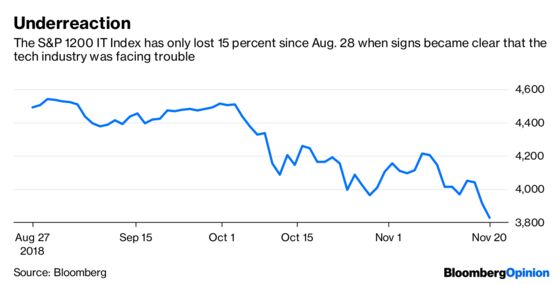 Many are hiding behind U.S.-China trade war tensions — and the belief that a deal can be made — to convince themselves that greater problems aren't afoot.
But when the leader of the world's most-powerful technology manufacturer says the industry is in trouble, you'd better listen.
This column does not necessarily reflect the opinion of the editorial board or Bloomberg LP and its owners.
Tim Culpan is a Bloomberg Opinion columnist covering technology. He previously covered technology for Bloomberg News.